SaaS and Tools We Use to Run Parsio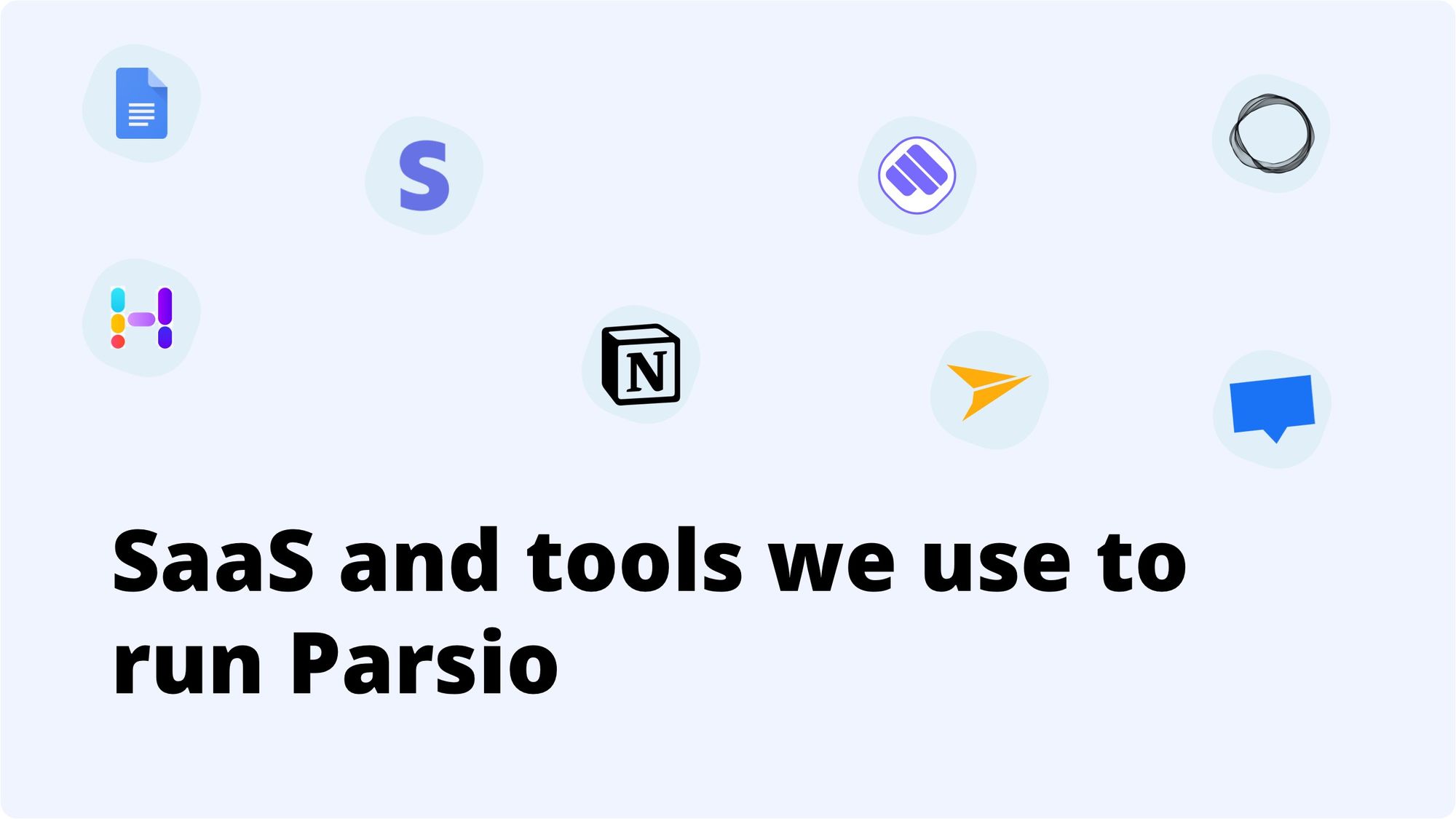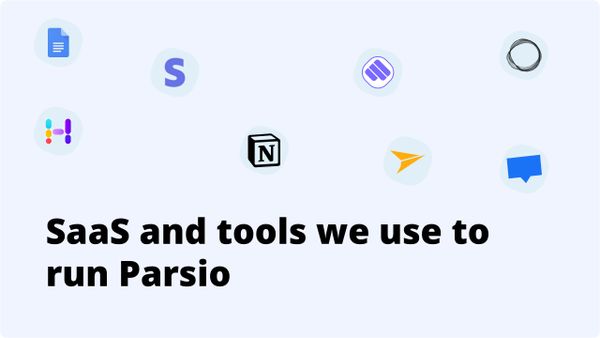 Every business stage requires an appropriate set of tools that would make your company grow. When we started Parsio we had no investments and obviously zero incoming revenue. Parsio was fully financed by the other projects of ours so we were bound to choose the best price/quality products to run our company as efficiently as possible.
Being a start-up ourselves, we are at one with other small businesses with amazing new products. That's why we often opt for start-ups rather than big companies as well when it comes to choosing tools to run our own  company.
In this article we would like to share our best choices that could help any early stage business run smoother their day-to-day operations.
It was decided to use Crisp as a live chat option. It's an amazing and affordable chat with an attractive pricing. A free plan allows you to have two seats to chat with customers. The 4-seats plan equals $25/month, and for $95/month you have an unlimited number of seats. Crisp is easy to manage and has a nice and clear design. We will probably switch to Intercom later if we need more powerful features like CRM, customer knowledge base, a chat bot and targeted emails sending, all centralized in one place.
Ghost is a free open source platform. Self-hosted, easy to use, with a number of good templates, it's a great solution for small businesses. Ghost is fully customizable if you need your own template.
Changelog and product updates: Headway
Headway provides a nice widget that we integrated directly into the Parsio landing page and app. The pricing can be either free of charge or equal $29/month which gives you a wide variety of features like custom domain, custom categories, team management etc. As for us, we opted for the free version which includes unlimited changelogs.
Email automation platform: Mailjet
Mailjet is a reliable email platform that is significantly cheaper compared to other similar platforms. We use it to send automated email sequences & transactional emails. The pricing starts at $25/month for a plan with marketing automation features.
Status page & servers monitoring: Better Uptime
Better Uptime is an incident monitoring platform that calls the right person on your team when your site goes down. With Better Uptime you can collaborate on solving incidents fast, schedule on-call duties and get helpful alerts every time anything is going wrong - all this in a very intuitive and easy way. With this tool, you can really get control of the situation in stressful times. The pricing is quite attractive as well - from $0/month for 3-minutes checks and 10 monitors to $64/month for 100 monitors and on-call scheduling, which is great for small businesses.
Feedback collecting & feature requests – Upfeed
Awareness is the key to success so it's important to take data-driven decisions when running your business, especially when launching a new product. That's why we considered it indispensable to have a tool that would help us to collect feedback from our users, and Upfeed seemed a pretty good decision. It's easy to use and takes just a few seconds to set everything up. However it's still clear that this tool is in its early phase so some features are still missing like a possibility to choose which feedbacks will be displayed and which not, a possibility to disable the changelog etc. Still, there is good reason to believe that a lot of improvements will be introduced in the next few months.
Customer knowledge base: Eniston
We only needed some basic features for our customer knowledge base: a custom domain, a basic articles editor and a built-in search. Our first choice fell on HelpSite which is very straightforward and supports binding custom domains even with the free plan. However, their UI is slightly outdated. So we kept searching and discovered a fancier solution - Eniston. It has some helpful features like article opening stats, a possibility for users to submit written feedback for articles, and team management.
Stripe is an essential payments solution so our choice seemed evident when it came to picking up a tool for our subscription plans. The transaction fees may seem a bit high (2,9%+30¢ per successful card charge) but it's definitely worth paying.
Notes & internal documentation: Notion
All our company notes, internal documentation, development and marketing ideas, brainstorm notes etc. are consolidated on this platform.
Collaboration: Google Docs
Some things just don't have to change - we still use good old Google Docs for collaboration when we need to write a new article for our blog or to prepare a draft for a new "how-to" document.