Putler Review: Analytics and Insights for Your Business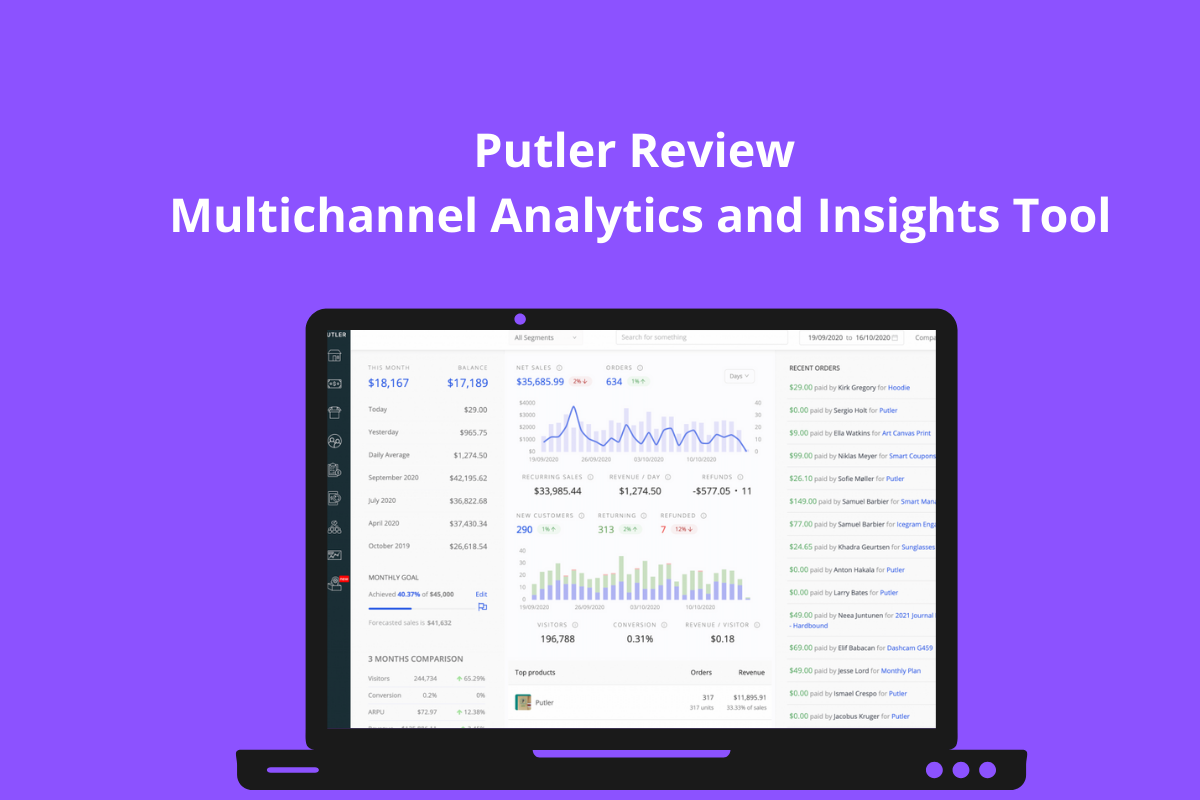 Analyzing your data is critical. It helps you understand what's working for your business and what's not. However, business owners struggle with choosing a tool that can help them monitor their business efficiently.
Most businesses rely on Google Analytics or stick to the native reports provided by their eCommerce platforms. But most often, they are not enough to grow your business.
You need a tool that not only provides you with reports and key metrics but also gives you insights on how to make profitable decisions.
One such tool is Putler.
It is a multichannel business analytics software. It aggregates data from multiple places and provides you a big picture of your entire business. Putler provides you in-depth reports on Products, Customers, Orders and your Website Traffic. Additionally, it also provides you growth insights, forecasts, goal tracking, segmentation and a lot more.
In this article, I will walk you through key features that make Putler the best analytics tool for any business.
Analyze all your data from one place
Putler lets you connect multiple payment gateways, multiple stores, multiple Google Analytics.
Once you have connected all your data sources, Putler will consolidate all the data, remove duplicates and show you enriched reports on Products, Customers, Orders, Subscriptions and Website Audience.

Putler integrates with 17+ top services - Explore them now!
Key Reports and Stats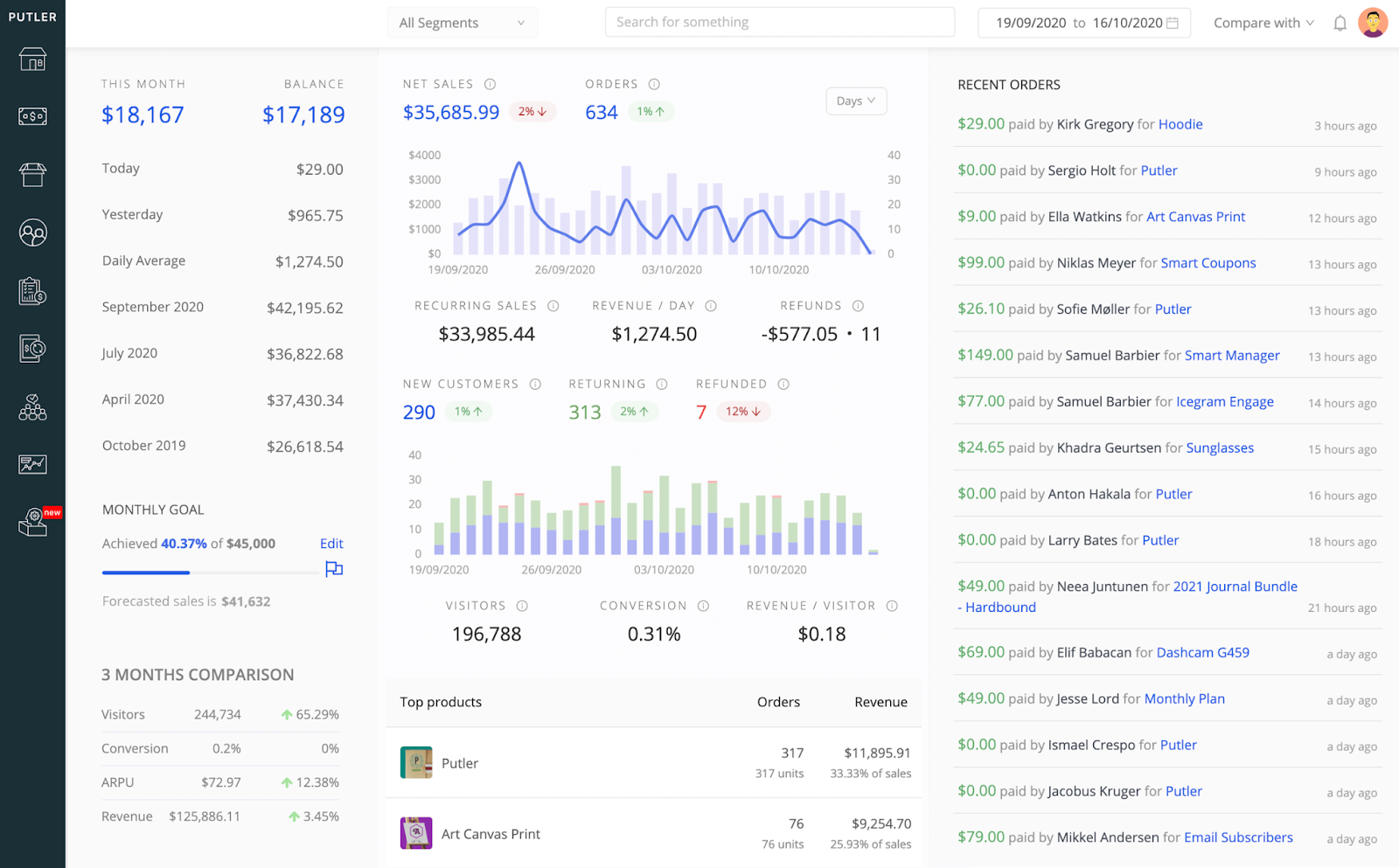 Putler has a dedicated dashboard for everything!
These dashboards provide reports and metrics around - Products, Customers, Orders, Subscriptions, Website Audience.
NOTE: Since Putler caters to both SaaS as well as eCommerce businesses, it provides metrics that are needed for analyzing both types of business models.
Some key metrics that Putler provides is as follows:
- Current month's sales
- Balances
- Sales trends for the last 3 months.- New vs returning customers
- Refund, Disputes
- SaaS KPIs - MRR, Churn, ARR, ARPU, LTV
Take a look at the live demo here.
Multi-store Reporting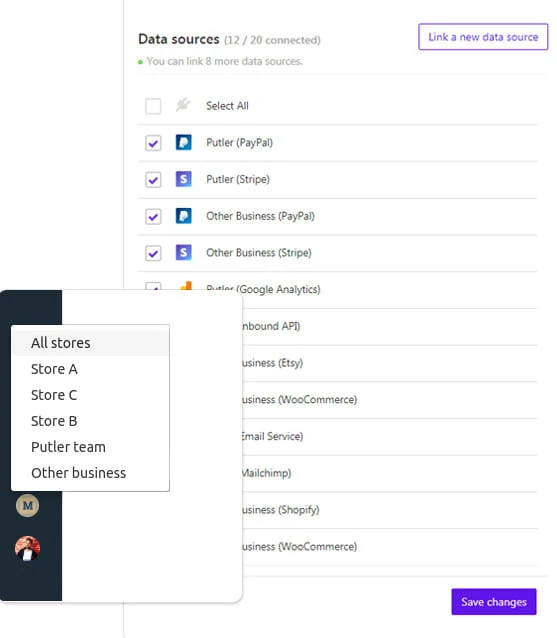 If you have multiple websites/multiple stores/ multiple Amazon shops/ shopify shops etc. Then you have to give Putler a try.
It will help you monitor all your multiple businesses from a single place.
Once you connect all your stores within Putler, you can then view both consolidated reports from all your stores or create separate views for each store and view reports for each store individually.
Whatever you choose, either way you save a ton of time. You don't need to juggle between different tools or remember a hundred log in details.
Segmentation - Products, Customers, Orders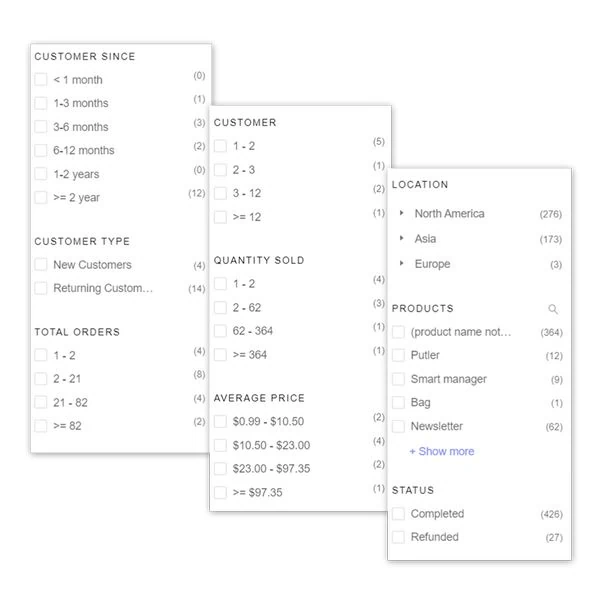 Putler allows you to filter and segment your data in multiple ways.
It has well thought of filters on every dashboard. Plus, if you wish to create a custom segment, you can create it and save it for future use as well.
Some examples of filters provided by Putler:
Location
Order status
Customer type
Customer since
Revenue contribution and a lot more
NOTE: Putler also provides RFM segmentation. That is a technique of segmenting your customers based on their past shopping behavior.
Actionable Insights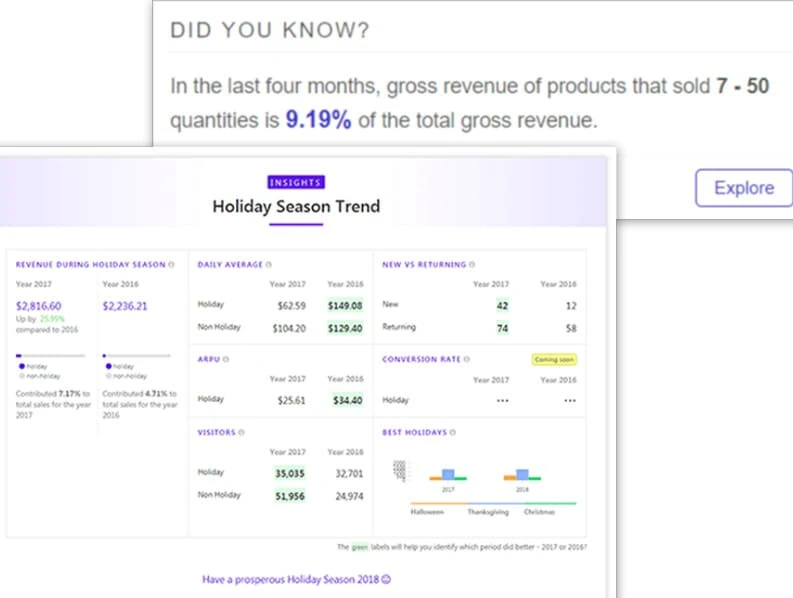 One thing I mentioned above was insights.
They are super useful and help you get more out of your data.
Putler makes gaining insights very easy. Unlike other reporting tools, it provides you both reports as well as insights.
Putler gives you one new insight everyday. It also analyzes your stores performance during the Holiday Season and gives you insights like which was the better performing holiday? Which products were trending? What was your sales average etc.

Team access - Your whole team can use Putler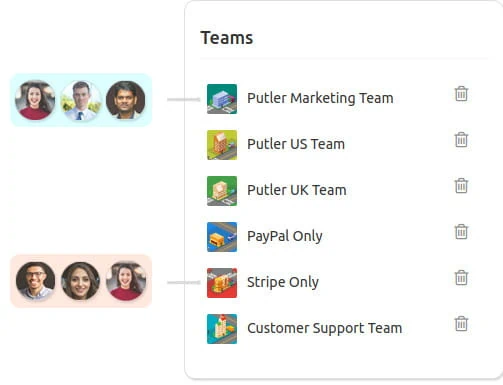 Putler can be used by your entire team.
Top level managers can use it daily to know the health of the business.
The marketing team can use it to spot trends, create laser targeted segments, understand customers and a lot more.
The customer support team can use it to provide refunds, check customer purchase history, find customers, verify payments etc.
Accountants can use it to tally sales.
Pricing
Putler has metered billing. Meaning it charges you based on your last 30 days revenue. So if your revenue falls/rises, your plan will also change automatically. Putler lowest plan starts from $20/month.
Take a look at the various pricing slabs here.
That's all folks!
Putler is a simple analytics and insights tool. So if you wish to use analytics to gain insights and make profitable decisions, give Putler a try.
They have a 14 day FREE trial. You don't have to know to code or add in your credit card details during the trial, so it is completely secure and a total win-win.
Go sign up for Putler today!