Alternative to Pabbly Connect: Parsio vs. Pabbly Connect Email Parser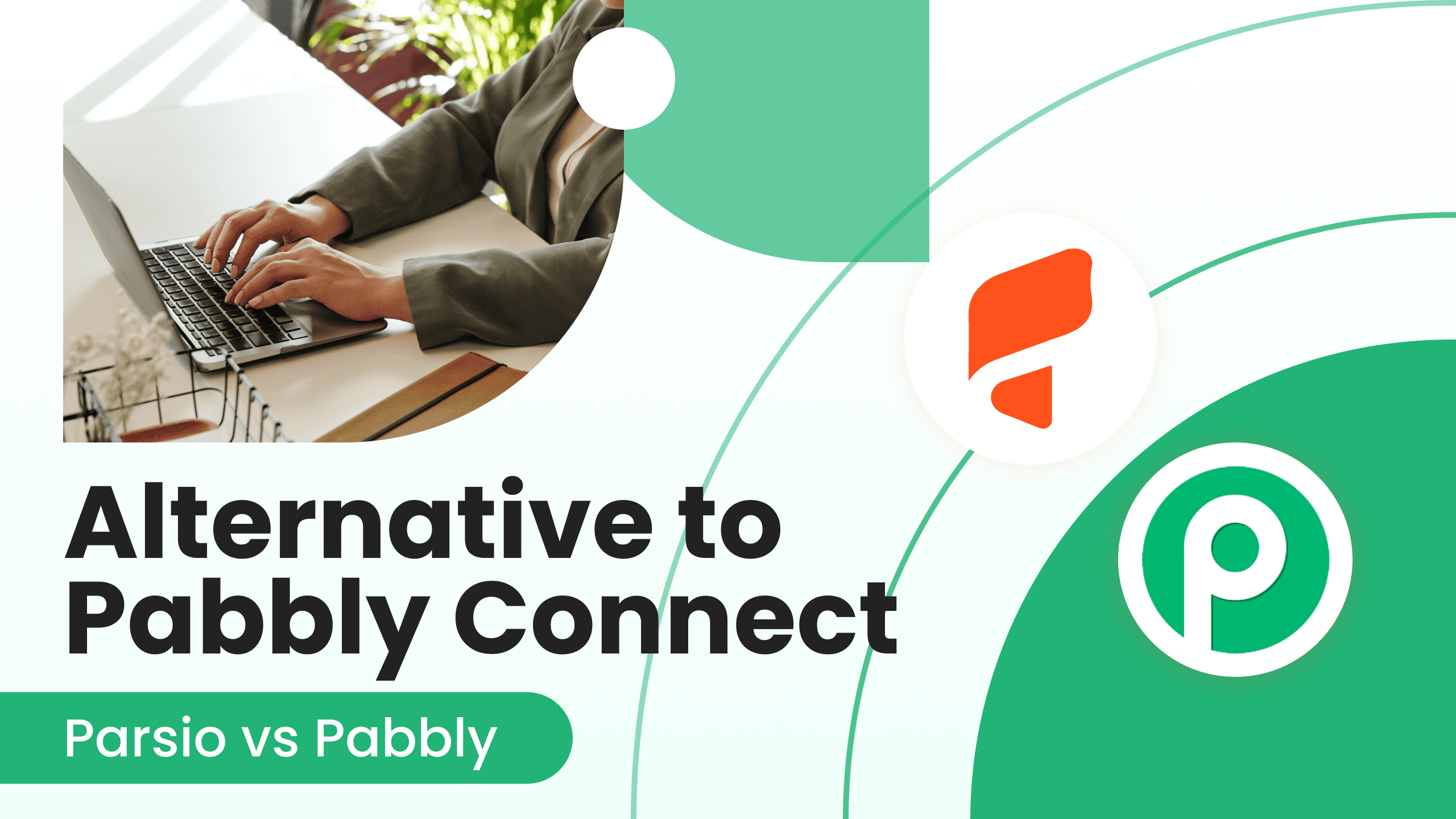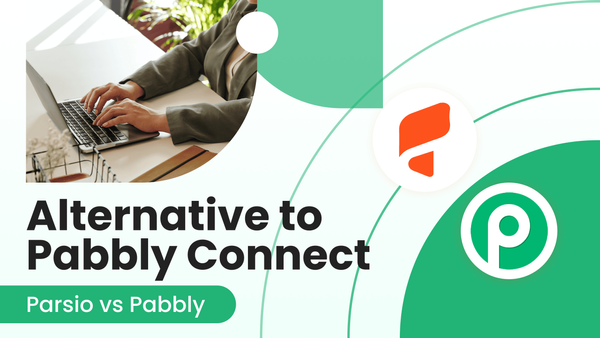 After bearing losses in the tough times during the pandemic, businesses all over the world once again are finally picking up the pace. To flourish and make their place in the market, there is no room for error. In that case, they should look for a parsing tool to declutter their inbox and automate business processes to improve productivity rates.
Email parser is a software to extract data from incoming emails and parse data to Google Sheets, Excel, CRM, and more to avoid errors from manual data entry. Not only an email parser speeds up the time required for processing but also lowers your workload while providing quality assurance. In this article, we'll compare Pabbly Connect Email Parser with Parsio, and also check out their pros and cons so that you can easily decide which one is better for your requirements.
Pabbly Connect Email Parser Overview
Pabbly Connect is a perfect software for online and startup businesses to automate the workflow of their data. Their email parser allows you to extract the data from emails and move between various platforms such as Slack, Google Sheets, etc. as it supports over 750 integrations. Pabbly is a rule-based parser, which means you will need to assign certain rules to extract keywords from your mails. Figuring out these rules can be a technical task but once done, supports automated data extraction.
Pabbly Connect is a cloud-based platform that essentially supports cloud applications and doesn't require any coding. The interface of the tool is rather clean and simple and also provides services at a much cheaper price than most of the other parsing tools. Pabbly is considered one of the best alternatives to Zapier's email parser. Although it has comparatively much fewer integrations; however, the new integrations are being added, which you can get at relatively decent rates than the latter.
The formatter tool in it is helpful in converting dates, numbers, and digits into the format of your choice. Also provides multi-app workflows for efficient and quick automation in a smaller time frame. This email parser supports different apps for marketing, web forms, CRM, and many more that support automating your workflow for incoming emails.
Pros and Cons of Pabbly Connect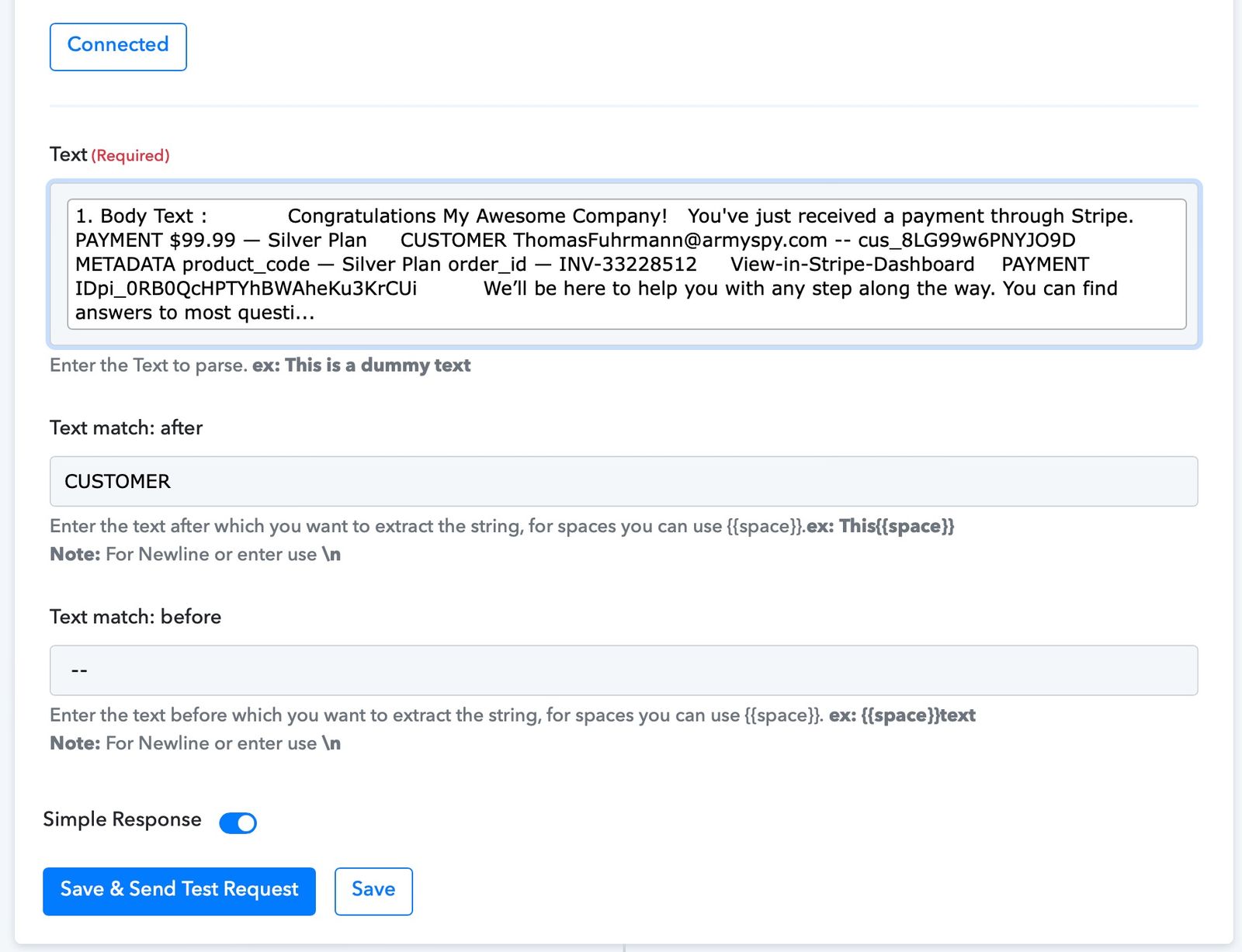 Pros:
It is similar to Zapier's email parser and a better economical alternative.
Intuitive and user-friendly interface for novice users.
Pricing plans are much more flexible and budget-friendly as compared to other parsing tools.
Internal tasks, including date, time, data and number formatter, filter, etc. are free.
Easy to access email parser if you are already associated with the Pabbly Connect platform.
Works well for simple cases and email parsing.
Cons:
Integrations are less in comparison to advanced email parsers.
Deep integrations for all the applications may not be possible.
Pabbly isn't able to parse tables and repetitive data in emails.
Difficulty configuring complex mails.
Pabbly Connect Email Parser vs. Parsio
Unlike the Pabbly Email parser that can be utilized by Pabbly connect users, Parsio is a dedicated template-based parser where you simply have to highlight the type of data you want to extract, and the template is automatically created. This template can be altered and updated easily as compared to the rule-based parser Pabbly, which consumes time and is relatively complex.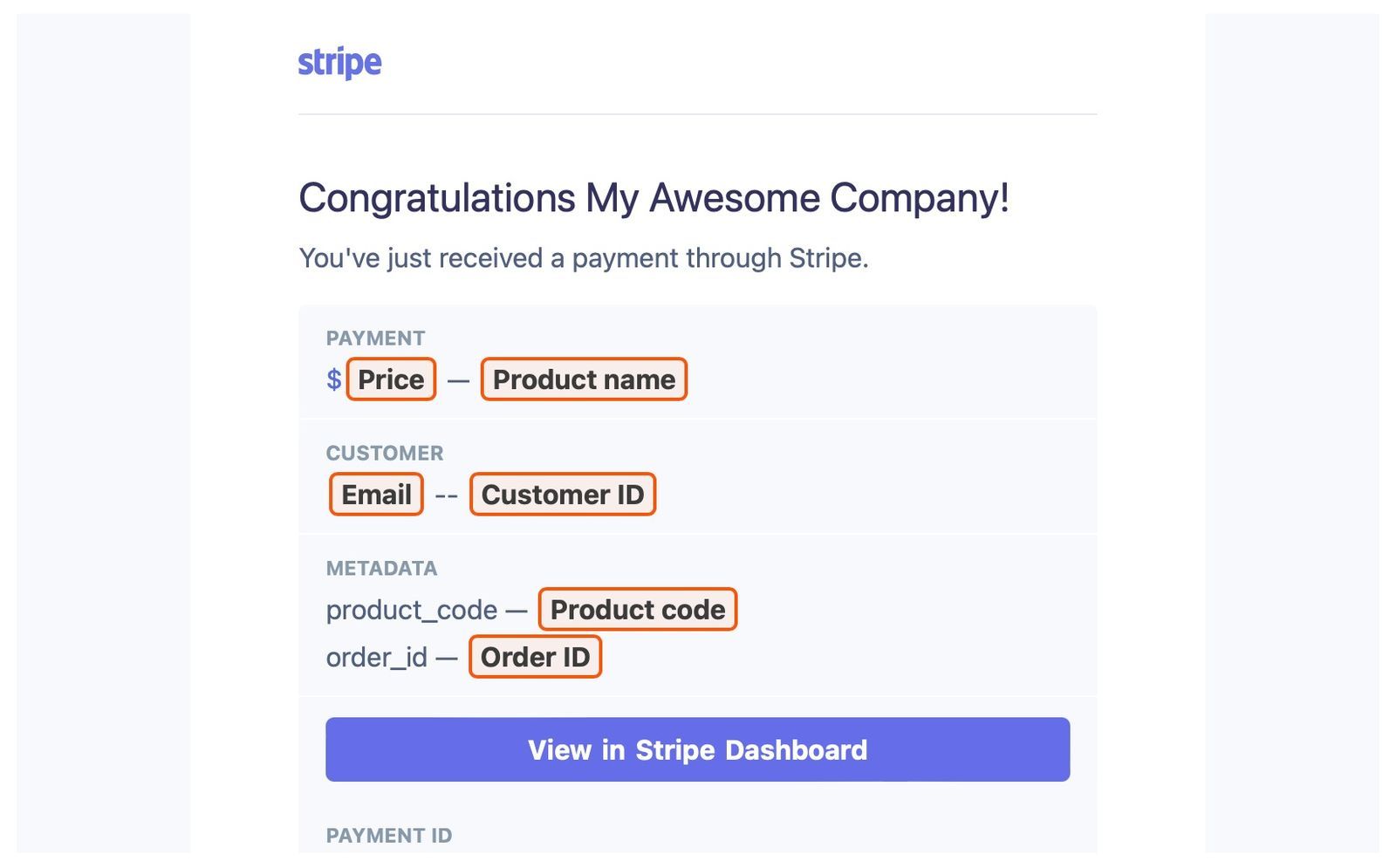 Parsio is an advanced and efficient software for parsing emails that automatically extracts the data from your mails and converts it into the format of your choice. For the purpose of parsing complex emails containing PDFs, other attachment types, repetitive data, or tables, Parsio is an ideal choice. It is also great for purchasing orders and creating invoices. The software not only enables you to export data through webhooks or API but also allows you to import data through API or by clicking the Import button. Parsio supports innumerable integrations with automated platforms that connect it with over 6000 applications via Pabbly Connect, Zapier, Make, and more. Unlike other parsing programs, Parsio doesn't require any data to be separated by a delimiter such as a colon or quotation.
Parsio provides 30 parsed emails/month on the free trial with all the features included, whereas paid plans start from $19/month to $299/month, which is a lot more reasonable than other email parsers.
The Final Verdict
While concluding the article, we would want you to know if you are already a user of Pabbly Connect and want to extract common data from simple emails, then you can give their email parser a shot. It can be a better alternative to Zapier's Email parser but is limited in its capabilities.
However, if you are looking for advanced software for parsing your emails that are complex and may contain data other than just simple text, you should definitely check out Parsio. Some of the key features of this advanced email parser include but are not limited to:
Clean and user-friendly UI.
100% guaranteed accuracy no matter how the complex or big your data is.
Attachments, tables, and repetitive data parsing is not a problem for Parsio.
Offers an unlimited number of mailboxes even with the free plan.
Provide ultra-fast speed; takes less than 2 minutes to start.
Efficient, reliable, and operate without any glitches or errors.
No coding skills or technical expertise needed.
Parsio is an ideal choice for businesses of all sizes. It not only lets the users to extract data from an email without setting delimiters but also exports data to almost any app of your choice. Get your Parsio email parser now and let it manage your time-consuming data extraction tasks from today!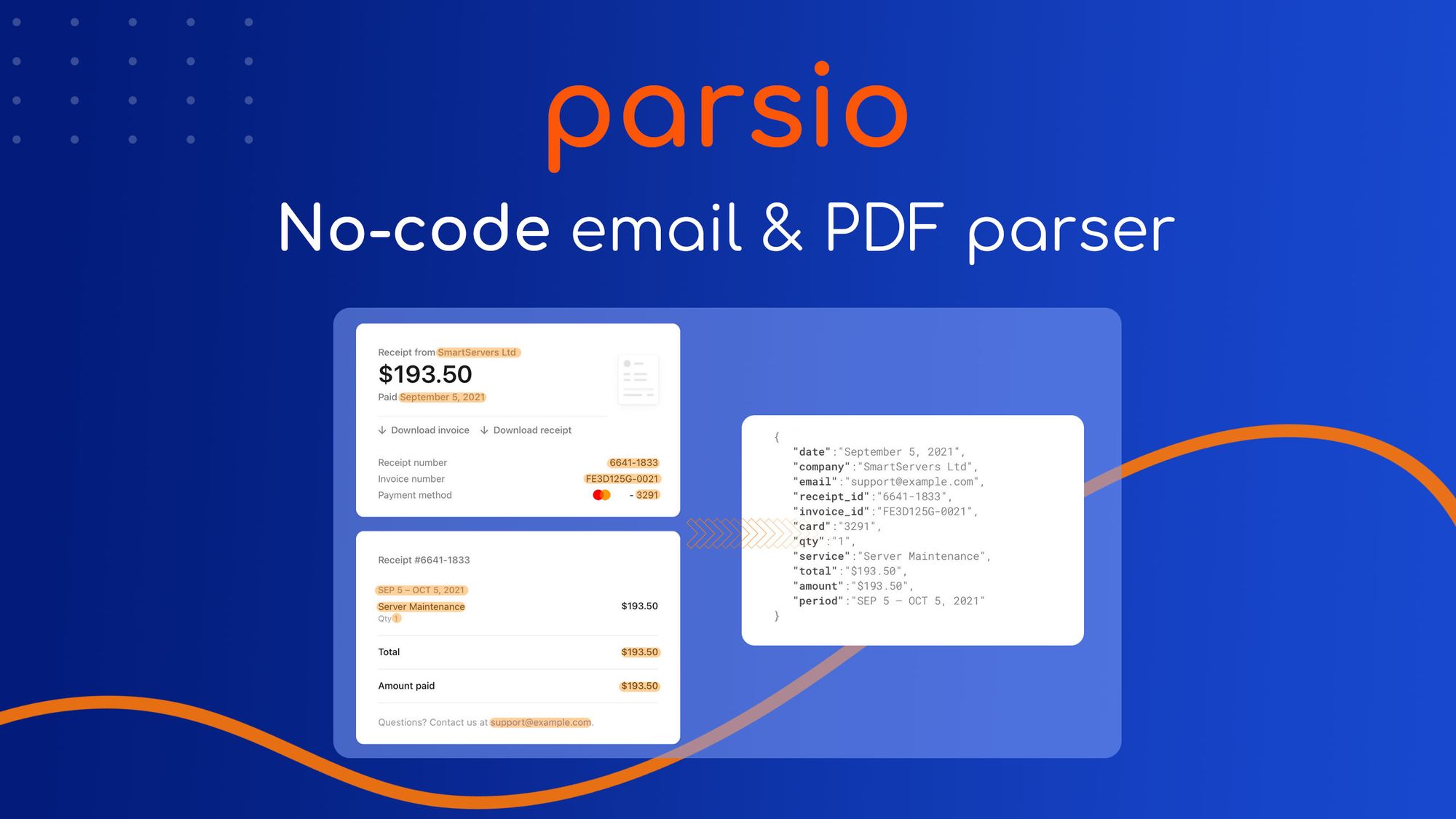 Extract valuable data from emails and attachments
Stay parsed with Parsio