How to Export PayPal Payment Emails to Google Sheets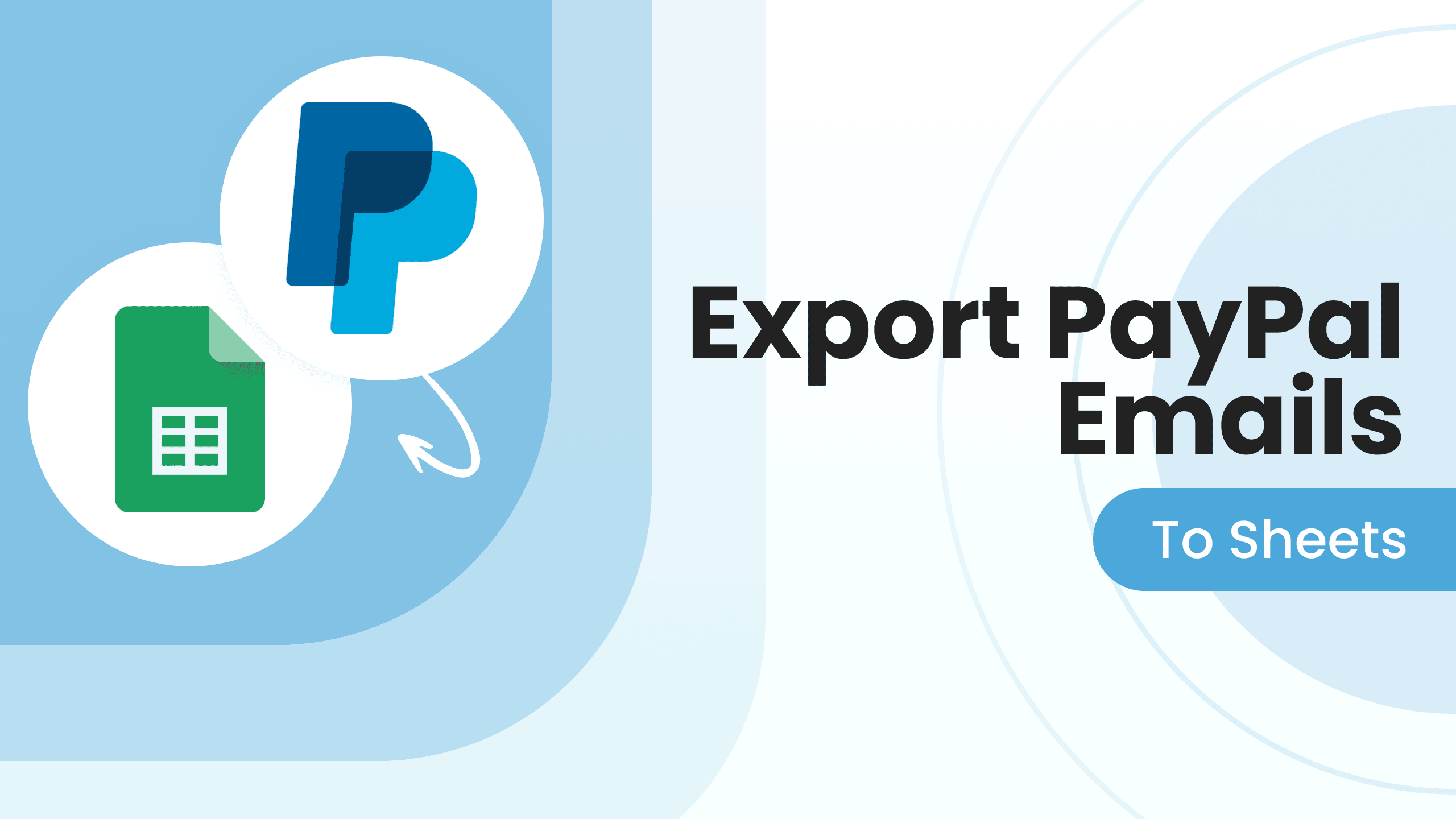 In September 2021, PayPal was alone, having a 50.32% market share for online payments across the globe. Today, almost everyone uses a PayPal account for online shopping and other payments.
That's why many e-commerce stores also have PayPal among their payment options. Accepting payments is easier than ever, but keeping track of the whole thing can be tricky. This is where Parsio will help you to automate things. Parsio is an email parser that brings a solution, and here is all you need to know about it.
Why Is It Important to Export PayPal Payment Notifications to a Google Spreadsheet?
Running an e-commerce store makes you receive many PayPal payment notifications in your email. Keeping track of all the payments can be hectic. So, when you export your PayPal payment notifications to a Google Spreadsheet using the Parsio email parser, you can easily track all the payments.
Exporting data from your PayPal payment notification emails with Parsio brings the following advantages:
Easy tracking of your whole PayPal payment receiving history.
Keep all important things in an ordered form.
Create financial reports to track the business income and expenses.
Automate your accounting.
Save customers' data in your CRM.
How to export the PayPal payment notifications on a Google spreadsheet
With Parsio email parser, you can automate the exporting of PayPal payment notifications to a Google Spreadsheet. Below are the steps for using Parsio data entry automation and data extraction:
1. Create Your Parsio Email
To use Parsio with its automation features, you will need to create a special Parsio email address for example: [email protected]. It will be the email where you will forward your PayPal emails.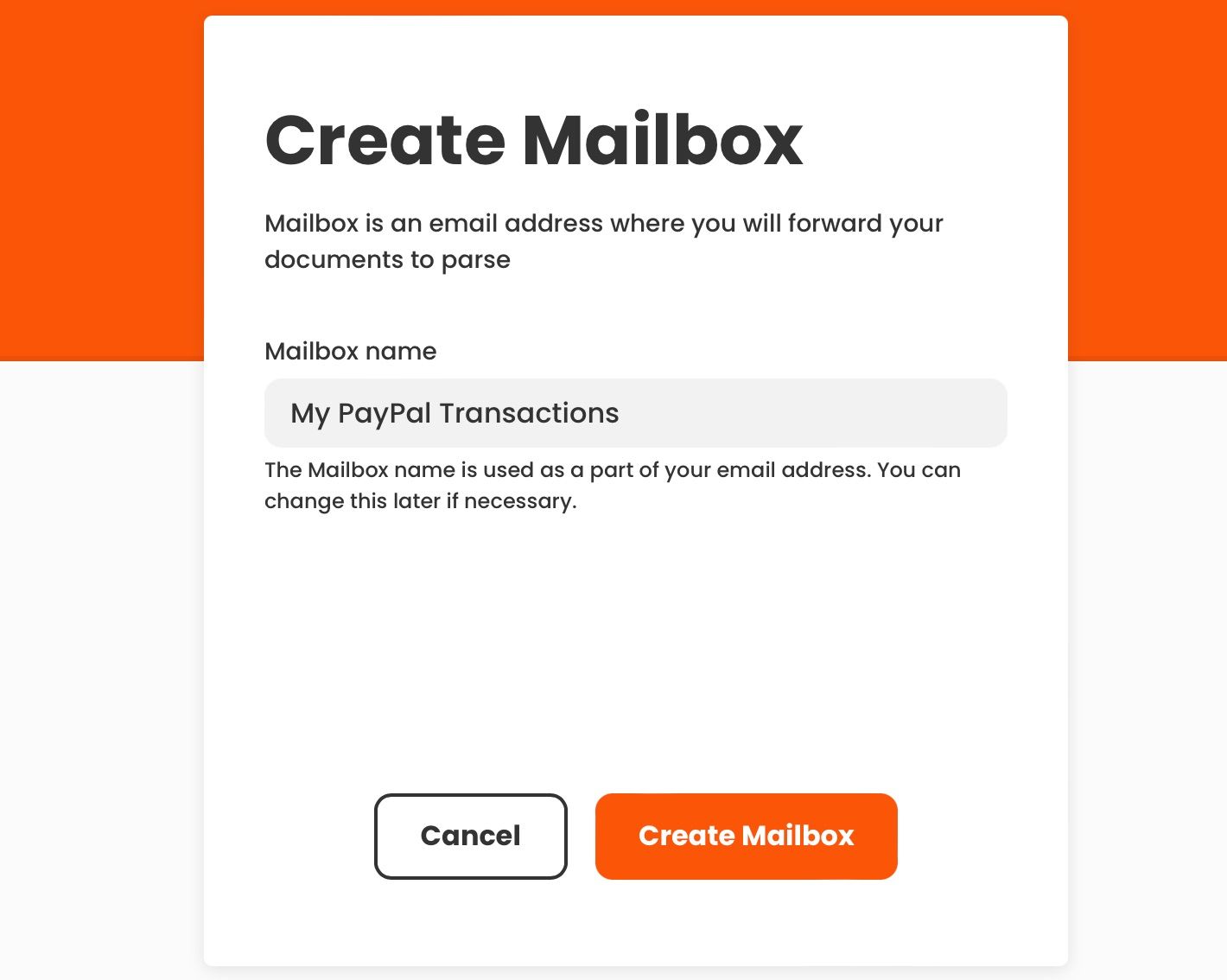 2. Send a Sample PayPal Email and Create a Template
Now send a sample email from the inbox where you receive your PayPal notifications to your Parsio email.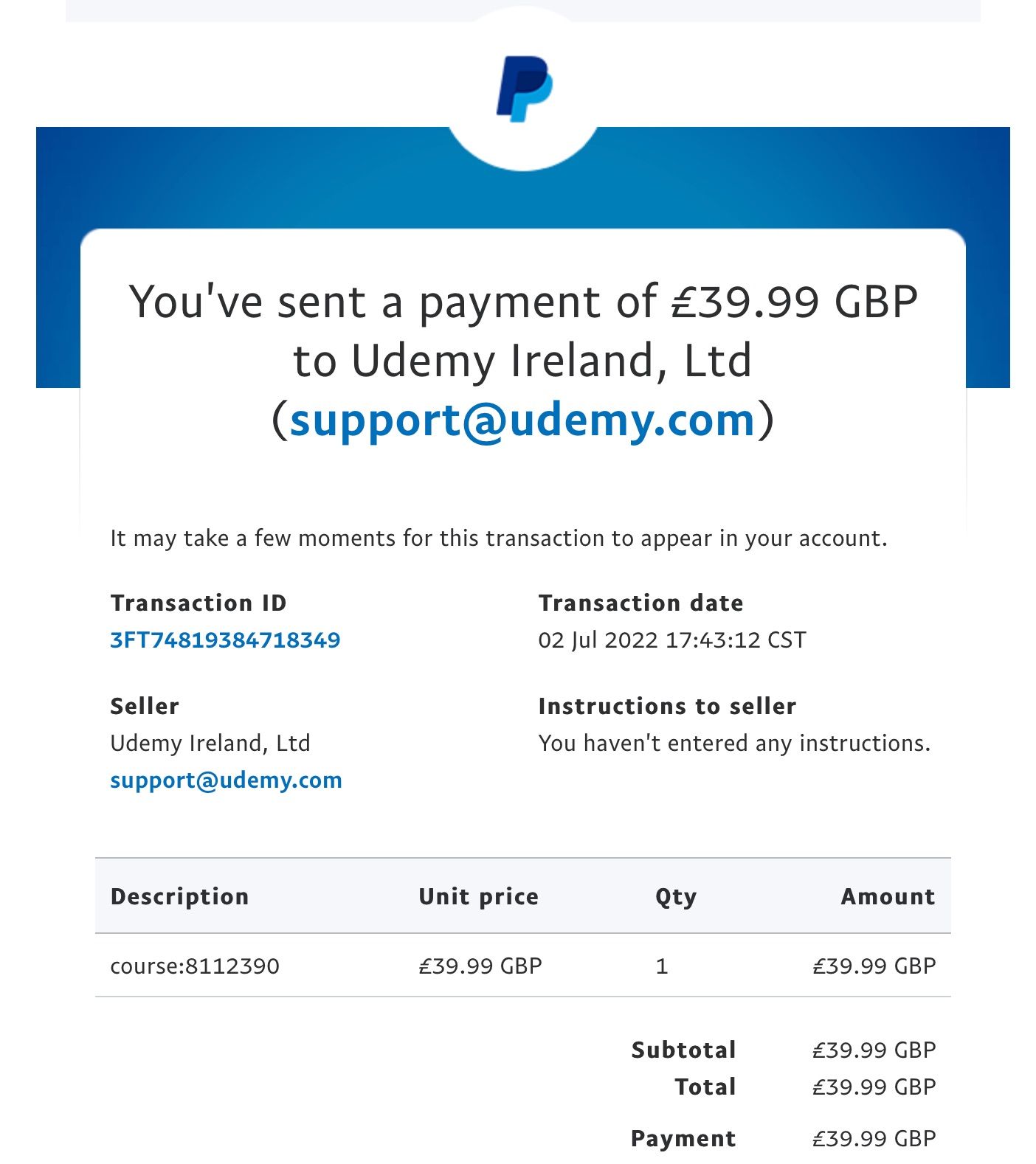 Next, create a template by highlighting the text that you want to extract from the payment notifications. For example:
transaction ID
amount
status
sold or purchased product(s)
All the fields you create will be shown with their extracted value on the right side. Click on "Create Template," and your template will be ready. You can also edit it later and update your template.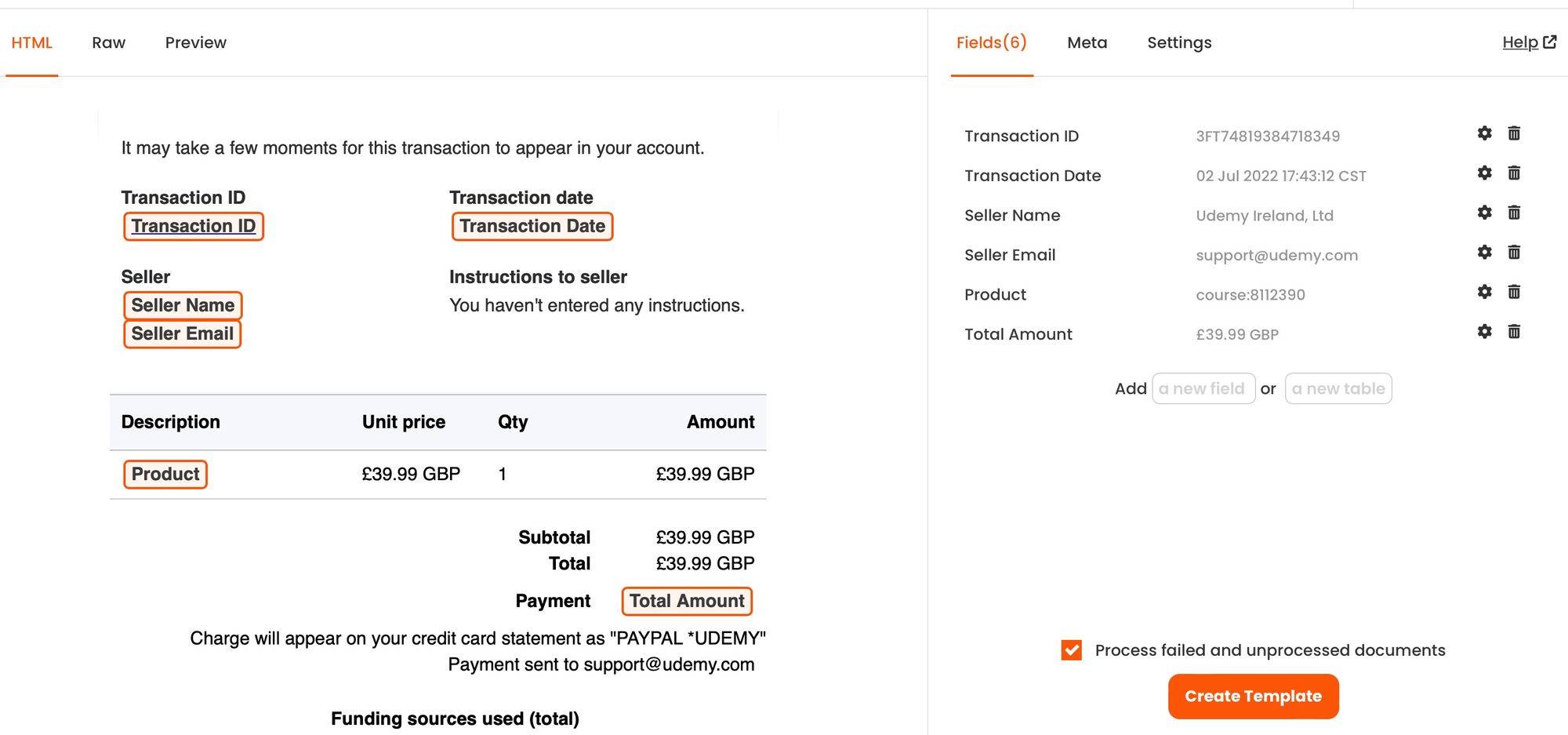 3. Now Configure Your PayPal Email to Automatically Forward All Such Emails to Your Parsio Inbox
To configure auto email forwarding you will need to open your email client and go to its settings. Go to "Forward" settings and you will need to specify several conditions for forwarding each email. When forwarding your PayPal emails to Parsio, you can use the following conditions:
Sender address matching
Similar email subject
Email containing specific keywords
You can set auto-forwarding on email clients like Gmail, Outlook, Yahoo, iCloud messages etc. With that done, Parsio template will extract data automatically from all future incoming emails.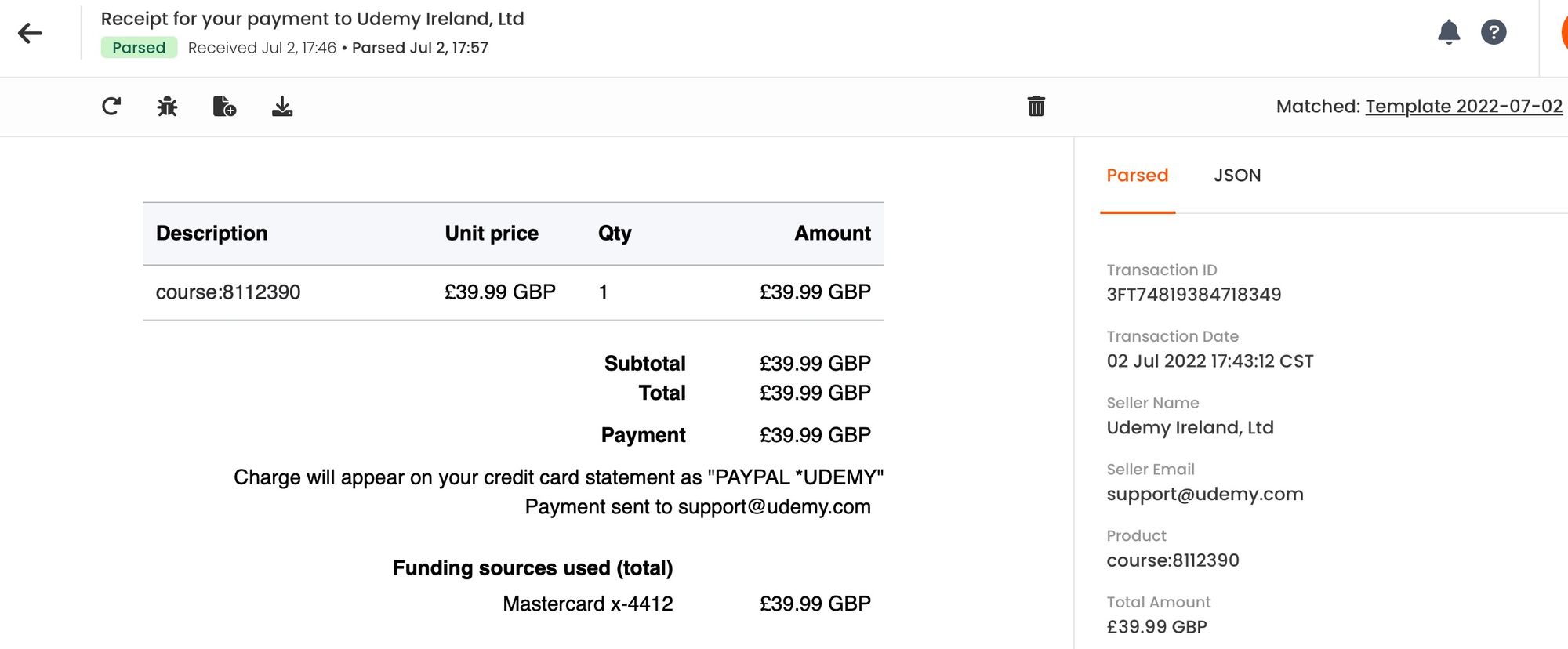 4. Export Your Data to Google Spreadsheet
Go back to Parsio, and you will see the "Integrations" tab on the top to export your data to Google Spreadsheet or Excel. Click on it and then go for Google Spreadsheet. From this tab you can copy the special Google Spreadsheet formula. Sheets will update data automatically at up to 1 hour intervals. To force a refresh of the data synced into Sheets, you can go to the cell in Sheets which has the formula, delete it, and then undo the change.

You can also export the parsed data in real time. For that you can use platforms like Zapier, Integrately, Make, KonnectzIT, or Pabbly Connect.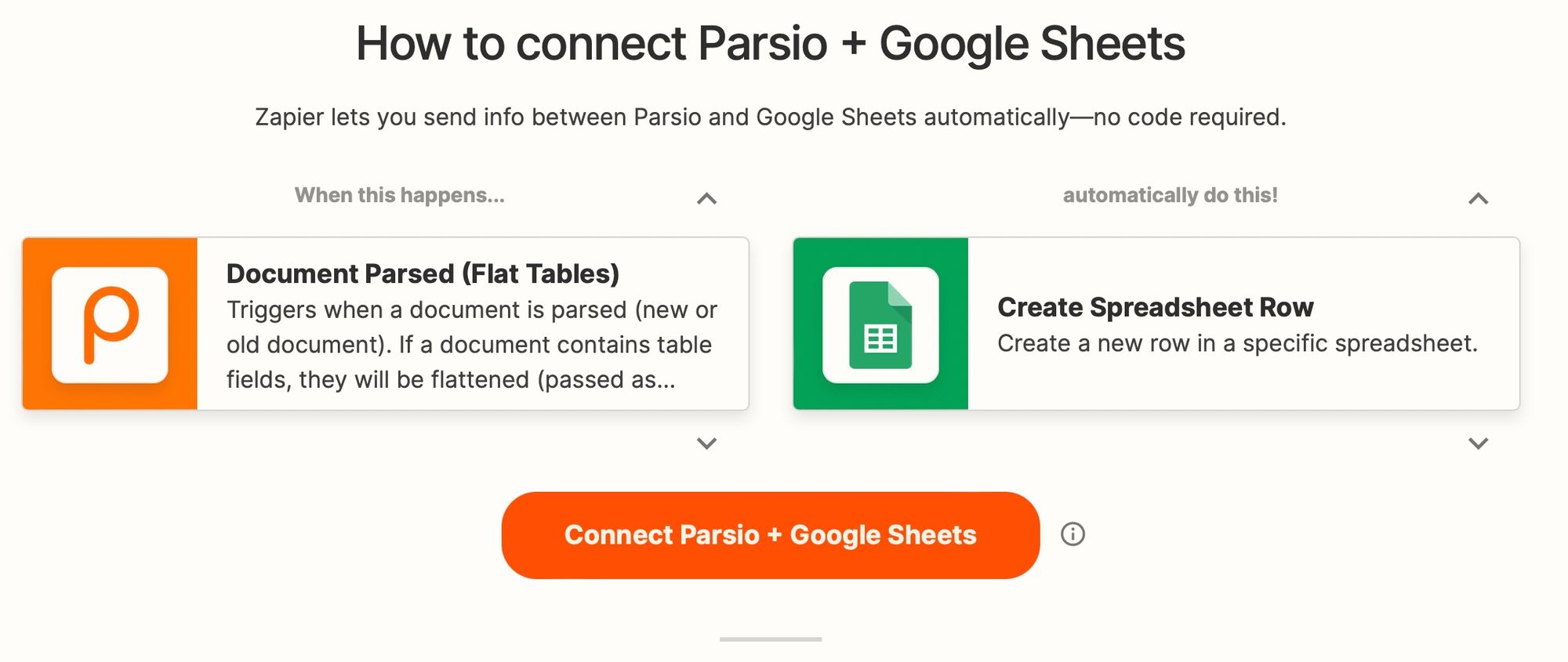 With these 4 simple steps, you can easily export payment notifications from PayPal to Google Spreadsheet for easy tracking. Similarly, Parsio can also help you extract your data from PDF files and other email attachments.
Data Export Options
Using Parsio will not restrict you to a few data export options. While we were discussing the steps to export data to your Google Spreadsheet, you do have many other options. You can export your data to Webhooks or use Zapier, Integrately, Make, or Pabbly Connect.
With these options, you can connect Parsio with over 6000 applications to store the parsed data in a Google Sheet, CRM, database, marketing platform etc.
All of that while you do not have to do anything. Finally, Parsio also lets you download data as different file formats like Excel, JSON, or CSV.
Conclusion
With this simple solution from the Parsio email parser, you can easily export all your PayPal payment notification emails to a Google Spreadsheet, CRM, or a Database. It will make it easy for you to track different payments, calculate the overall profit/expense and organize your data in one Spreadsheet.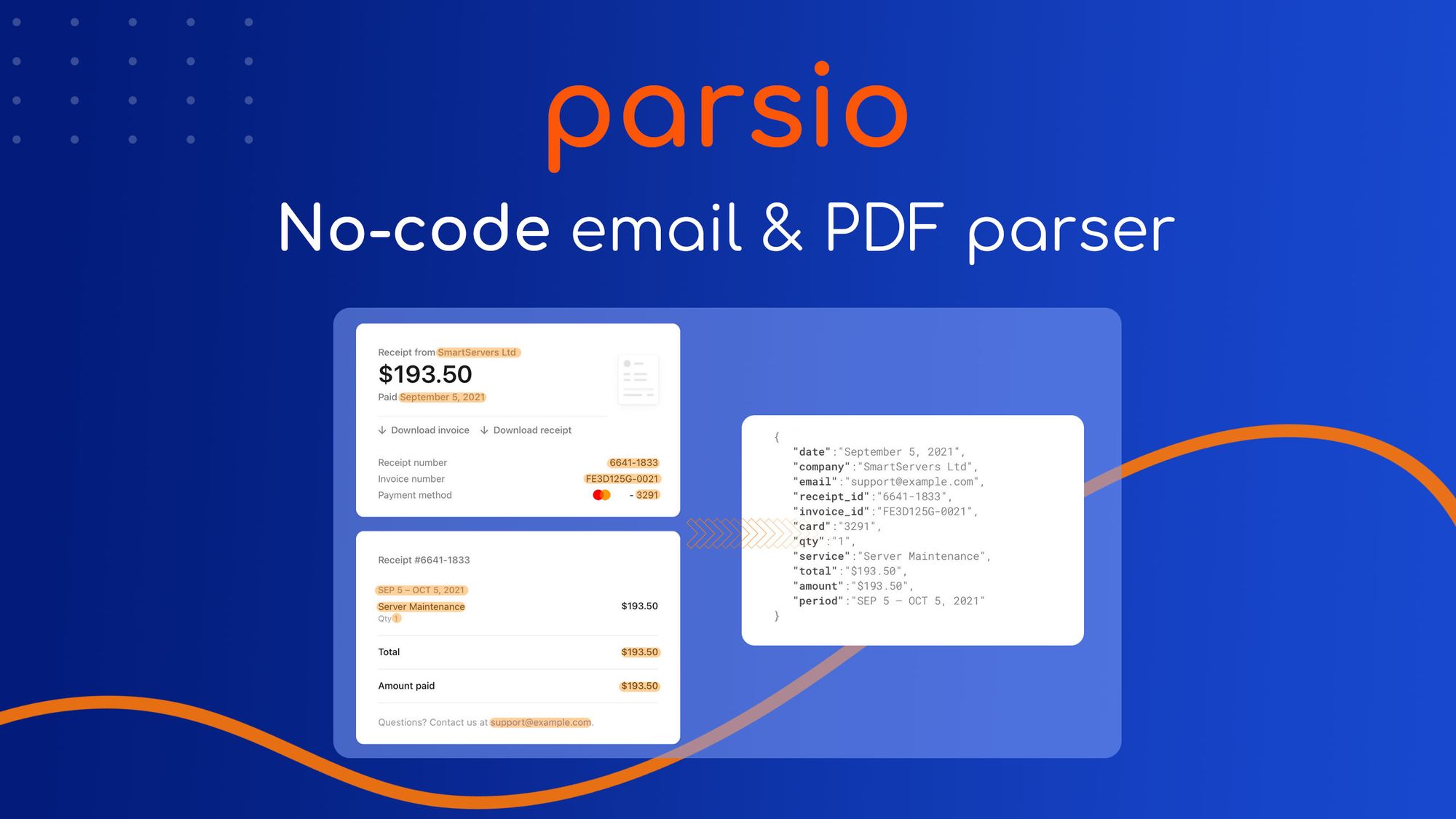 Extract valuable data from emails and attachments
Stay parsed with Parsio