Parsing LinkedIn Job Application Emails: A Detailed Guide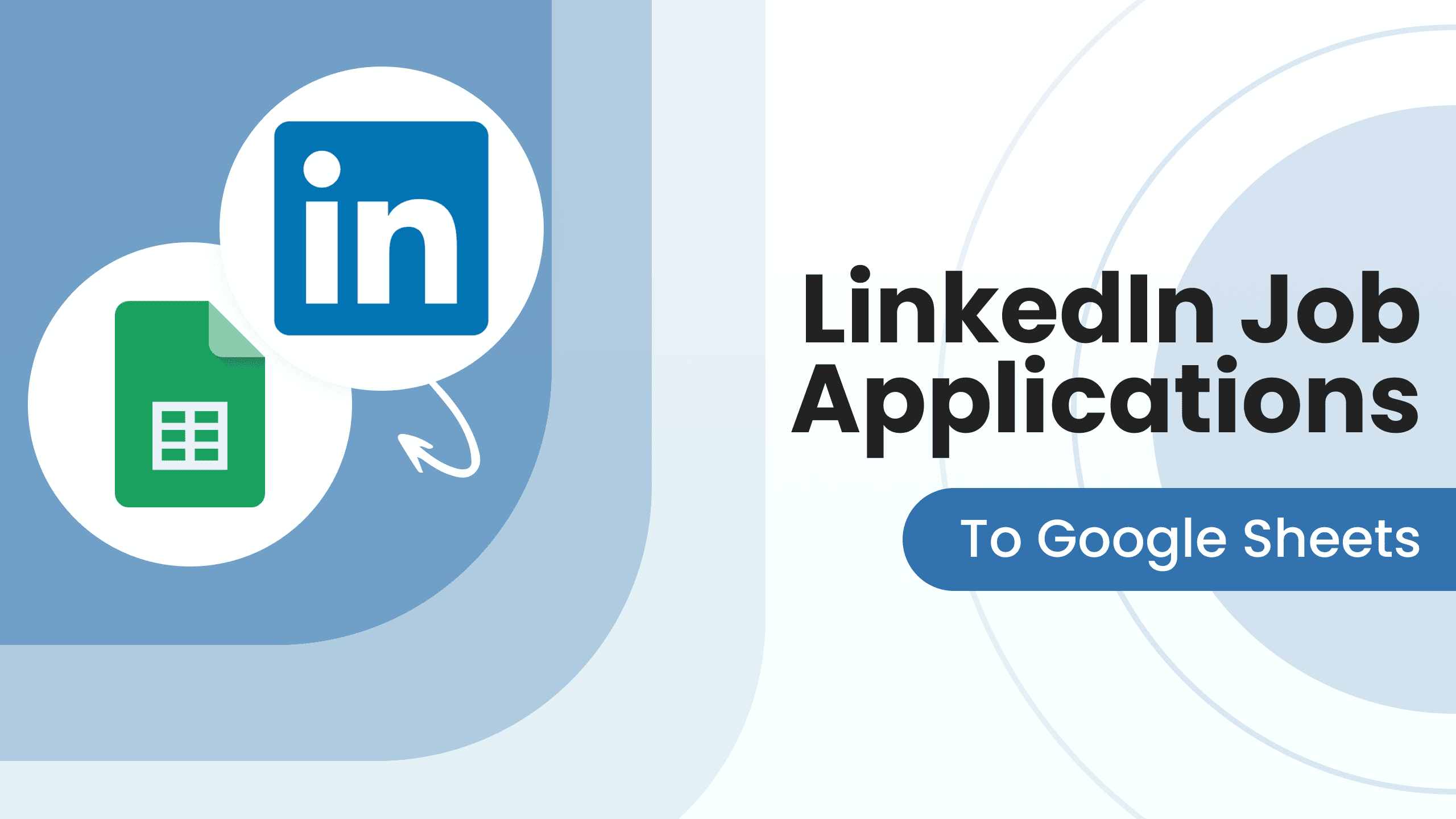 Whether you're an established company or a startup recruiting fresh candidates, the HR team looking into all the applications flooding the mailbox for job advertisements you posted on LinkedIn must be having a hard time. Due to the high influx of emails, it becomes difficult to consolidate this information, which can ultimately prevent you from connecting with a qualified candidate. With no uniformity in the pattern of emails coming in, you definitely should be looking for an automated way to process and analyze these emails. Otherwise, you will waste a lot of your time and efforts on the tasks that could be done by an Email Parser which is helpful in extracting all the important data and information from an email.
What Are the Benefits of Parsing Emails From LinkedIn?
Before discussing how you can actually do it, let us first introduce you to an intelligent document processing tool that lets you automate data extraction in your everyday business. Parsio is an exemplary and advanced email parser with a user-friendly clean interface that allows its users to extract and export essential data from emails or documents automatically without requiring any professional programmer for the task. Parsio can also be an ideal choice for the purpose of parsing complex LinkedIn emails that may contain PDFs, attachments, or tables.
Now, let's have a look at some of the reasons why you should use a document parser to automate data extraction from LinkedIn emails:
As we know, automation is at the heart of successful businesses. Parsing LinkedIn emails automatically will extract the data you need based on the required fields and process it; with no human intervention.
Using an email parser to parse incoming LinkedIn emails, you can not only save your time and energy but also cut your employee costs.
An email parser will reliably process all your LinkedIn documents and transform them into structured data.
An email parser can improve your overall productivity rate, workflow, and ultimately reduce the chances of any error that may occur working manually.
If you're using recruitment CRM, you will be able to import candidates automatically from the emails.
What Kind of Info You Can Extract?
When you receive a number of applications on your LinkedIn job post, then we recommend extracting the valuable data of candidates using Parsio. The email parser also allows you to export the data to Excel, Google Sheets, or any application of your choice.
You can simply decide which data you want to extract from LinkedIn emails; by creating a parsing template. Parsio also comes with a predefined template to extract the required information. Here is a list of data Parsio can extract from the LinkedIn job application:
Name of the applicant
Applicant's contact information
Location
Previous job experiences
Work expertise
Network
Current job position
Education
Skills
Languages
Application URL
Resume URL
How to Use Parsio to Extract Data?
If you're using Parsio for the first time, you will need to create a special email address (an inbox) where you can forward emails to parse. Once you have forwarded a sample email to Parsio, you will need to create a template to extract data of your choice.
Simply select the data you want to extract, and the template is automatically created without writing a single line of code. Alternatively, you can use our ready-made LinkedIn template. Parsio is able to extract data from some popular platforms, including LinkedIn, which will allow you automatically parse all the incoming emails.
Step 1: Create an inbox (a special email address) and send a sample email there.
Step 2: Create a custom template or choose our predefined LinkedIn template.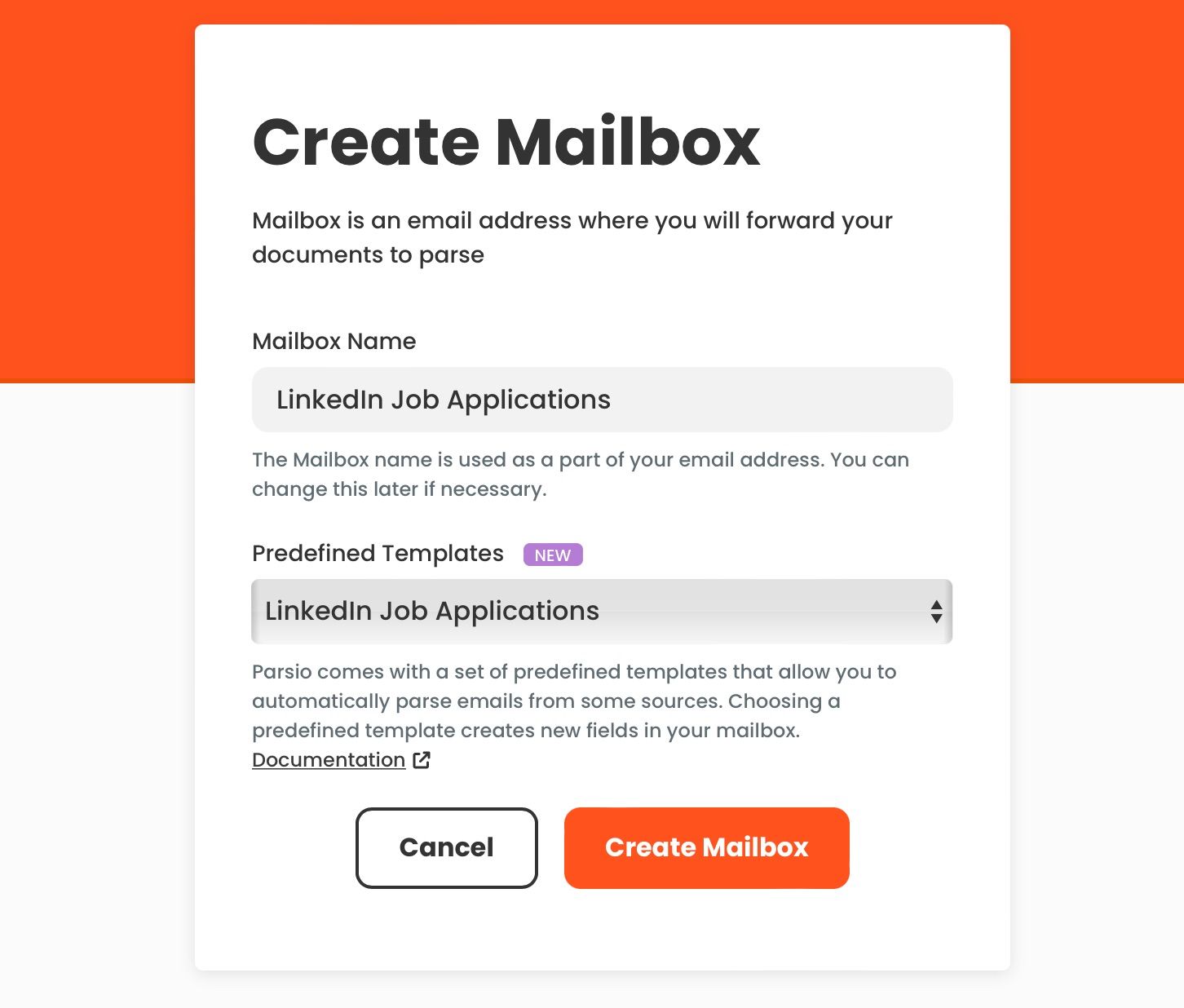 Step 3: Now, you can configure auto email forwarding and all your LinkedIn job applications will automatically be processed in real time.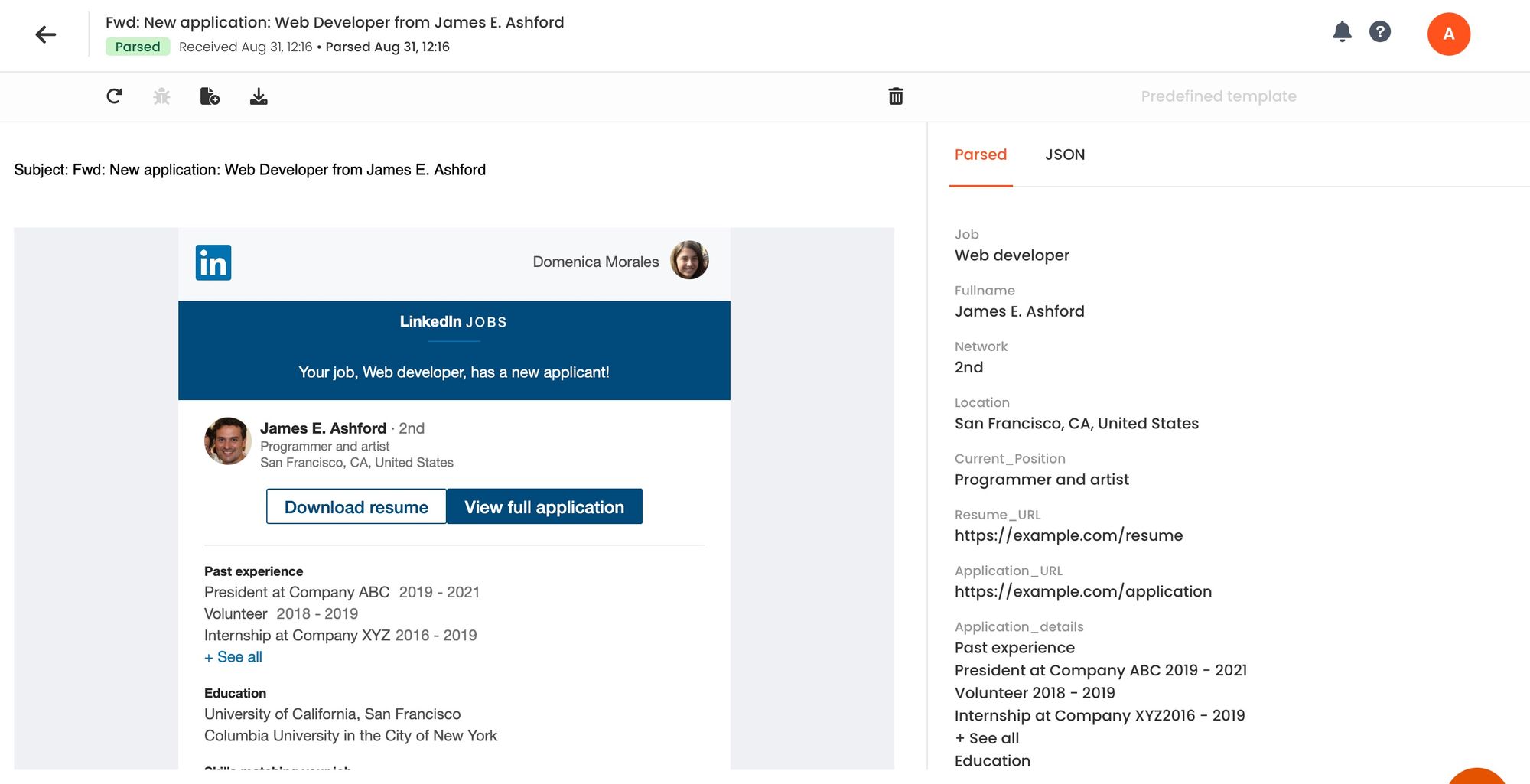 Exporting the Parsed Data
After extracting data from LinkedIn job application emails, you can export the parsed data to Google Sheets. For this, all you need is to copy a special Google Sheets formula and paste it into any cell of your spreadsheet.
Alternatively, there are automation platforms that have been integrated into Parsio, such as Zapier, Integrately, Pabbly Connect, Make, Quickwork, n8n, etc., which allow you to export data to 6,000+ apps for your choice, for example, your recruitment CRM.
In Summary
It won't be wrong to say that parsing of the LinkedIn emails is extremely beneficial as it can help you automate the whole process of extracting job applications data. After reading this post, we hope that now you know everything about how to parse and export LinkedIn job application emails to Google Sheets or your recruitment CRM.
With a no-code solution like Parsio, you can easily set up your email parser in less than 10 minutes. Parsio helps you automate your business and doesn't ask for a higher rate for working outside of business hours :)