Alternative to Zapier Email Parser: Parsio Vs Zapier Email Parser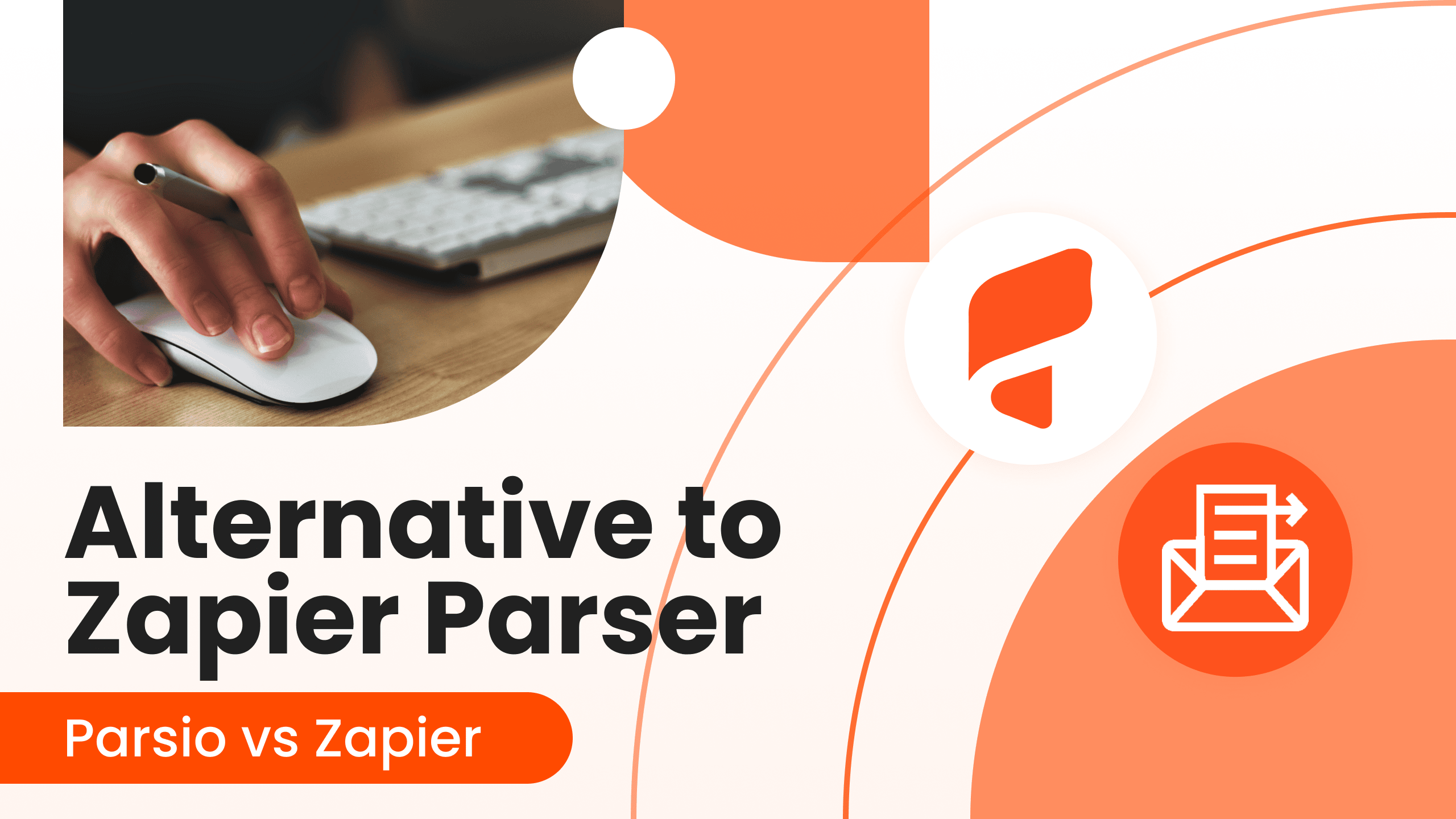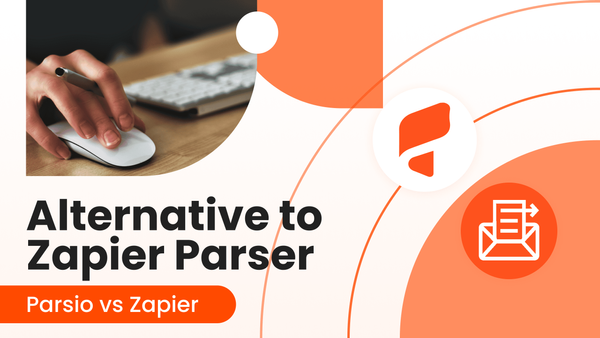 If you receive many emails every day which you need to get sorted out in order to extract valuable data, you must have certainly already thought of a tool that could do this automatically thus simplifying your life and your working routine.
Parsio is such a tool that is supposed to automate your business processes since it allows you to get the data extracted from your emails in no time and then consolidated in an app of your choice, helping you avoid dozens of manual work and human factor errors. Today there are a few email parsers available on the market, and you might ask yourself which tool is better. In this article we are going to cover the comparison between Parsio and the Zapier email parser tool and find out the pros and cons of both.
Zapier overview
If you already use other automations with Zapier, you might get interested in their built-in email parser tool. Zapier email parser is an entry-level email parser tool that is easy to set up - you just need to click on "Create a mailbox" (the address will be generated automatically for you), and then forward to it all the emails you want. Of course you can also set auto-forwarding up just as with any other mail parser.
The tool is rather intuitive to use and the template creation process is pretty much the same as with Parsio - you just need to highlight the data you want to extract, to name fields and thus create a template. All your incoming emails with the same layout will then be parsed by Zapier.

Zapier email parser is a great choice when you need to parse some very simple plain text emails thus creating similar basic templates.When it comes to HTML emails with a more complex structure, or to tables/repetitive data, or just to PDF or CSV attachments, that's where Parsio steps in to make your life much easier.
Zapier parser tool is great to quickly create a connection between it and the app of your choice – for example, to get a new subscriber added or updated every time you receive a new email.

One of the important things to note is that if you need to parse an email with many images or links, it may become hard or even impossible with the Zapier parser tool.
Another feature to mention are the ways to export parsed data. With Zapier you can only pipeline it to the app of your choice via numerous Zap integrations. Parsio, in its turn, proposes multiple possibilities:
Zapier email parser vs Parsio
Both Zapier email parser and Parsio are good at their data extraction job. Zapier email parser is a great choice for entry-level parsing if you only need email parsing as a complement to the other automation processes you deal with and if you are planning to deal only with text emails with a simple similar layout. Zapier email parser is mostly meant for occasional and simple email parsing.
Another significant difference between the Zapier tool and Parsio is in the ways to export the outcome data. With Zapier email parser you only get your data in the plain text format which you can only  pipeline it into the app of your choice via numerous Zapier integrations. If you don't use other Zapier products, their built-in parser tool might not be the best choice for you but if you already use other automations with Zapier, the tool will get the job done.
However, if you receive emails with different structure types and in vast numbers on a regular basis, you should set your eyes on a more advanced parser tool such as Parsio.
Parsio proposes a wide range of features like tables, PDF and attachments parsing, and the possibility to export data via webhooks/API. It is integrated with many  automation platforms (including Zapier) and allows you to import files not only by means of sending them by email but also by clicking the "Import" button right from your inbox or sending them through API. Parsio is an easy-to-use yet advanced product that you can use independently of the automation platforms you work with, no matter the complexity level of the emails you need to parse.
| | Zapier | Parsio |
| --- | --- | --- |
| Number of mailboxes | Unlimited | Unlimited |
| User Interface | Point-and-click | Point-and-click |
| Parsing reliability degree | Medium | High |
| Tables and repetitive data parsing | No | Yes |
| Attachment parsing | No | Yes |
| HTML parsing | Basic | Full |
| Extracting "hidden" HTML data | Basic attributes | Full |
| CSV and PDF parsing | No | Yes |
| Integrations with other apps | Yes - Zapier only | Yes - via 5 automation platforms |
| Pricing plan | Free | Free & paid |
| Metadata parsing | No | Yes |
| HTML web page parsing | No | Yes |
| Data import: email forwarding | Yes | Yes |
| Data import: uploading files | No | Yes |
| Data export: integration platforms | Zapier only | Zapier, Integrately, Integromat, Pabbly Connect, KonnectzIT |
| Data export: Google Sheets | Via Zapier only | Via 5 automation platforms + special Google Sheet formula |
| Data export: export to file | No | Yes |
| Data export: webhooks | No | Yes |
| Data export: API | No | Yes |
| Automatic email addresses collection | No | Yes |
| Customer support | Online knowledge base | Chat, email, knowledge base, videos |