Export Your Data Anywhere With the Parsio/Make Integration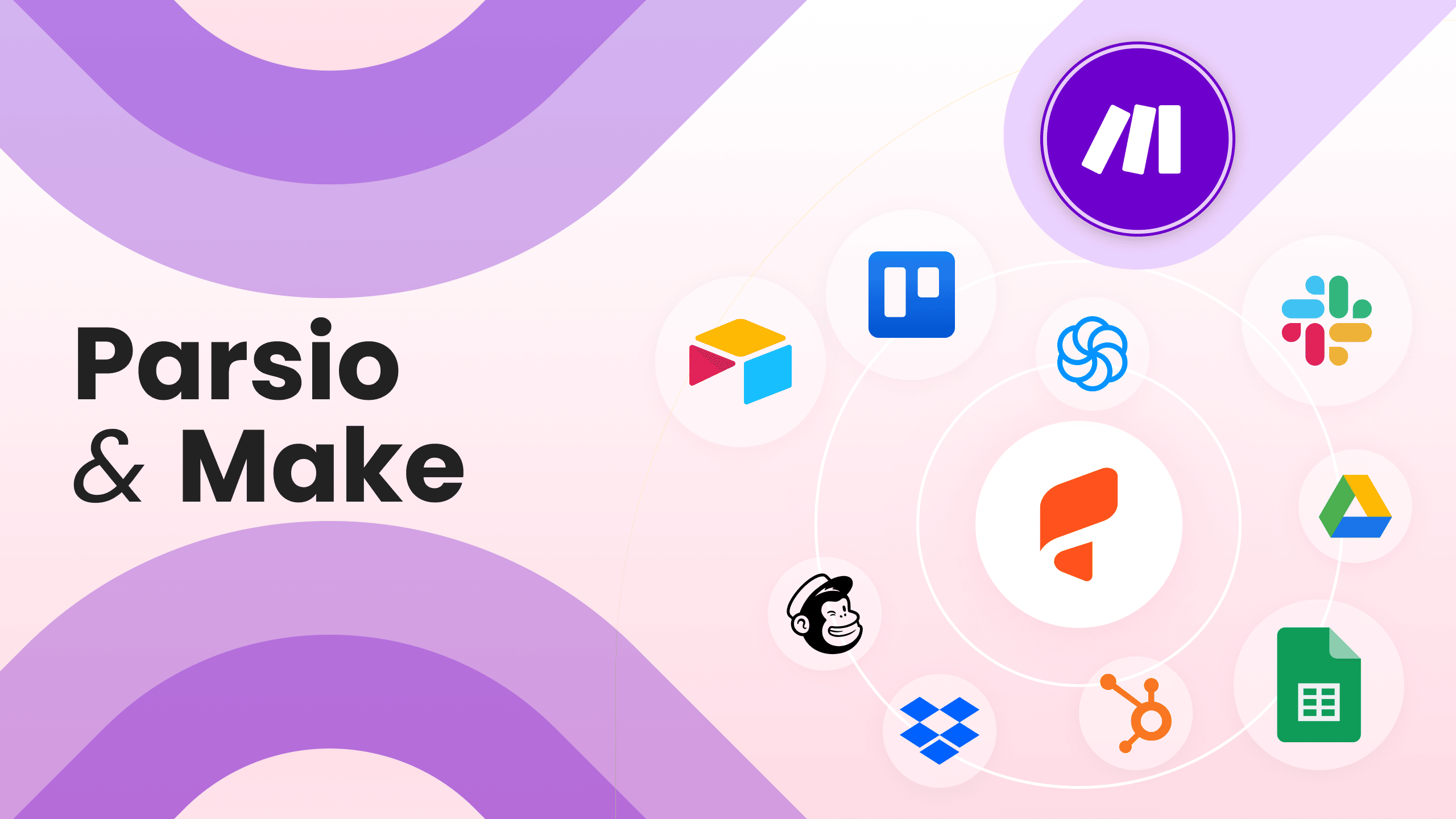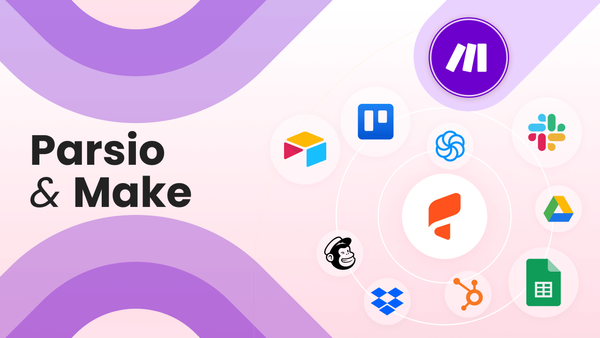 All digital company owners are generally overwhelmed with the amount of day-to-day tasks one needs to perform to run a business online. They may seem endless and awfully time-consuming, from tracking customer purchases to sending engaging email marketing campaigns. Workflow automation is what can really change one's working routine by speeding it up and reducing the time spent on various tasks, with zero human intervention.
With the business world becoming more challenging and competitive every year and with digitization spreading all over its spheres, automation platforms are now more popular than ever. There exist quite a few of them, each one with its own particularities. In this article we will take a dive into the Make automation platform and see how the Parsio/Make integration can help you in becoming more productive with your everyday tasks.
Make is a no-code workflow automation platform that allows you to create streamlines between apps. 1000+ apps are available for connections (called scenarios) thanks to the Parsio/Make integration. Thus, you'll be able to extract data from your emails/PDFs and store it at the place of your choice. Here are just a few examples of what this integration can do for you:
Add new leads from emails to a CRM
Export parsed data to Google Sheets, Trello, Slack
Upload your attachments automatically to Google Drive, OneDrive, Dropbox
Subscribe clients to newsletters
Extract data to accounting apps thus creating financial reporting
Enable automatic notifications for your team about leads/customers and many more
Let's see how it all works. All you need to do is to set your workflow automation up is to click on the direct Parsio/Make integration link in your Integrations tab inside of your mailbox. There you will find a wide choice of apps to create streamlines between.

We'll show you how to connect Parsio directly to an app of your choice with the help of Make, and how it can facilitate your routine.
Online businesses often need to export data from emails and PDFs (purchase confirmations, invoices…) to Google Sheets to create reports. It's pretty easy with the Parsio/Make integration. So, imagine you receive emails from the Stripe payments platform on a regular basis. Those emails are parsed as on the screenshot below.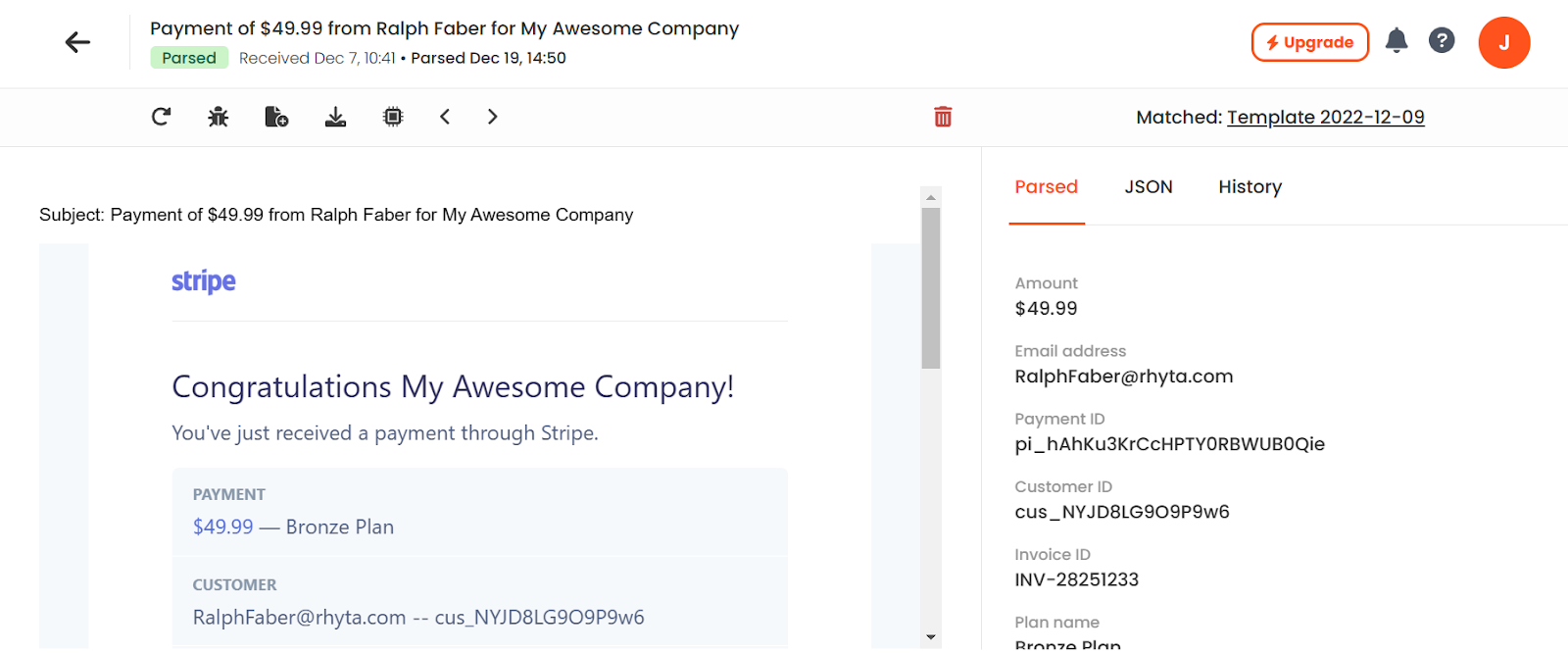 Then, we would like to export the parsed data into Google Sheets. For this, before creating a scenario on the Make platform, we need to create a Google sheet with columns that correspond to our template titles. After this, we can start creating a scenario.
The scenario creation process starts with choosing one of the multiple triggers available with Parsio. For our example with Google Sheets, we will choose the "Watch Doc Parsed" one.

After this, we need to add our Parsio account into the first module by choosing the proper mailbox.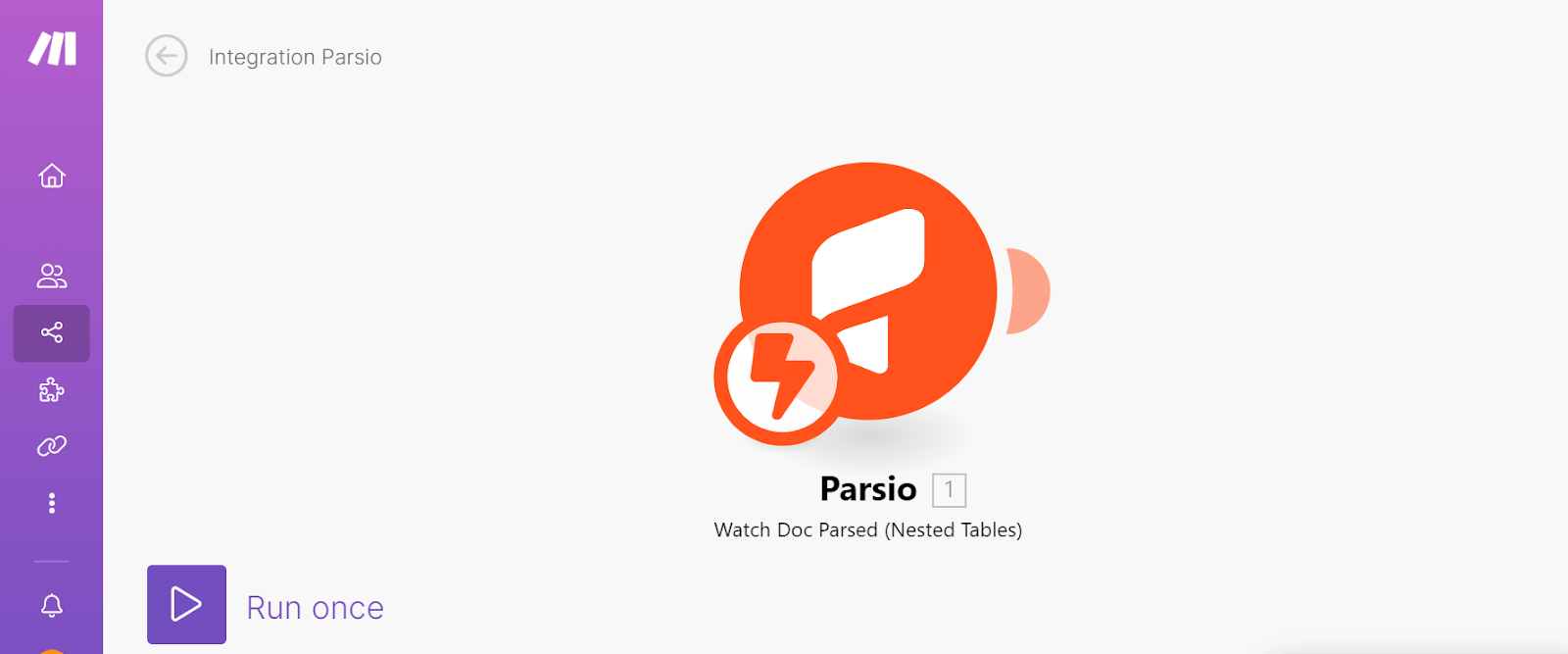 Then, we will parse a test email and export it to Make in order to get the sample email structure. Make a right click and choose "Run this module only", then go back to your Parsio mailbox, click on "Parse" or "Reprocess", and your first module will be launched.

Now we need to create the second Google Sheets module and connect it to our Test Google Sheet.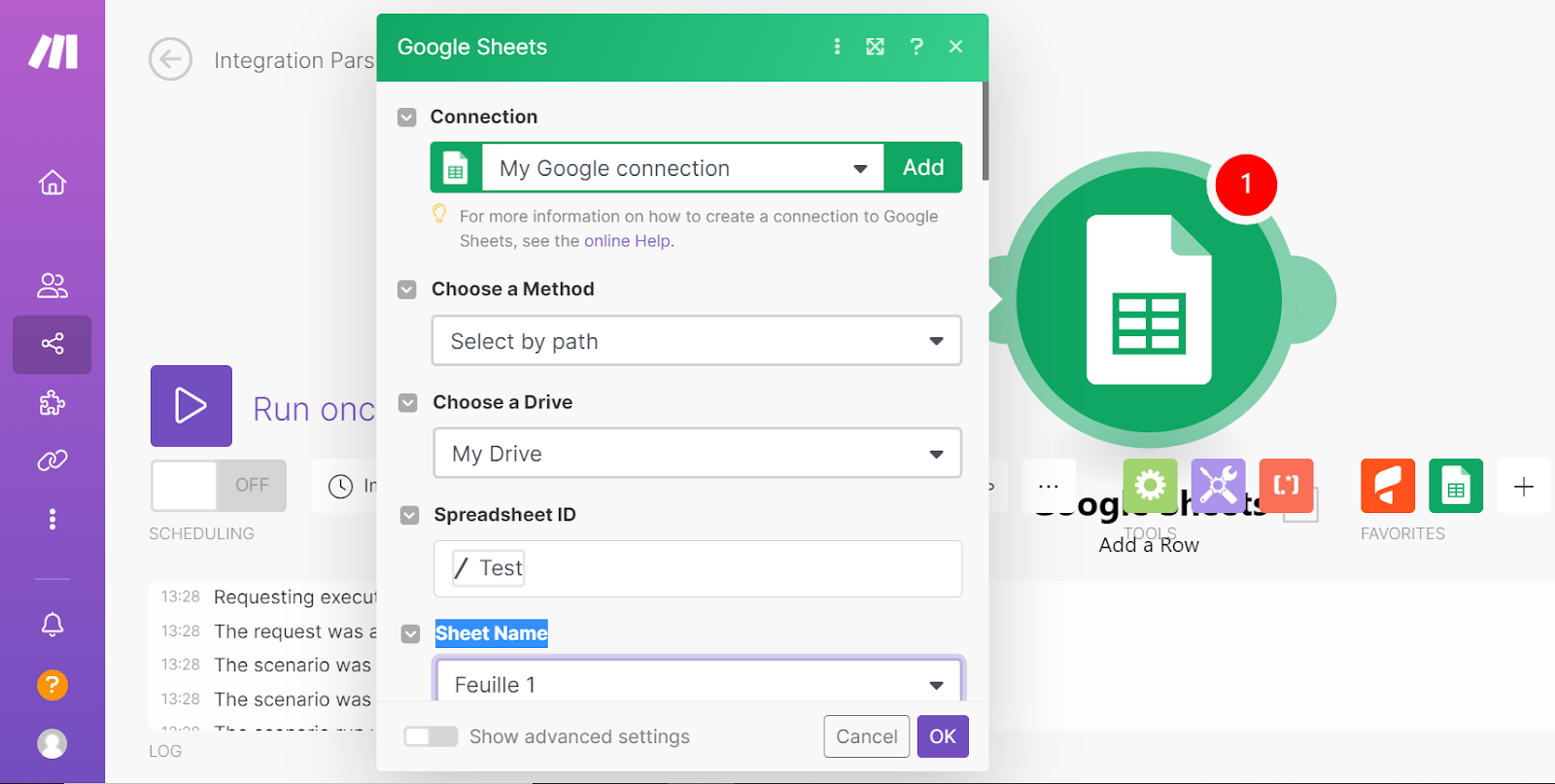 Make sure your spreadsheet field names correspond well to your Parsio template titles.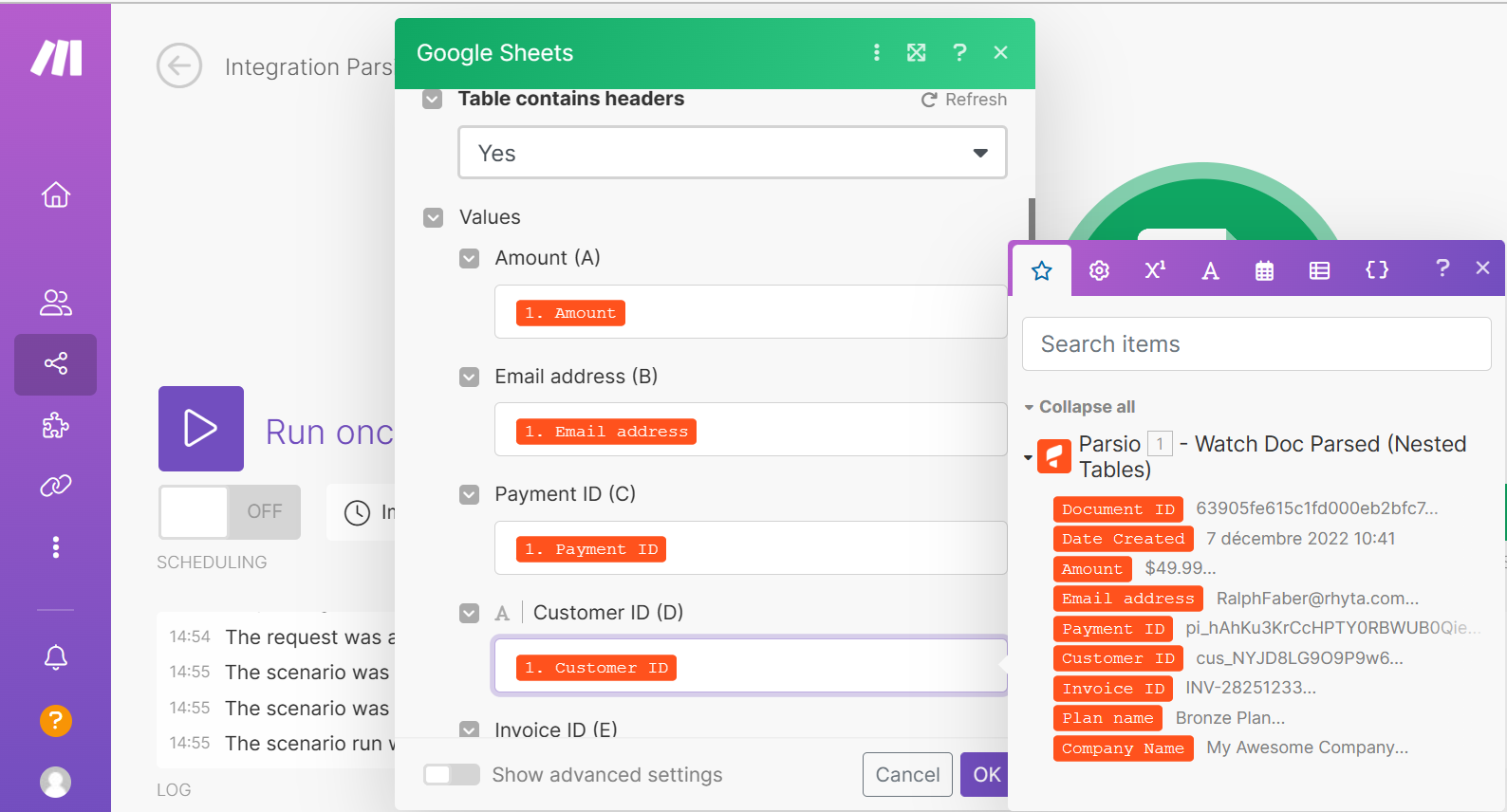 Now every time new data has arrived with a new email, Parsio will trigger the scenario, and a new row will be added in your Google Sheet.
Once you click on « Run scenario », the integration will start waiting for the input data so you'll need to parse your first email in order to streamline the data into Google Sheets.

You will know that your scenario has run successfully once the green ticks appear next to the module names.
As a result, we have a new row appearing in our Google Sheet, and that's what will happen every time a new document is parsed.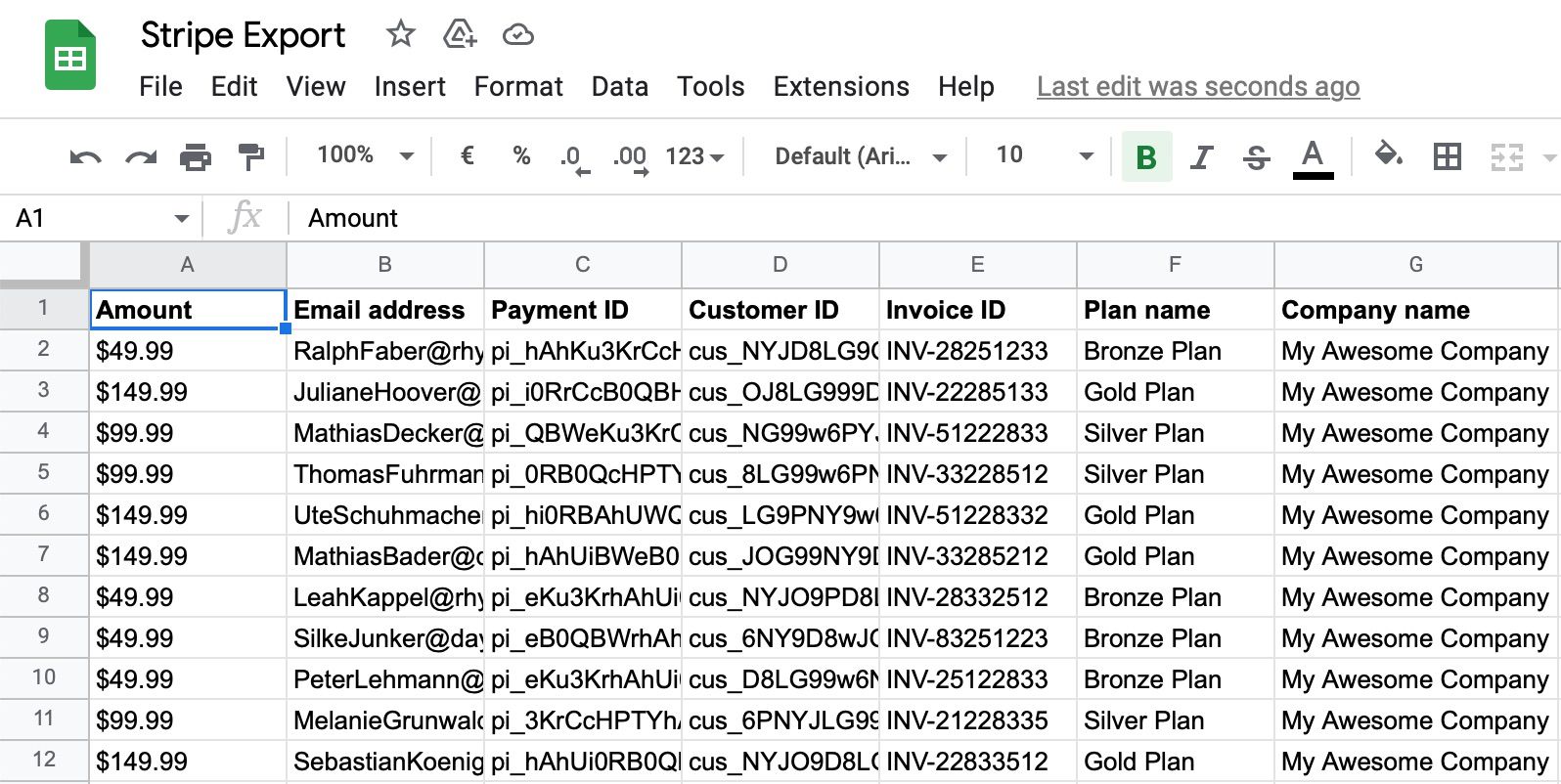 Real-Life Examples of Parsio/Make Integrations
A lot of companies tend to use HubSpot CRM and can connect Parsio with it. This scenario will automatically search for CRM objects (contacts e.g email addresses, companies, deals) in all newly received documents and emails in order to add them to the CRM database.
Another example of a workflow created with the help of Make is a Parsio/Slack connection. With every new invoice/email parsed, the information on the new lead is transferred to the sales team on a Slack channel so that he can be called back immediately.
A Parsio/Trello integration can also turn out to be pretty functional for marketplace sellers like the ones on Etsy: a new Trello card will be created with every new sale in order to track the order status in real time. This helps sellers be aware of whether an order is being processed or has already been shipped.
Last but not least, the integration with Parsio can be really helpful for AirBnB owners: every new booking is saved in the client's calendar in the CRM database, and a satisfaction questionnaire is sent to him as soon as his booking is over.
As you see, the workflow creation process is rather simple and doesn't require any background knowledge.
So Why Use the Parsio/Make Integration?
It can make your life so much easier! Connecting the apps you need to each other via Make makes you store all your core data together in a centralized manner, which eventually helps you save a considerable amount of time, money, human involvement and of course maximize your productivity. Accuracy, quality and reliability are essential when working with sensitive data so workflow automation with Make is a life-saving solution.
Stay updated about all Parsio's new features with our blog and follow us on Twitter for more awesome tips!
Check out our latest article on Parsio/Google Sheets connection which allows you to export your data to Google Spreadsheets directly from your Parsio account.
Related articles: