How to Convert Invoices to Google Sheets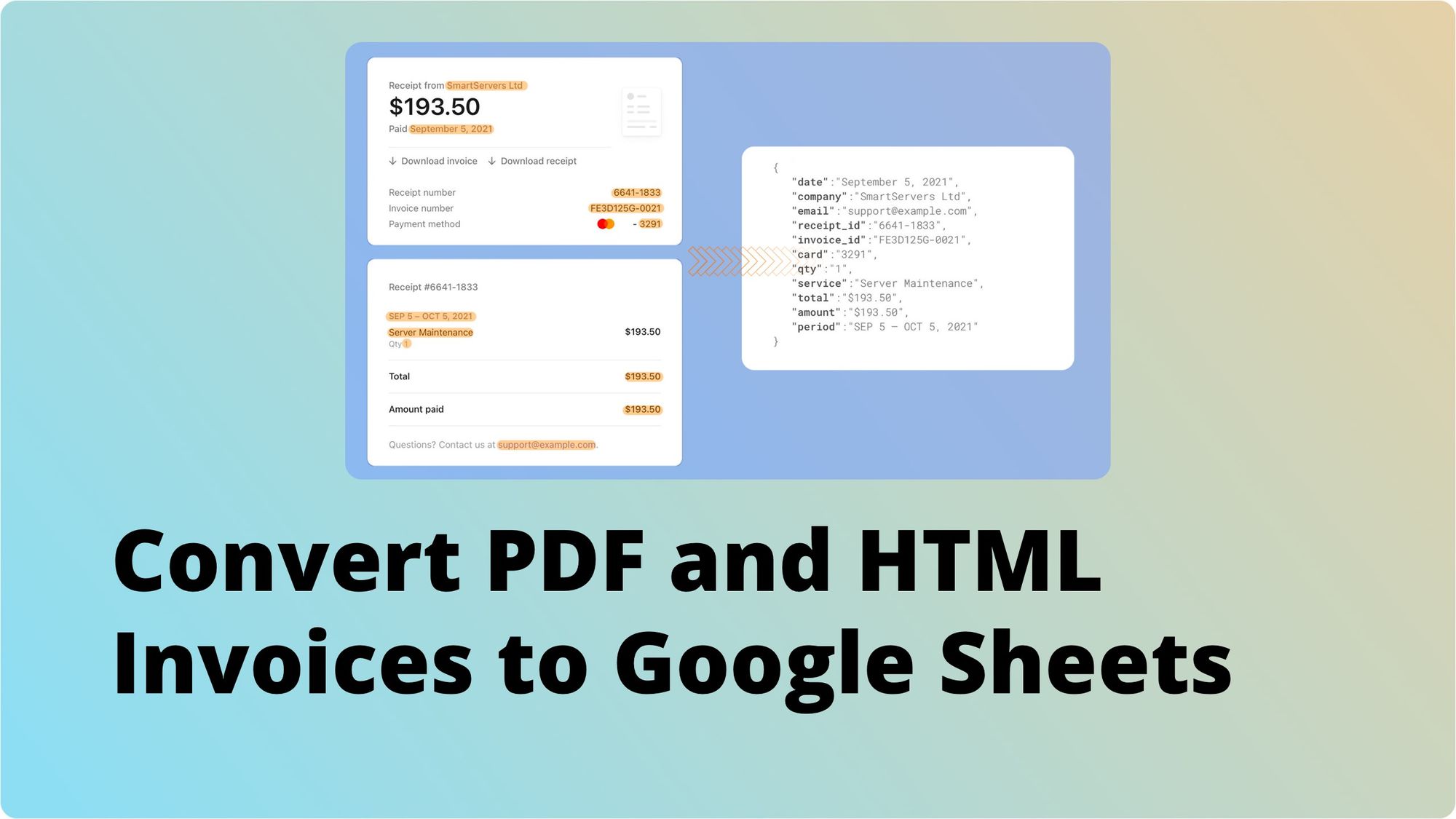 Being able to extract the information from invoices is essential for accounting and reporting purposes. An email parser tool like Parsio may save you dozens of manual work hours by automatically processing the key fields like invoice date, invoice number, items purchased, the VAT rate and amount applied etc.
Having your invoices automatically parsed will:
Save your time and money.
Keep you away from all sorts of human factor mistakes.
Ensure quality, accuracy and reliability that are crucial when working with sensitive data.
No matter if your invoice is a PDF attachment or is contained right in the mail body – Parsio will be able to deal with both. Afterwards you can either download your data into a CSV or an Excel file, export it to a Google Sheet or an app of your choice via Zapier or webhooks.
How to extract data from PDF and email invoices?
Invoice parsing may seem rather a complex task since you can't just create a simple template once and for good as you do with ordinary emails: invoices generally contain multiple rows/products. This number is dynamic and may vary from invoice to invoice.
To solve this, you'll need to create a template to extract data from your invoice using a "Table" field. Our Tables and repetitive data extracting solution article should help you to understand the process better).
Let's take a confirmation email send by PayPal: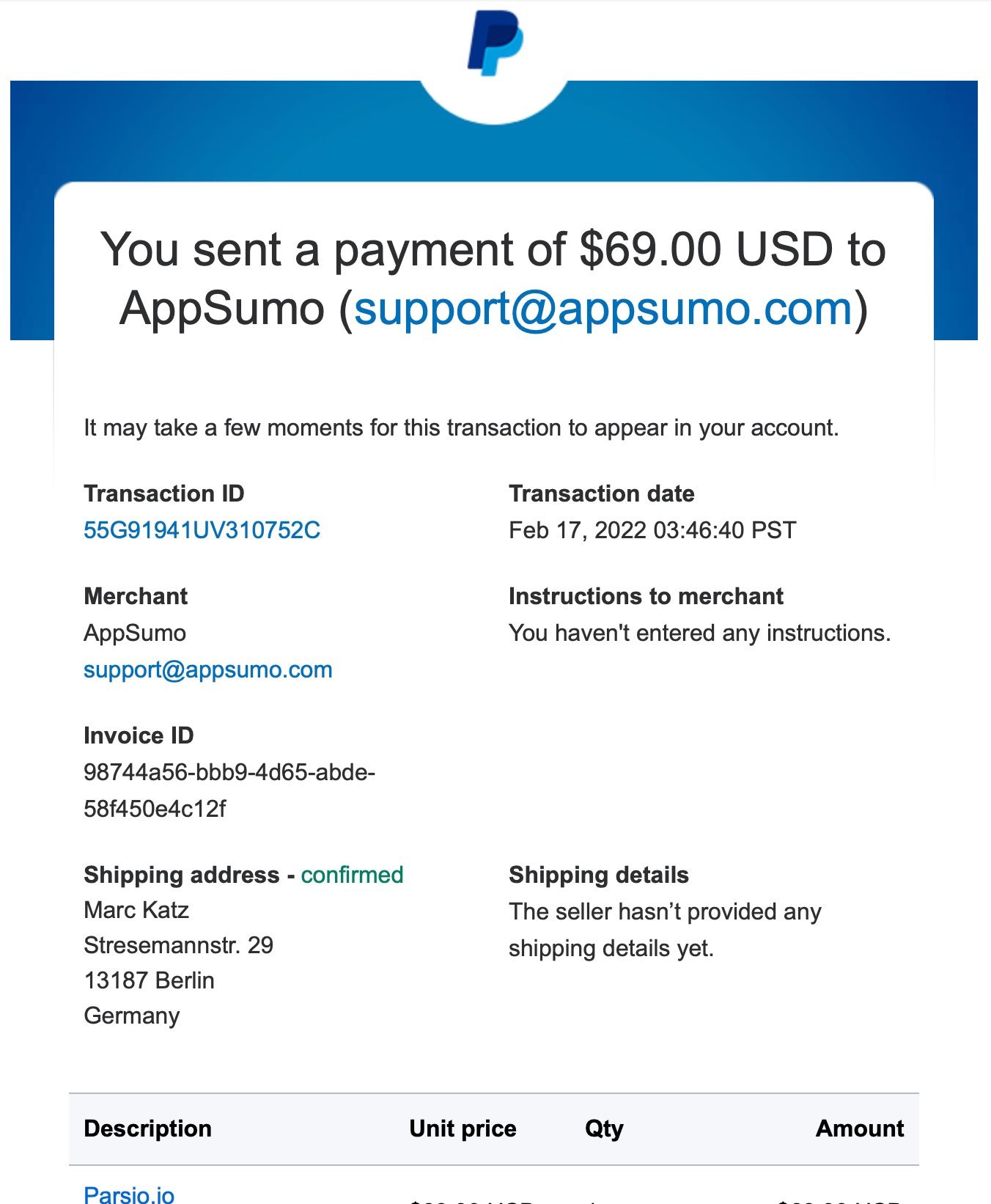 Here we have a number of regular fields we want to extract: Transaction ID, Date, Merchant name, Email address, Invoice ID and also a table that may contain one, two, or more purchased products.
Let's see how we can extract this valuable data.
Step 1. Click on "Create a template". Highlight all the regular fields:

Step 2. To create a table field, highlight the product rows and click on "Add a new table".
Step 3. You'll now have your working zone highlighted in green. Just extract the fields that you need. In our example: product name, unit price, quantity and the total amount: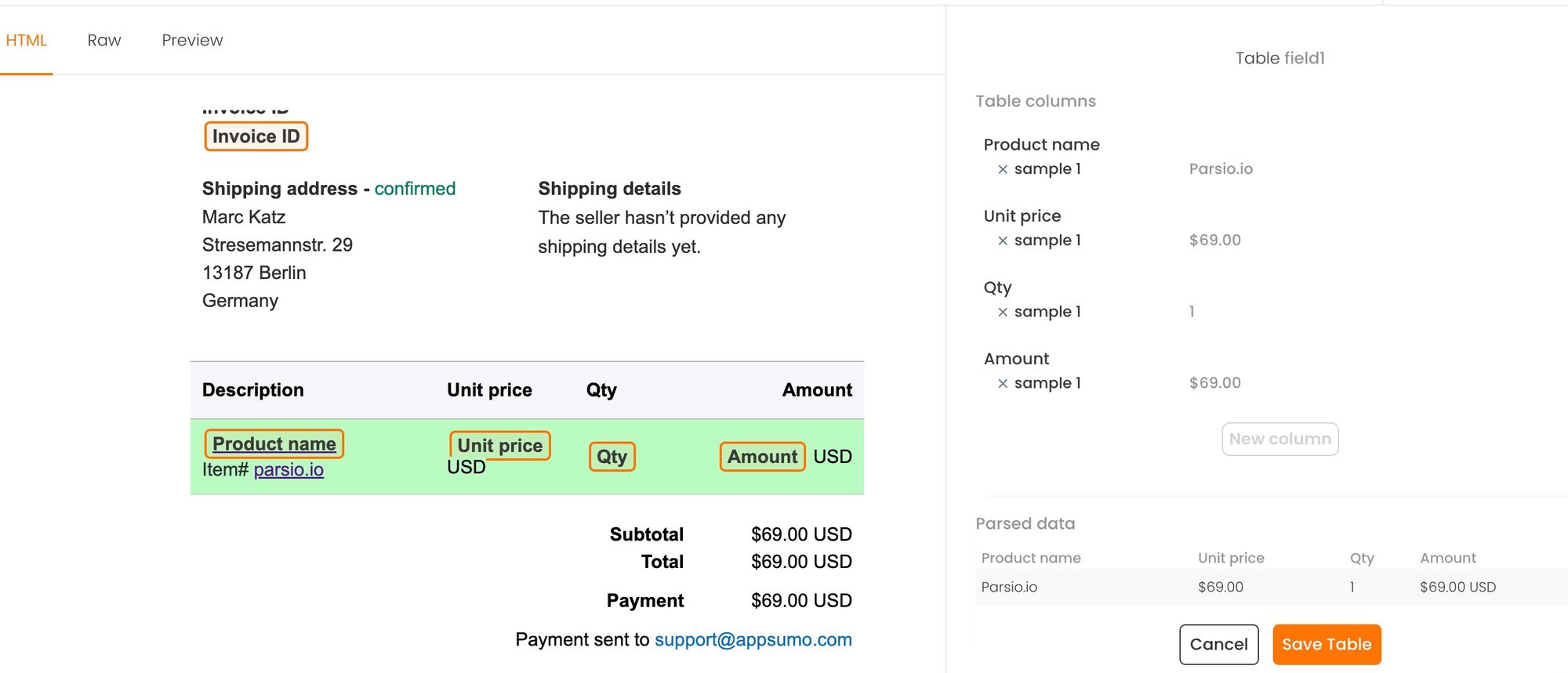 Step 4. Save the template and Parsio will process your email in a few milliseconds.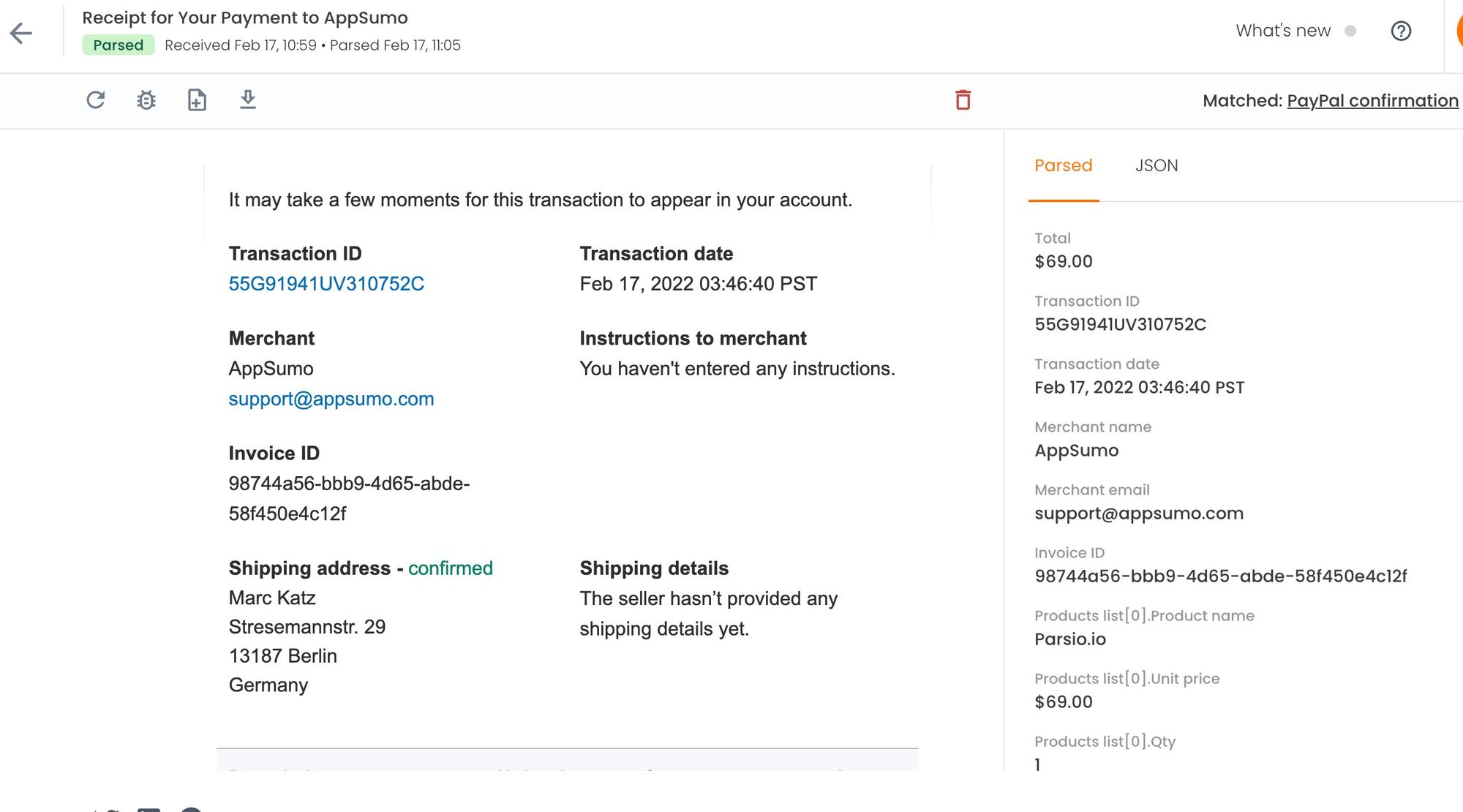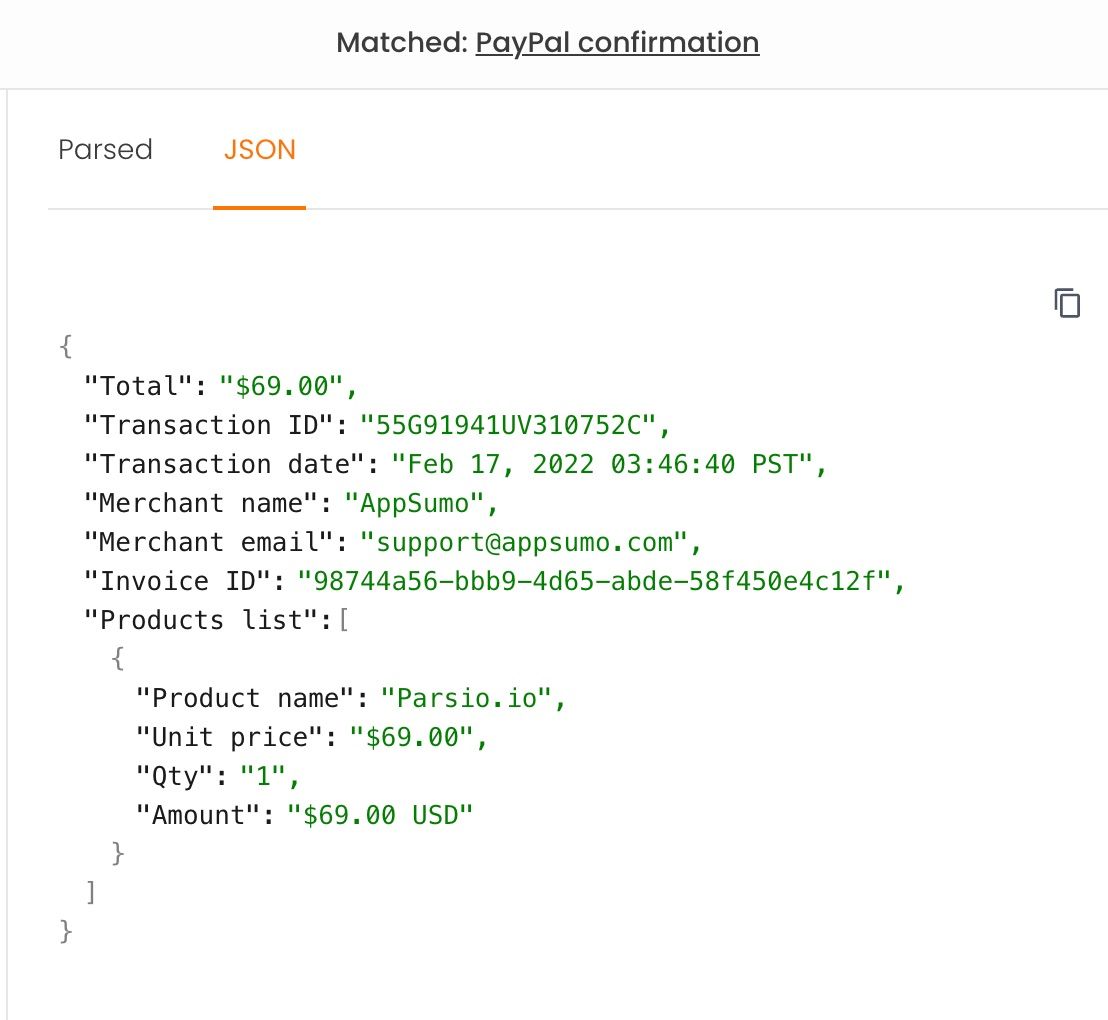 Now, every time when you will send a similar email to your Parsio mailbox, it will be parsed automatically. You'll be able to download the parsed data as an Excel/CSV/JSON file, export it to a Google Sheet or your favourite app.
How to export the parsed data to a Google Sheet?
In case you receive your invoices and PDF and would like the data to be stored in a Google Spreadsheet, you can automatically export it there. Just copy a special formula from your Parsio account and paste it in any cell.

Sheets will update data automatically at up to 1 hour intervals according to Google documentation. To force a refresh of the data synced into Sheets, you can go to the cell in Sheets which has the formula, delete it, and then undo the change.
For a real time data export to Google Sheets you can use an automation platform like Zapier, Integrately, Make, Quickwork, KonnectzIt, Pabbly Connect. Parsio has a native integration with all of these services so the whole process won't take you more than 2 minutes.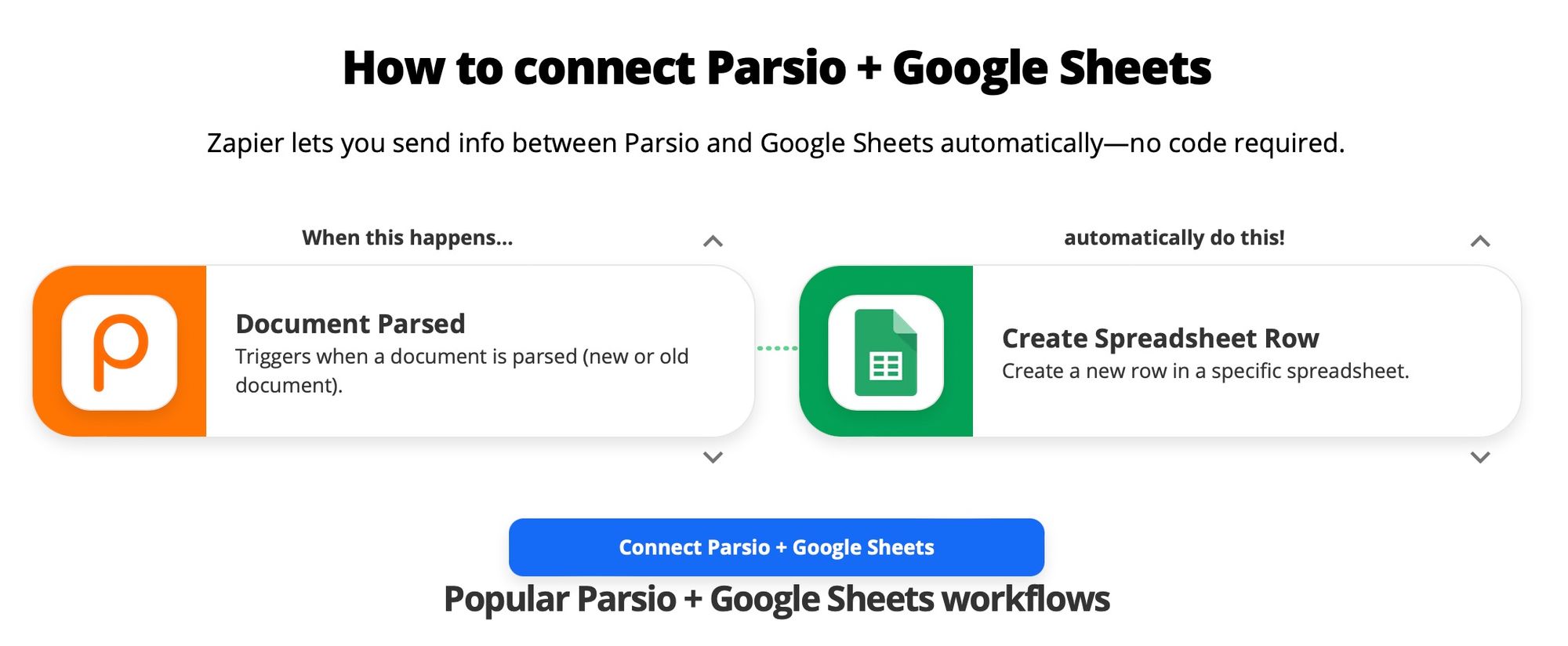 Streamline the parsed data to your favourite platform
Thanks to a built-in integration with automation platforms, it's possible to export your data to Zapier, Integrately, Make or KonnectzIT. Such an automation can save you hours of manual routine work enabling you to focus on the most important aspects of your work. It can help you extract your email and PDF data into a CRM, Mailchimp, Tadabase, Dropbox, Google Drive and many more.
Create a custom integration
Since Parsio supports webhooks, you can easily export data from incoming emails and attachments to your server, reformat it, insert into your database or create any kind of complex automation.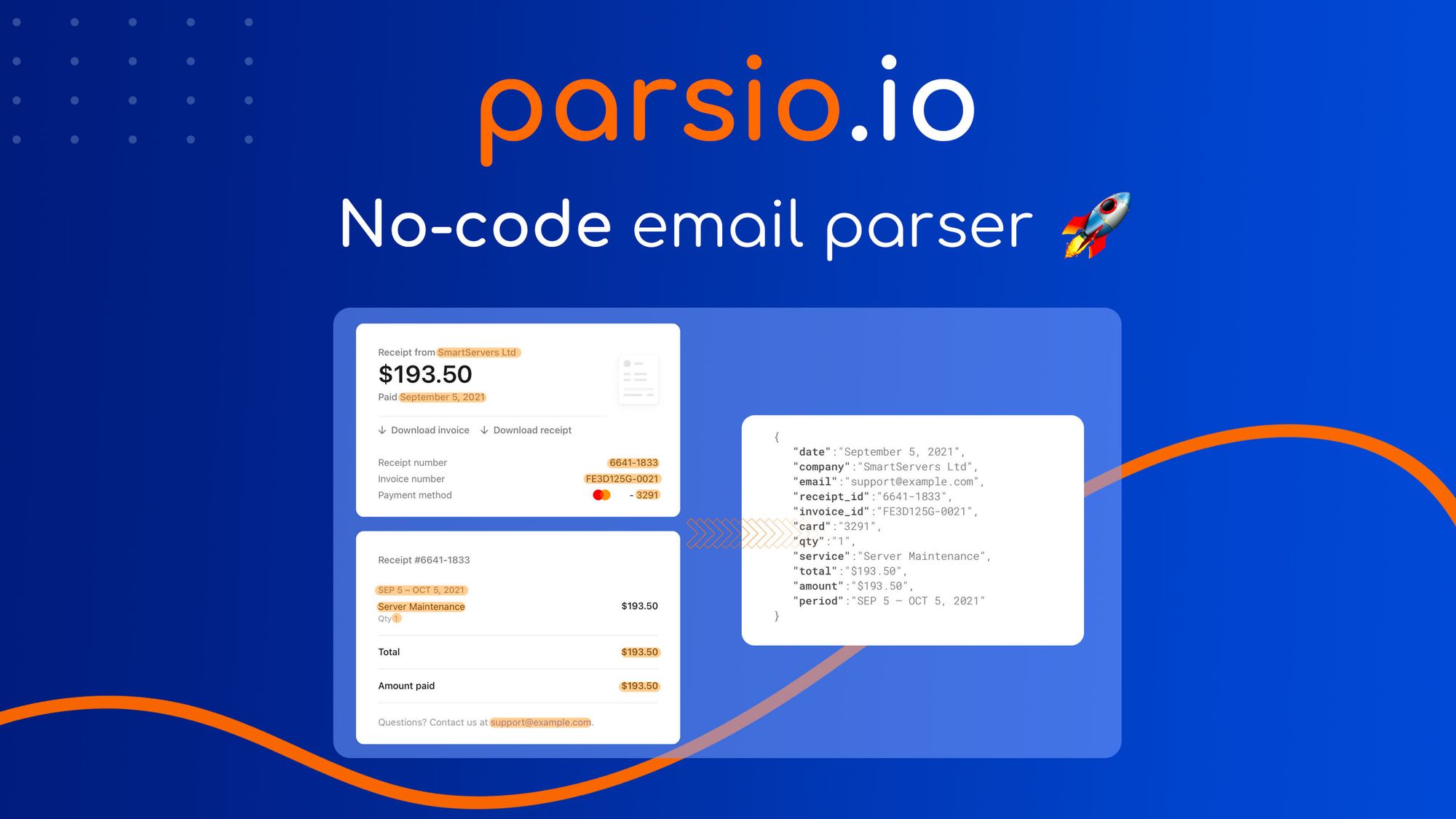 Extract valuable data from emails and attachments
Stay parsed with Parsio
Learn more about what Parsio is and in what other ways it can help you automate your business.