Extracting Data From HARO Emails: Everything You Need to Know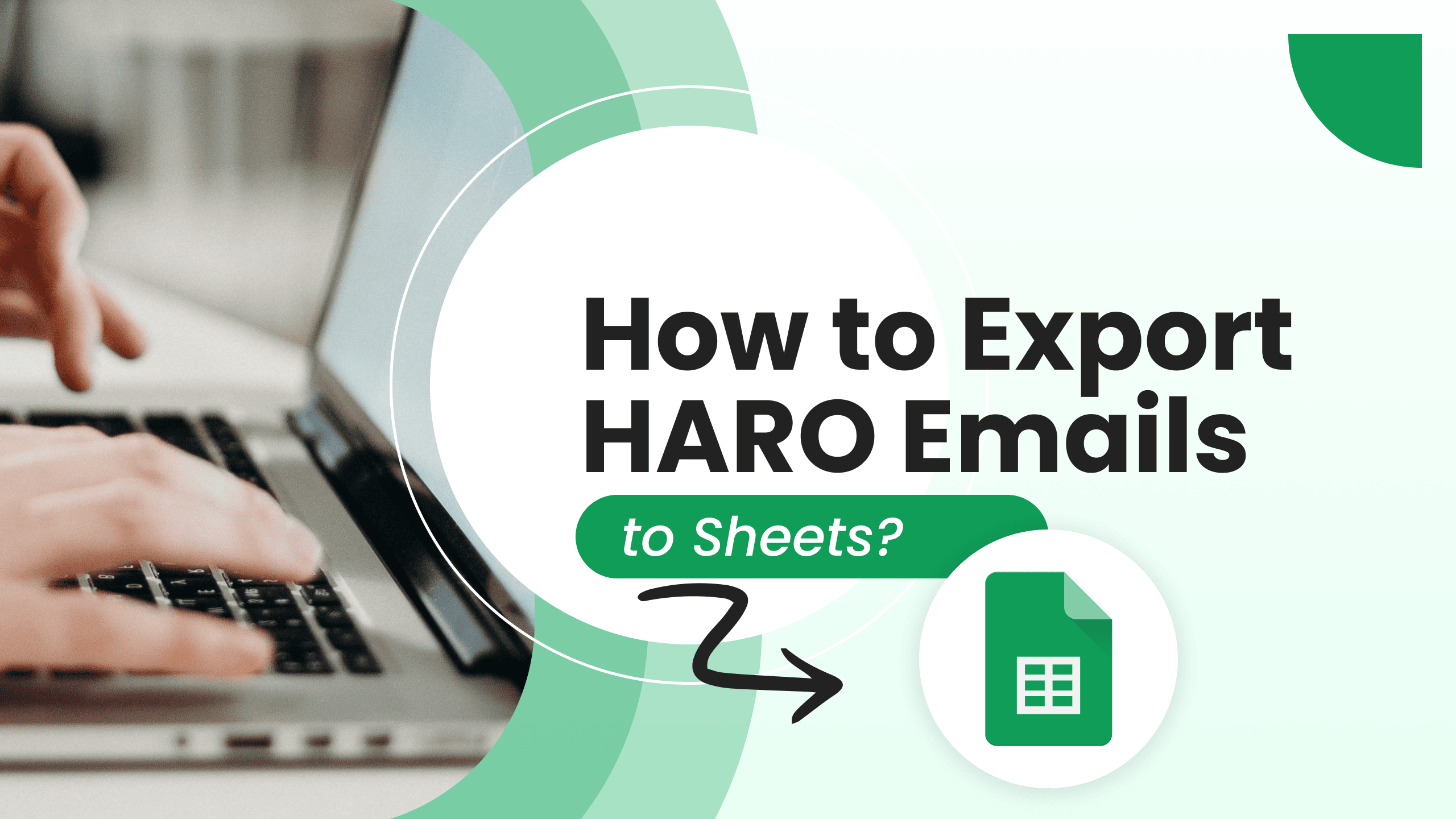 HARO is an abbreviation of "Help A Reporter Out", which is a service primarily used by journalists or bloggers from popular platforms to gather expertise from sources that add authenticity to their articles. This way, the sources get a chance to be featured and potentially secure media coverage. Therefore, the platform benefits both parties involved.
If you sign up for HARO, you will receive emails in a batch three times every day from Monday to Friday. These emails contain queries on several topics, and you have to find a suitable query you have knowledge about and then pitch with a response as early as possible before the time runs out.
The platform is accessed by 75,000+ journalists and bloggers; therefore, a gateway for over a million signed-up sources to the most respectable media outlets and opportunities.
Index
Who Is HARO For?
What Is Included in the HARO Email?
How to Efficiently Use HARO: Take Your Email Processing to the Next Level.
How to Create a HARO Parser With Parsio?
How to Extract the Parsed Data From HARO Emails to Google Sheets?
How to Extract the Parsed Data From HARO Emails to Excel, CSV, or JSON?
How to Extract the Parsed Data From HARO Emails to Any App/Platform?
Filtering HARO emails with Make.
The Final Verdict.
Who Is HARO For?
HARO was first started out as a Facebook group in 2008 by Peter Shankman with a few contacts. However, now it has been established as a platform from which several businesses are being benefited. Intentionally, in the beginning, HARO was started for journalists but now it has been providing services to brands trying to build media relations in industry, lifestyle influencers, bloggers, and different media outlets including Refinery 29, New York Times, Fox news.com, etc. to get an insight to public responses.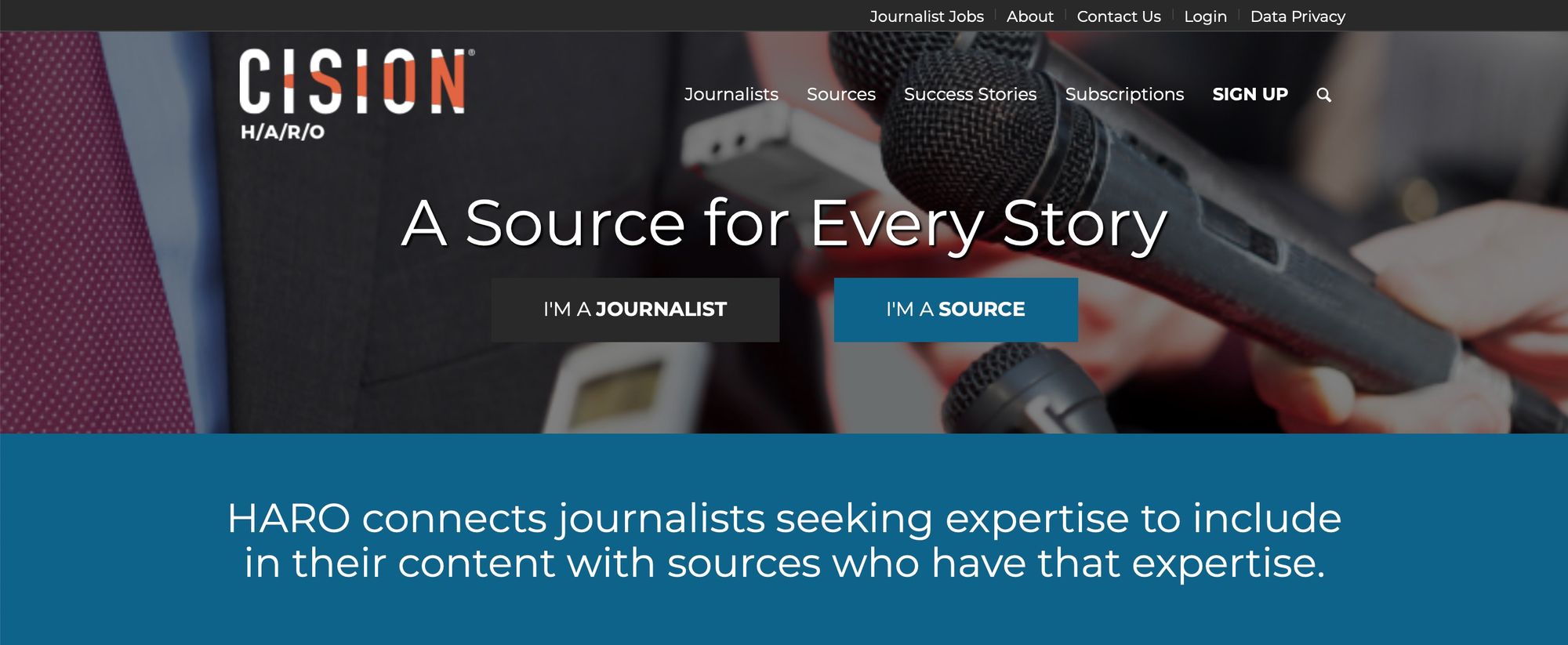 If you have expertise on a topic or run a PR company that can add value to the content of the journalists, then you can also check off the queries that are relevant from a list you are provided when you subscribe to the platform.
If you can pitch on the topic, you can simply mail the journalists; this may get you a chance to bring limelight to your brand and will also help you establish media relations.
When the journalist chooses your pitch to quote into their article with a backlink to your website, this will build and enhance the reputation of your brand and thus mutually benefit both parties involved.
HARO can also be beneficial for:
Startup brands and businesses looking for marketing strategies.
Blog owners who need content writers for their blog posts as a guest.
Businesses or NGOs which run as non-profitable organizations looking for reach.
What Is Included in the HARO Email?
The query may include details such as the topic, name of a reporter, category, media outlet, deadline to submit, the actual query, and lastly, a masked email to which you pitch your expert opinion fulfilling the mentioned requirements.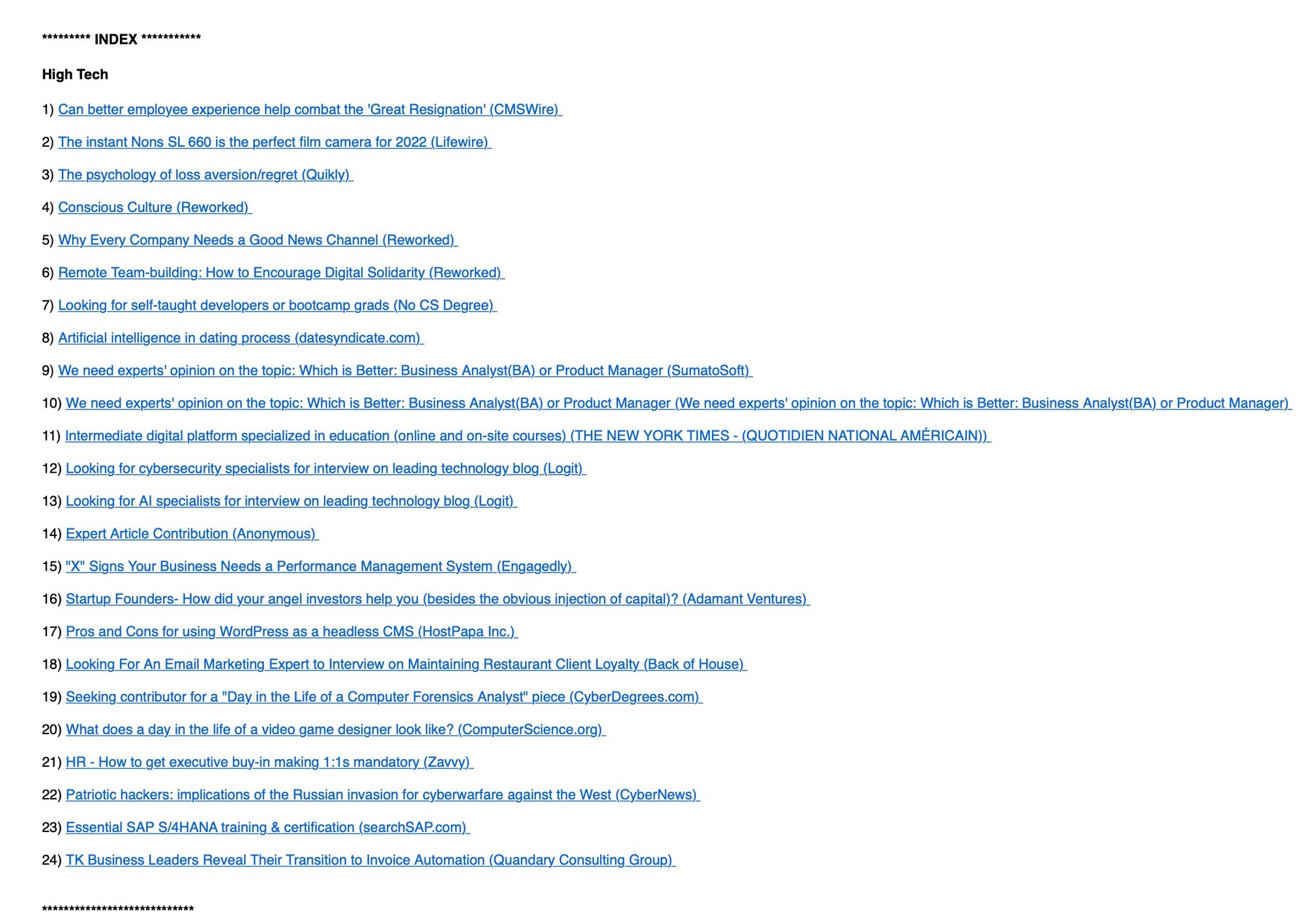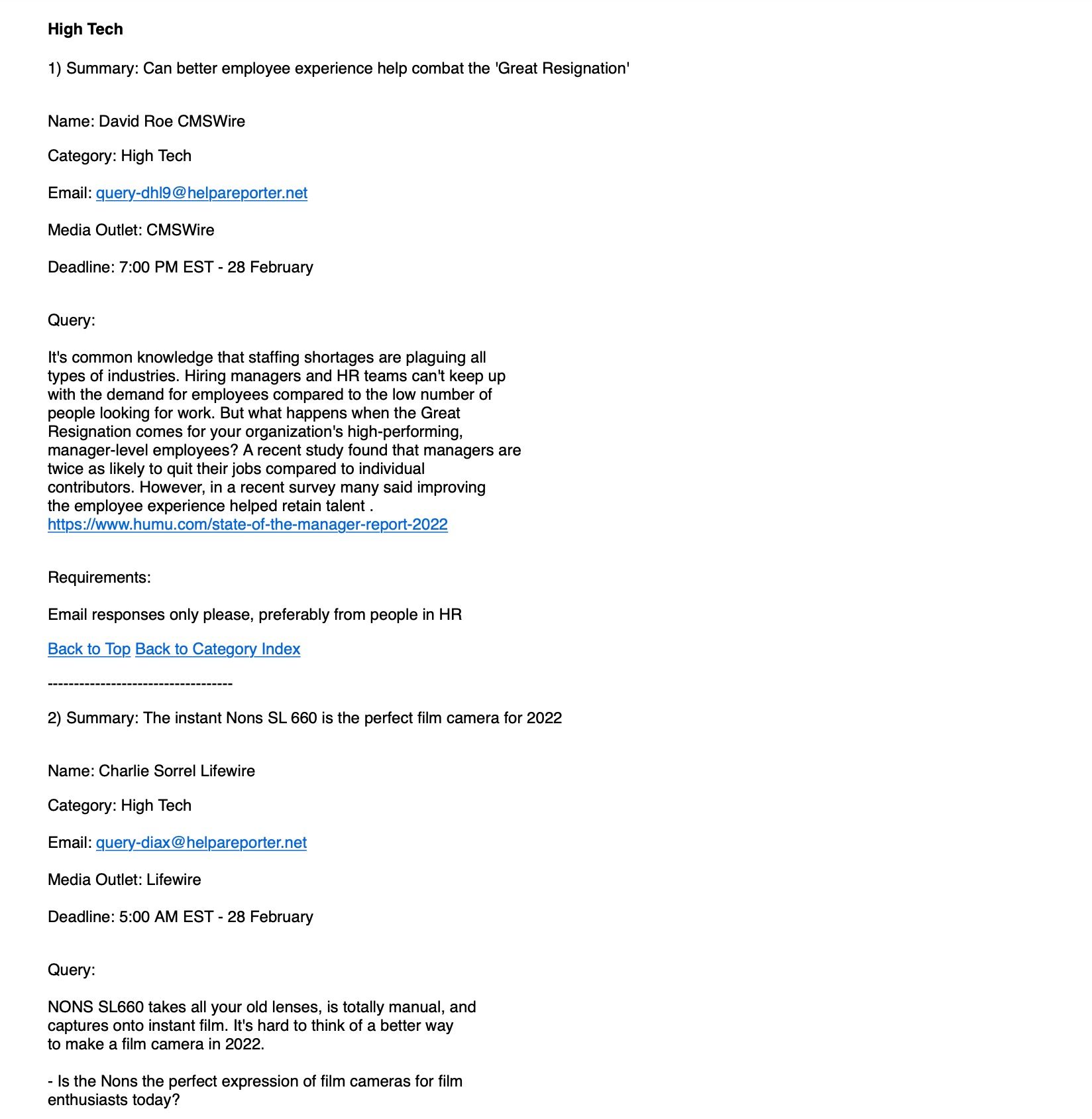 How to Efficiently Use HARO: Take Your Email Processing to the Next Level
Although this platform is advantageous to the journalists and sources, ensuring quality information and exposure respectively, there are some issues you can't overlook:
HARO sends you innumerable mails 3 times a day from Mon through Fri at 5:35 AM, 12:35 PM, and 5:35 PM EST with requests from journalists and reporters globally on trending topics. So, you typically need to go through all these queries multiple times a day to find a query that is relevant and can pitch your expertise on. It usually consumes a lot of time and effort each day.
A standard HARO email contains 40-70 queries without any possibility to filter them, which makes it extremely difficult to process them manually.
You need to be quick in responding to the incoming queries from journalists. The time frame is set for incoming mails, so you have to write concise and on-point pitches accordingly. If not, you probably would miss a chance or deadline and your expertise in a topic most certainly becomes of no use.
After considering the issues that the users have been facing, we can say that the method requires a bit of patience and in time to receive high-quality queries. However, if you want to save time on HARO emails, then it might be worthwhile using email parsing software. For this, Parsio is a trusted email parser that can actually help automate the pitch to each of these queries. Some of the reasons for which we recommend you to use this parser with HARO emails are the following:
It is a powerful and efficient parsing software that automatically extracts data from HARO emails.
Exports the data from HARO emails to Google Sheets or Excel, and then you can filter the received queries according to your expertise. For instance, "Travel, Lifestyle, and fitness" or you can also filter incoming mails by the name, deadline, or media outlet.
Notifications are sent to your Slack or Telegram when you receive a query with the selected keywords.
How to Create a HARO Parser With Parsio?
Step 1: First of all, create a free Parsio account.
Step 2: Create a new Mailbox and choose HARO as a predefined template to parse HARO emails automatically onwards. A Mailbox is a special email address, for example: [email protected].

Step 3: Then, in your email client, create a filter to automatically forward HARO emails to the created Parsio inbox. After that, your emails will be automatically parsed.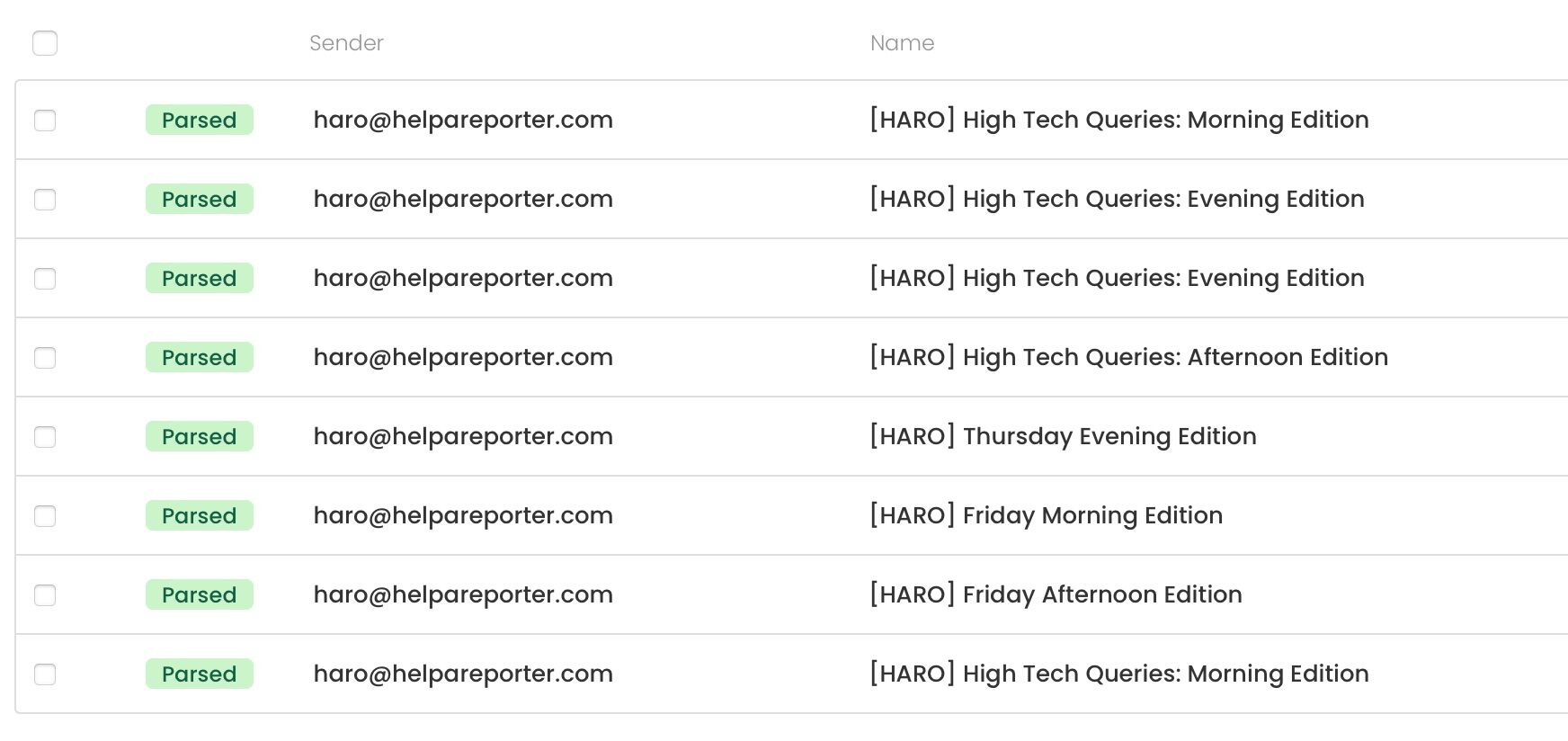 Step 4: In the last step, you can extract and export the parsed emails to Sheets in real time.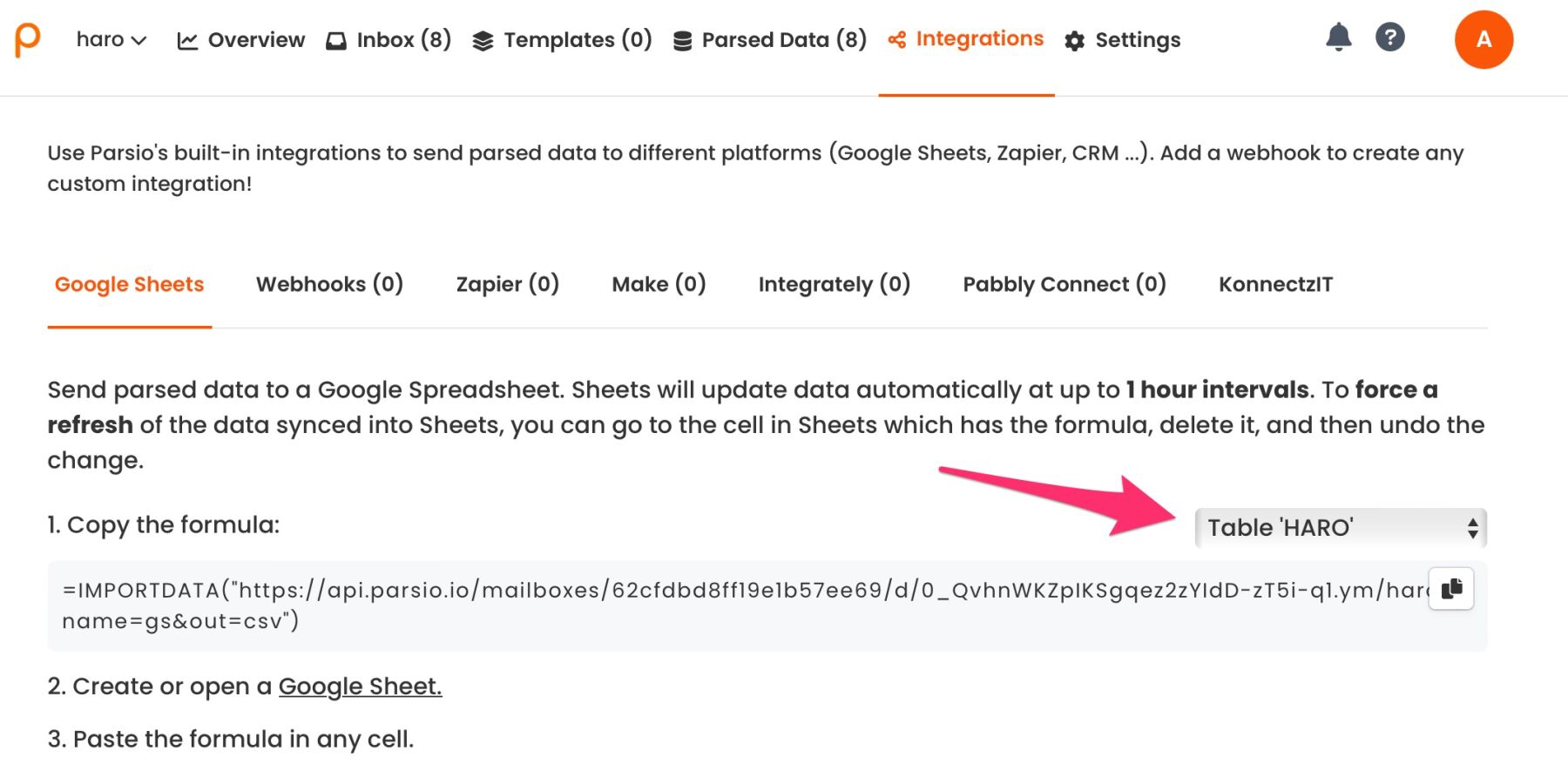 How to Extract the Parsed Data From HARO Emails to Google Sheets?
Once you have mentioned HARO as a predefined template and set up automatic forwarding rules, then you will simply need to copy and paste the special Google Sheets formula in any cell to extract HARO emails to Google Sheets.
Otherwise, you can also use automation tools such as Zapier, Make, Pabbly Connect, Integrately, etc., which have been integrated into Parsio.
How to Extract the Parsed Data From HARO Emails to Excel, CSV, or JSON?
Once your data from HARO emails has been parsed via the Parsio email parser, the extracted data file can be downloaded from the Parsio account.
To extract HARO emails to Excel you will need to:
Go to the Parsio mailbox and click on Parsed Data.
Now, click on the Export button and choose the output export format.
Lastly, you will click on Export.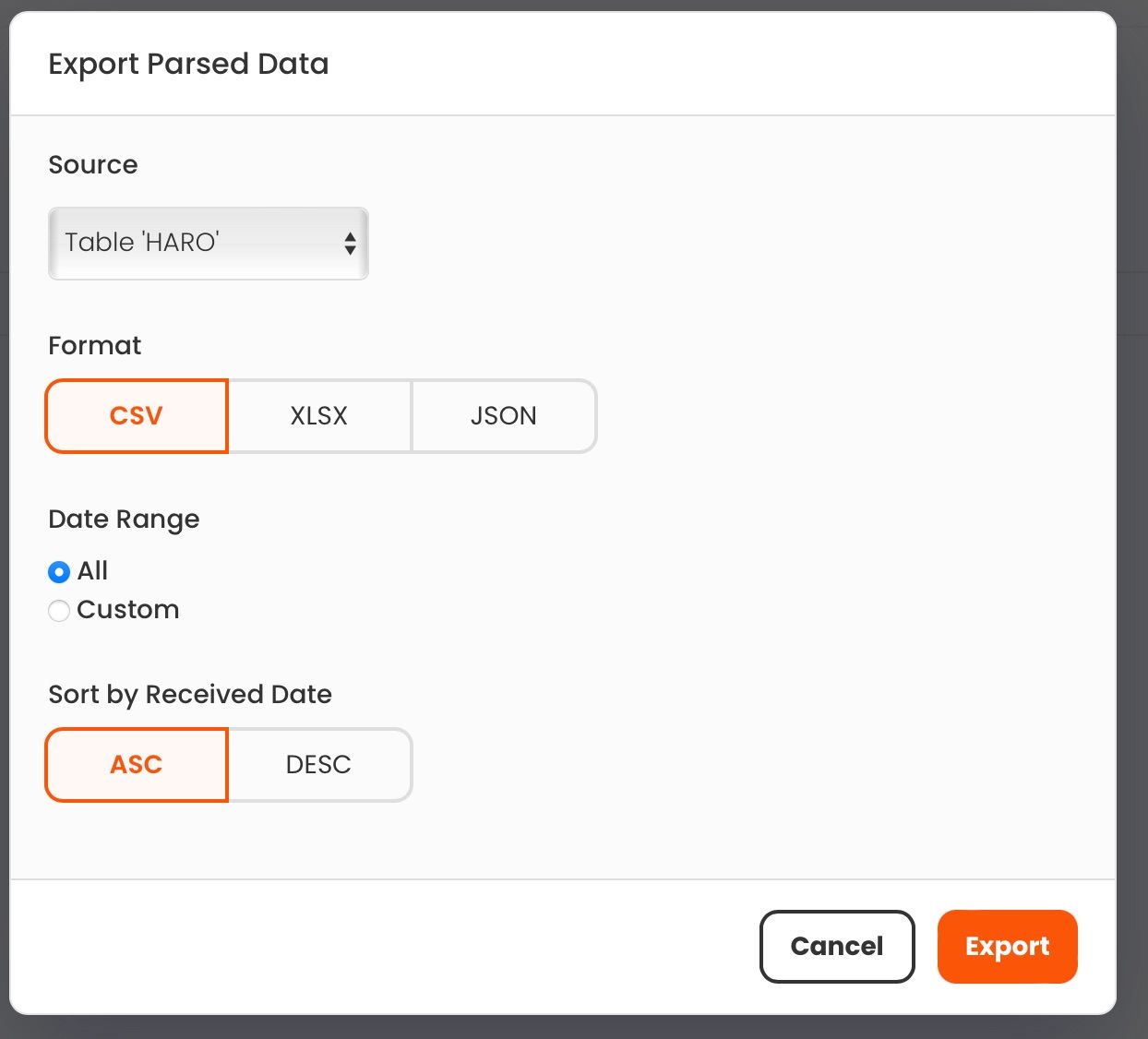 How to Extract the Parsed Data From HARO Emails to Any App/Platform?
If you want the parsed data from HARO emails to be exported to other applications, then you can use automated platforms like Zapier, Make, Pabbly Connect, KonnectzIT, or Integrately, which will connect Parsio with 6000+ other applications and platforms.
Filtering HARO emails with Make
Parsio doesn't only give you an opportunity to easily extract data from innumerable HARO emails but also allows you to filter them in order to pick out only the ones containing the queries of your choice - for example, only the ones containing the word TikTok, assuming you're an expert in this domaine. If you're familiar with Python, watch the video at the beginning of our article to understand how to create your own filter with the help of the post-processing step.
However, if Python is Greek to you, the Make automation platform can be of great help. With Make, you can create your own filter in a 3-module scenario quickly and without any background knowledge.
Just as in our article about the Parsio/Make integration, it all starts with creating a scenario. We choose Parsio as the first module with the trigger "Watch Doc Parsed (Nested tables)", and we connect our Parsio mailbox (the specific HARO mailbox) to it.
After this, we need to send the test data so that our scenario gets an example of a parsed email that we'll use to configure every step. Right-click on the module, choose "Run this module only" and at the same time we parse (or reprocess) one of the HARO emails in our dedicated Parsio mailbox.

After this, we're notified that our data has been received.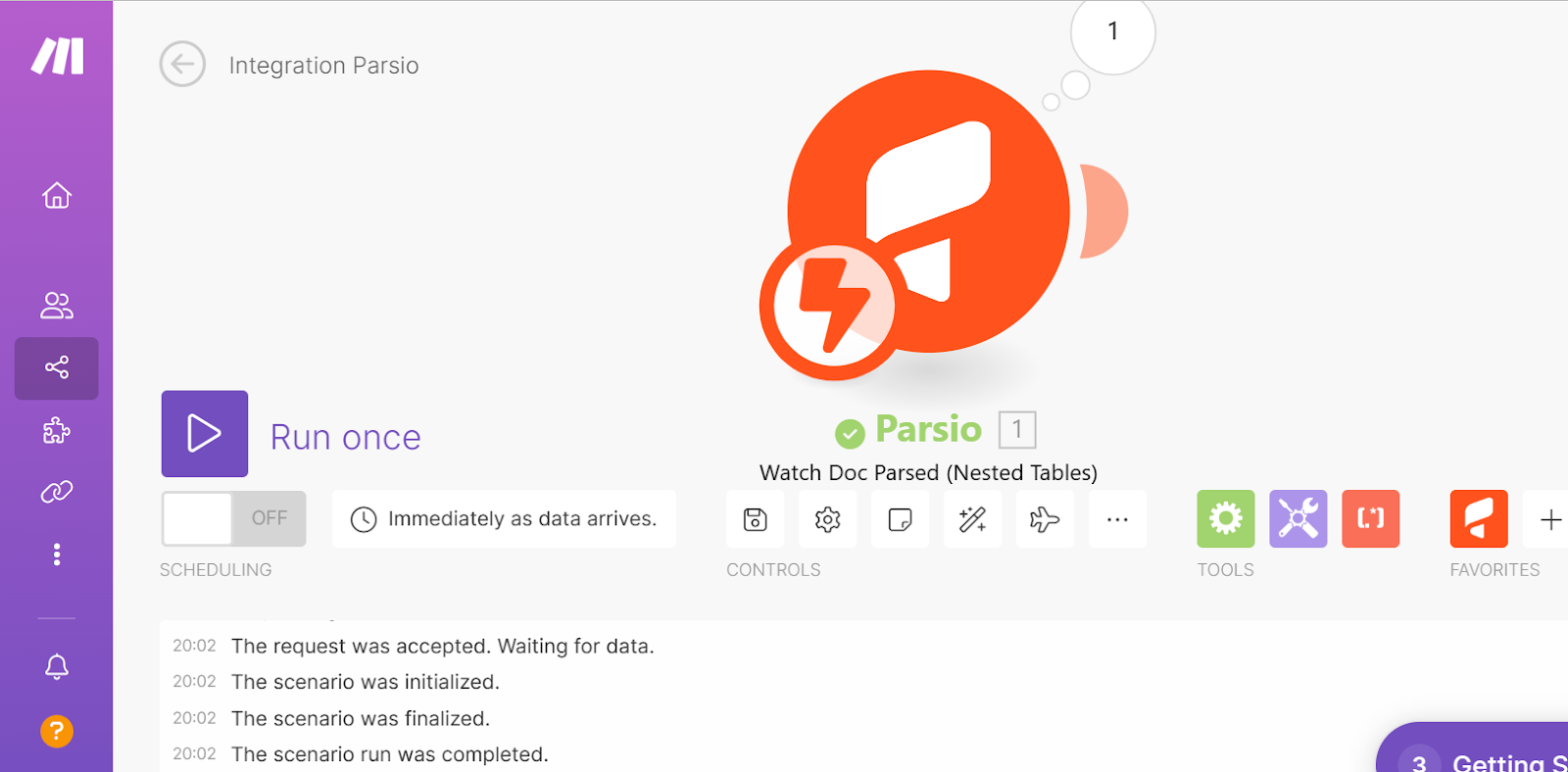 Now it's time to create the second module which will be Flow Control -> Iterator. The Iterator takes the array of the HARO queries and sends the elements one by one to next modules.

The next step is to create the third module that is Google Sheets: all the filtered HARO queries will be exported to the Google Spreadsheet of our choice. We connect our Spreadsheet which should of course already have all the columns corresponding to the HARO email template titles.

We connect the names of the Haro email template titles from the Iterator data appeared in green, with the corresponding Google Sheet columns.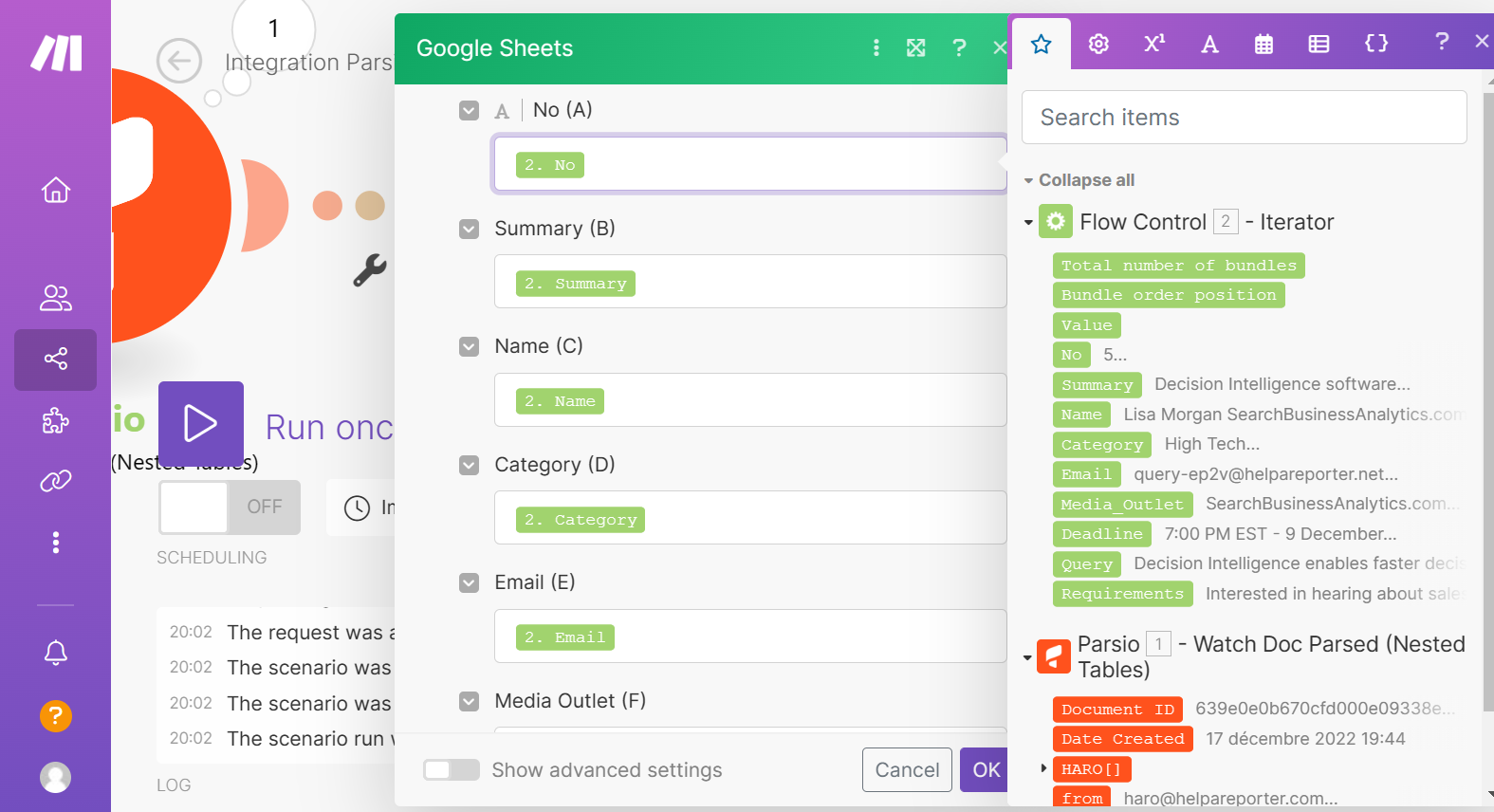 The last step is to set up a filter. We click on the wrench  icon between the Iterator and the Google Sheets module.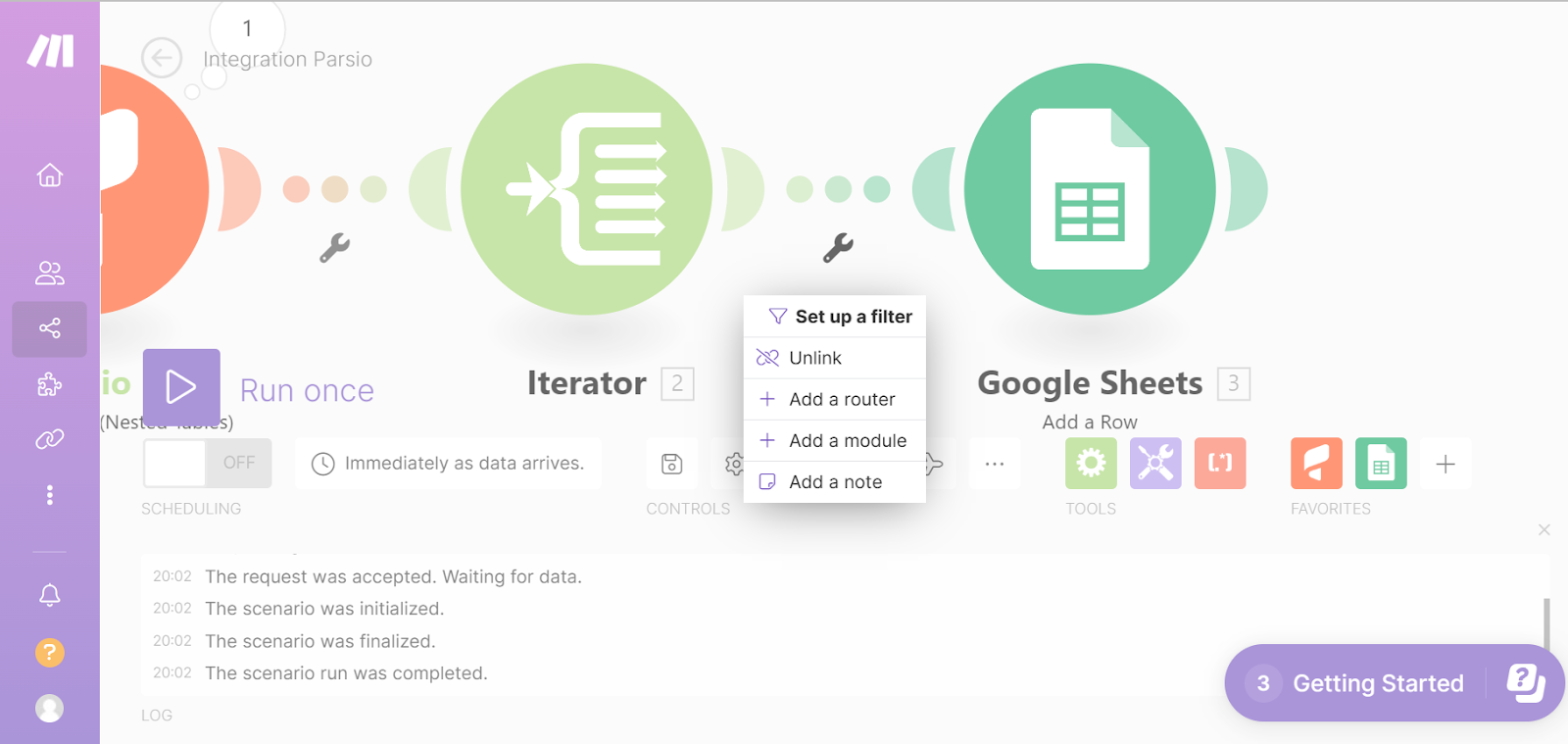 Let's assume we only want to get queries containing the word "TikTok". We give the corresponding label to our filter and we fill in the Condition fields: the source (haystack) which will be "Query"; the text operator that is "contains", and the sought value: "TikTok".

Our filter is ready, and we can run the scenario.

Once we've saved and activated our scenario, we can start parsing the HARO email(s) in our Parsio inbox. As a result, only the queries containing the word "TikTok" will be exported to our Google Spreadsheet (just one query in our case).

The Final Verdict
HARO gives you an opportunity to connect with the journalists and media publications directly and through your expertise help your brand or PR team to flourish. We understand that being an entrepreneur trying to hit big, you tend to take the risk, but all the emails from HARO when pile won't let you configure anything. Therefore, we recommend Parsio to extract data from these emails and filter out the content for your ease. Along with several automated integrations, the tool is an ideal choice to control the traffic of HARO emails in your mailbox.
Related articles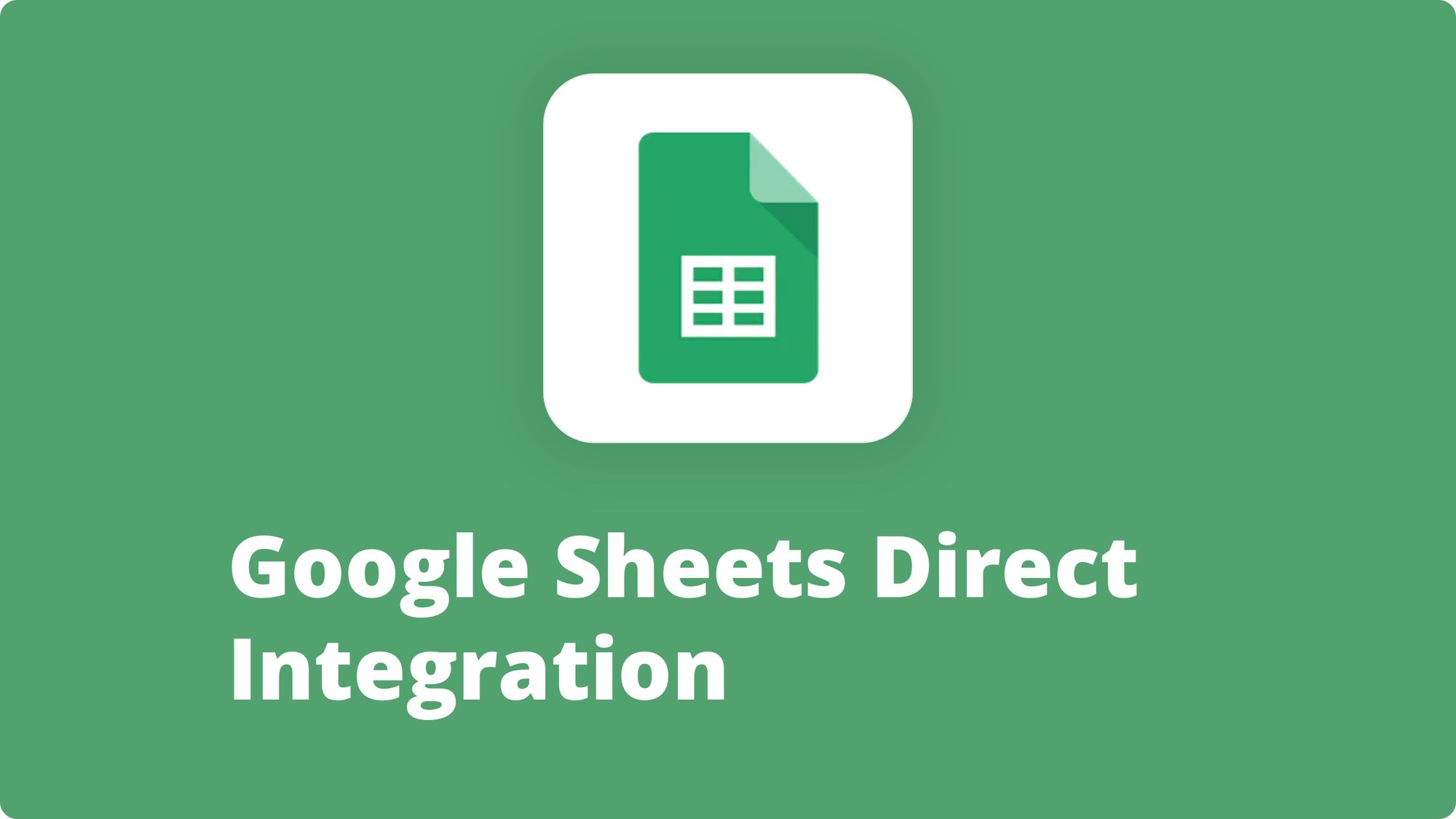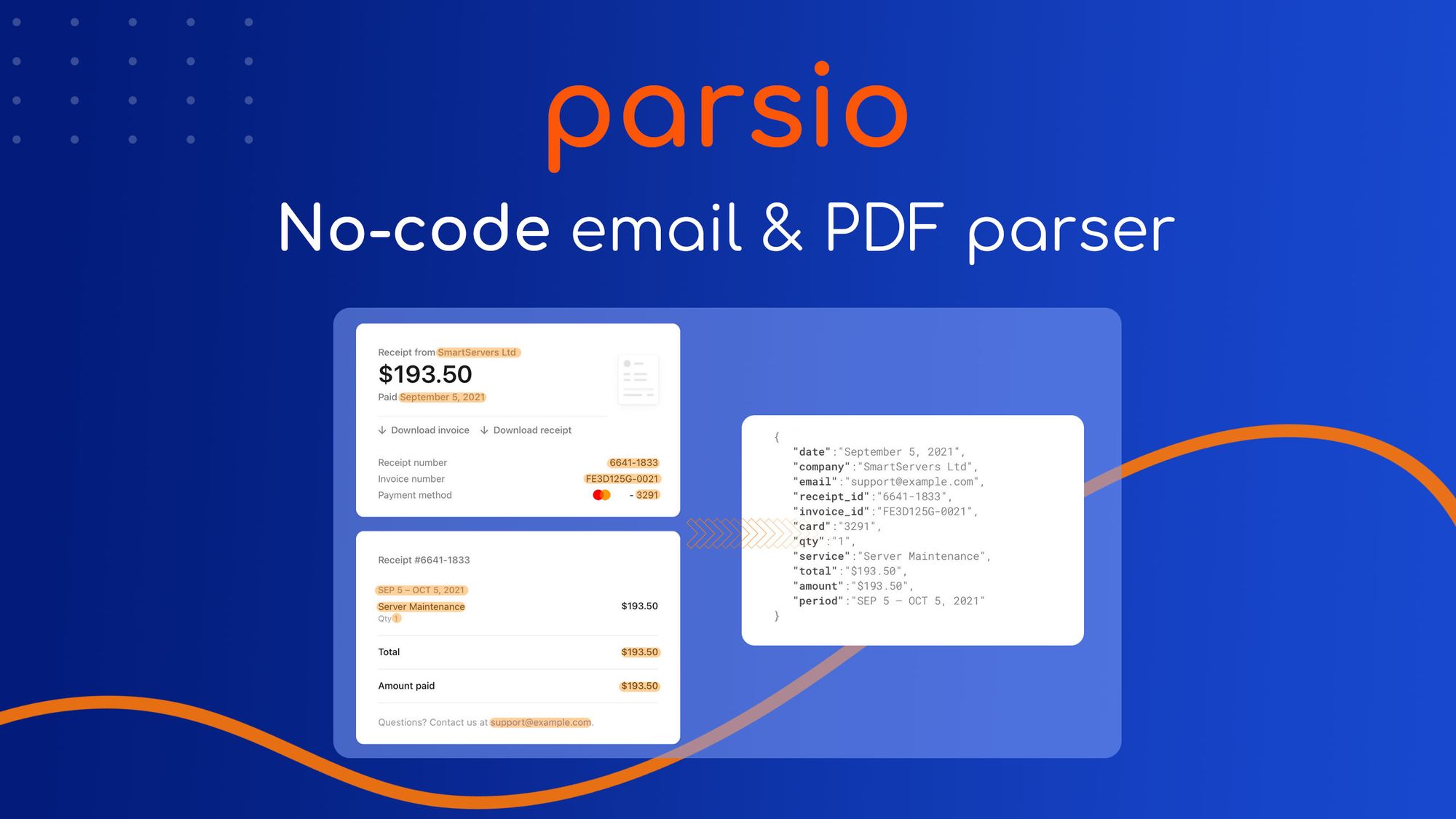 Extract valuable data from emails and attachments
Stay parsed with Parsio