No-code

Email & PDF Parser

Extract and export valuable data from your emails and documents, automatically.

Get started - it's free
You don't have to be a programmer to automate your business
Step 1
Send a sample email
Send a sample email or upload a file to parse.
Extract data from emails.
Extract data from PDFs and documents.
Forward emails, upload files or send them via API.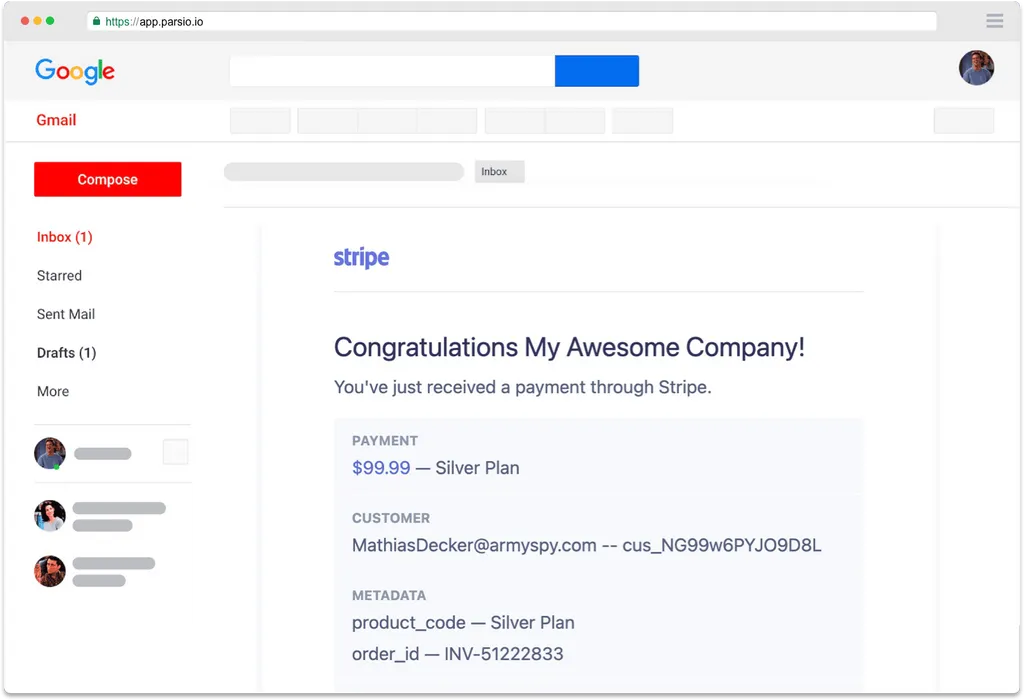 Step 2
Highlight

the data to extract

Create a template and tell Parsio what data is important to you.

No-code solution.

Setup in less than 2 minutes.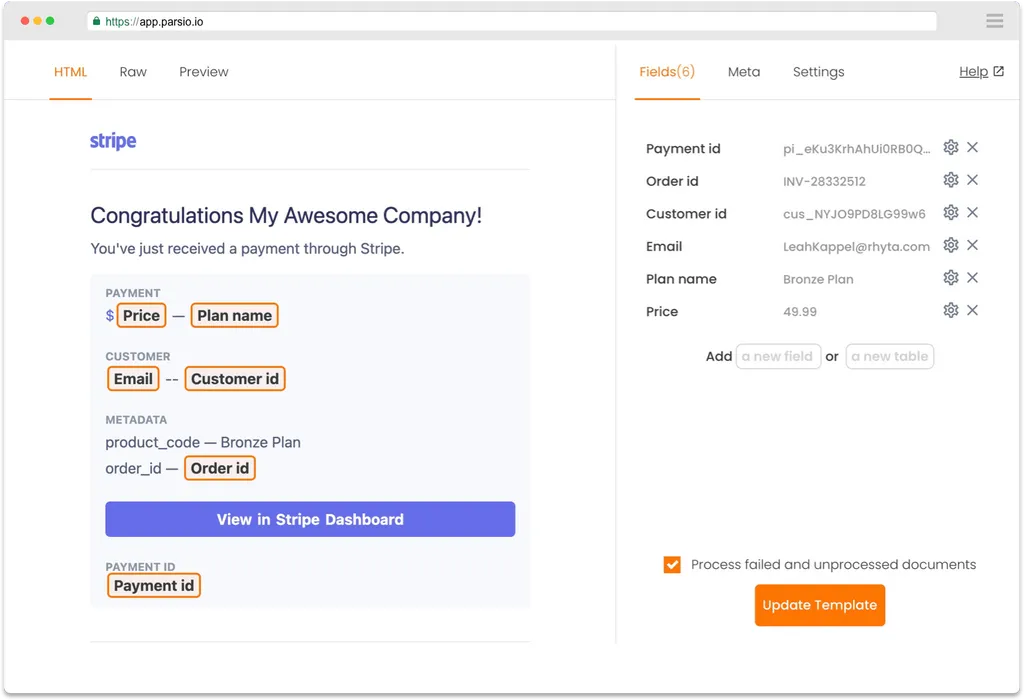 Step 3
Sit back and relax
Parsio automatically extracts data from all similar incoming emails. That's where the magic happens ✨.
Download parsed data, sync with Google Sheets or export using webhooks.
6,000+ integrations via automation platforms.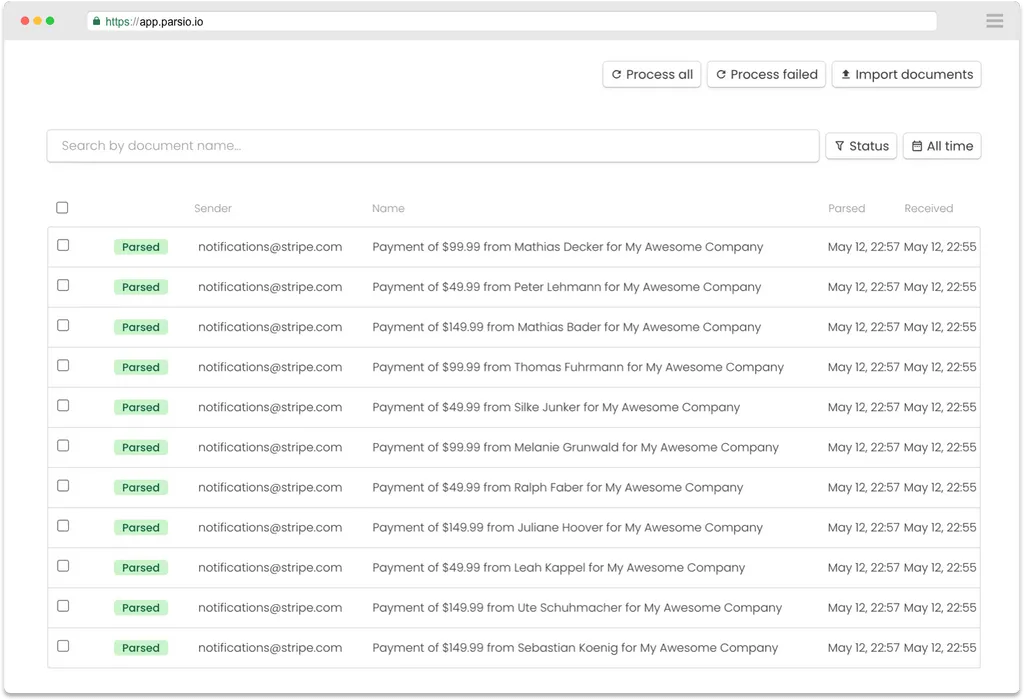 Automation for businesses of all sizes
With Parsio
You save on employee costs
When you have an automated email parsing software, you don't have to hire data entry staff or assign these tasks to other employees.
You guarantee better quality
With Parsio all of your data is 100% accurate whilst even the best manual data entry expert can't be 100% accurate.
You increase your productivity
Parsio helps to manage the increased workflow by extracting data from all the incoming emails so that you have nothing to worry about other than making your customers happy.
You run on autopilot
Parsio will keep running even when you or your employees are unavailable.
You save time
With Parsio, it only takes a few minutes to setup your own email & document parser.
Without Parsio
Your data contains errors
The more times you do repetitive tasks, the more likely it will happen that you will make an error because your brain becomes tired and starts making mistakes.
You waste time on repetitive tasks
When repetitive tasks tasks are done with precision, they can be very time consuming.
You are overloaded during the holidays
Businesses are typically overloaded during holidays. Without automation, they are not able to provide the same level of service as before.
You end up hiring a team
At some point you end up hiring a team to do boring tasks that you can no longer do yourself.
We play well with others
Easily integrate Parsio with the tools you're already using. Export leads data from your emails to Google Sheets, automatically parse your PDF invoices and import them into your accounting software, upload attachments to Cloud Storage and much more!
You are in good hands
Trusted by 3,000+ leading businesses. Recognized by the experts.
3K+ companies use Parsio to work more efficiently
But don't just take our word for it. See what our customers have to say.
"It is almost magic! I am a dance teacher, not a coder. Still, I can now parse my emails and automate a process that was very cumbersome before! It is easy to use and set up. Almost self-explanatory."
Ready to automate your business?
We are loved by startups, marketing agencies, real estate agencies, freelancers, big companies and many more. Get started now 👇
No coding skill required.
Start in under 2 minutes.
Get started - it's free