01. Import
Parsio makes it easy to import files for data extraction. Send PDFs and scanned images such as email attachments, upload files manually, import documents through the API, or use automation platforms like Zapier, Make and Pabbly Connect.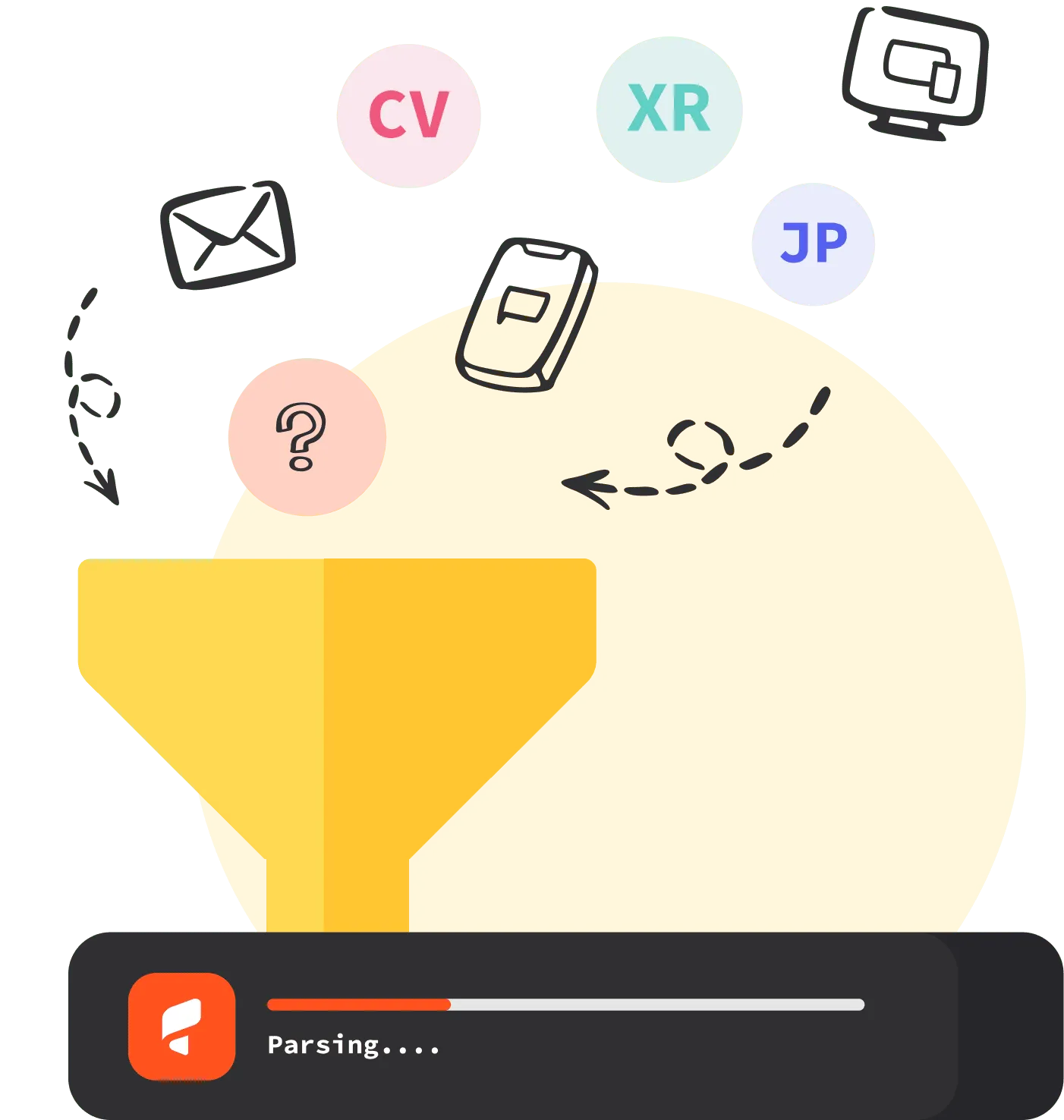 02. Extract
Parsio uses OCR technology to extract data from PDF files. Thanks to pre-trained models, Parsio is able to automatically capture data from a wide range of document types including invoices, receipts, business cards, and more. This eliminates the need for manual data entry, saving time and ensuring accuracy.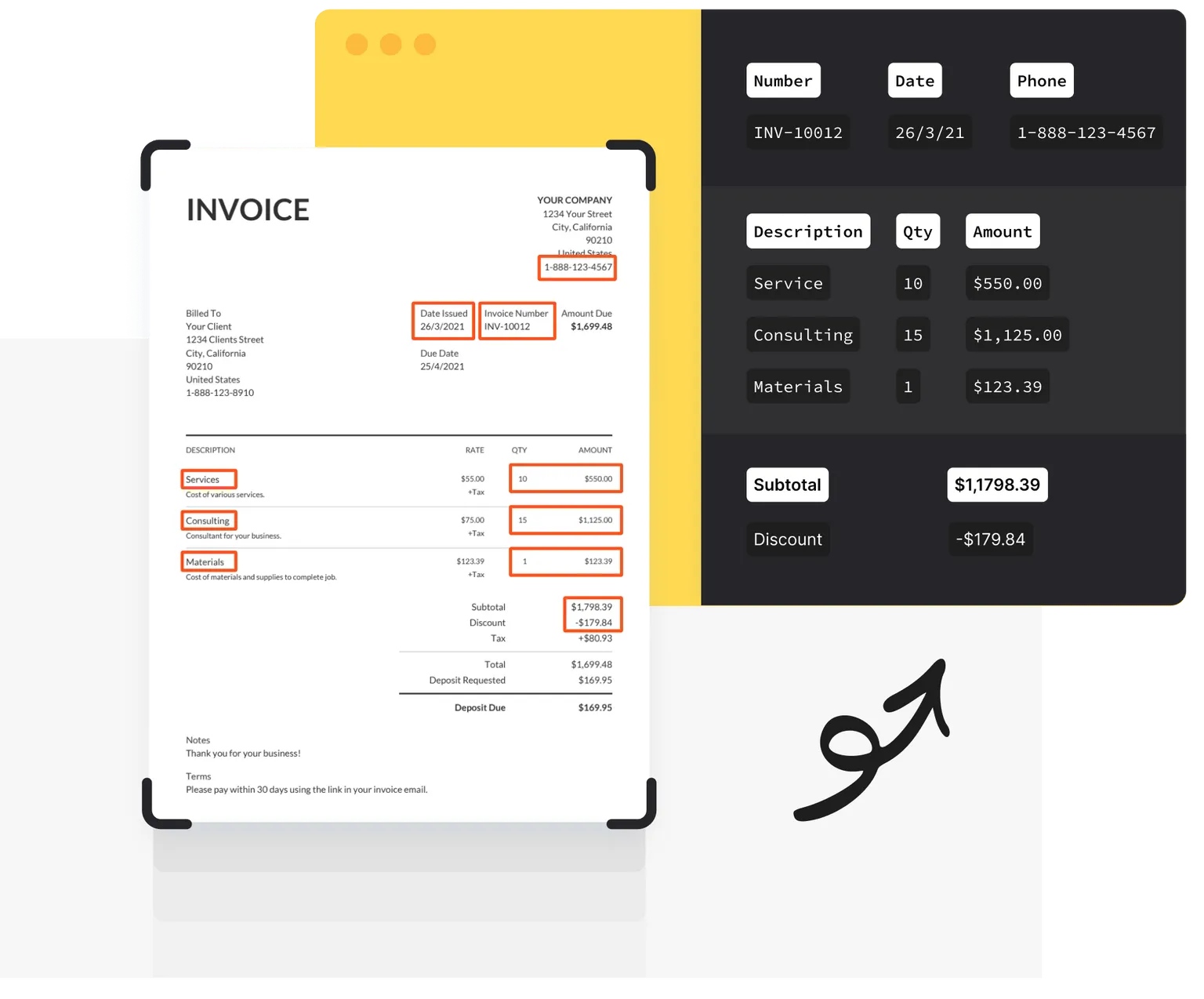 03. Export
With over 6000 integrations, you can easily export data to your favorite applications like Google Sheets, Slack, Trello or Airtable. You can also build custom integrations using webhooks and API.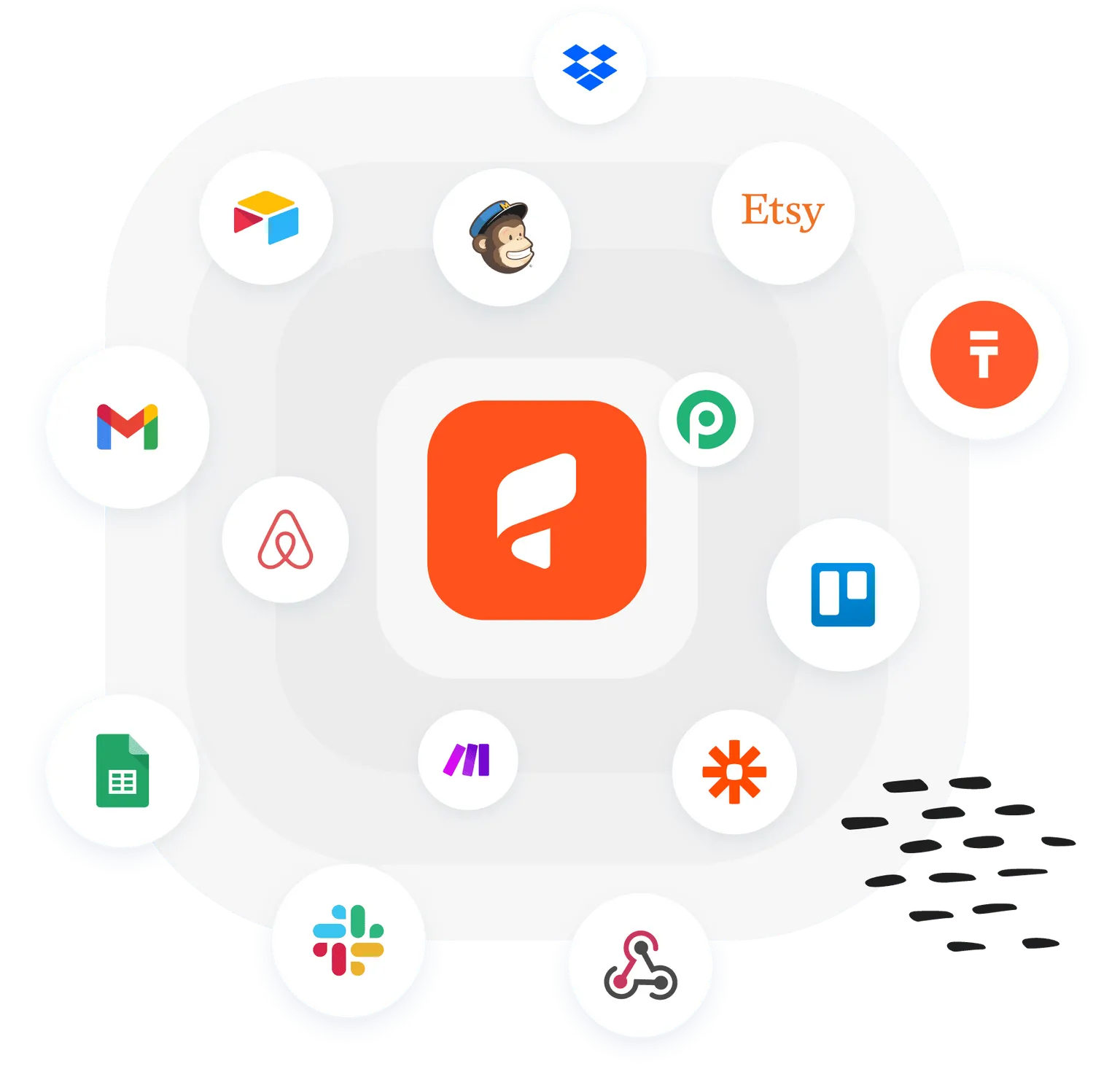 Use cases
Explore more ways to use Parsio
FAQ
Frequently asked questions about our PDF parser
Which document types are supported?
Parsio uses Machine Learning and OCR technologies and can process many commonly-used document types such as invoices, receipts, ID cards, visit cards and generic documents including handwritten text in different languages.
You can also extract and export valuable data from your emails and attachments using our template-based email parser.
Is it possible to integrate Parsio with existing systems?
We offer several integration options to make it easy to connect our data extraction platform with other tools and systems. You can send data to over 6000 applications using automation platforms like Zapier, Make, Pabbly Connect, n8n and more.
Do you have API?
We provide webhooks and APIs that allow you to easily integrate Parsio with your own custom system.
What technical skills are required to use Parsio?
Parsio is a no-code data extraction platform and does not require any technical or coding skills to use. Our user-friendly interface makes it easy for anyone to extract data from PDF files, emails and other documents.
Is there a free plan available for Parsio?
Yes, we offer a free plan that includes 30 credits and 20 parsed PDF pages. All features are included in the free plan, allowing you to test and experience the capabilities of our software before committing to a paid subscription.
Does Parsio have OCR capabilities?
Yes, Parsio has OCR (Optical Character Recognition) capabilities to extract text from scanned PDFs and images. Our OCR technology can recognize both handwritten and printed text in many different languages.
Is it possible to extract tables and lists from PDF files?
Yes, Parsio is designed to extract tables, lists, and other repetitive data structures from PDF files, for example, a list of items in an invoice, transaction in bank statements etc.
Can Parsio handle high volumes of incoming PDF files?
Yes. We have experience working with large companies that process hundreds of thousands of emails and PDF files every month, and our system is designed to handle large volumes of data without any issues.
How secure is Parsio for sensitive documents?
Our platform is GDPR compliant and the data is stored in highly secure data centers within the EU. We use SSL certificates to ensure secure transmission of data. Additionally, our customers have full control over their data and can remove it at any time, either manually or by applying our retention policy rules. Learn more about our
data protection policy
.
Ready to grow your business?
Automate your data extraction today!
No credit card required
Easy setup
6000+ automations