How it works
Want to parse W-2 Forms?
Add the power of Optical Character Recognition (OCR) and deep learning models to your workflow to simplify the income information extraction from W-2 forms. Standard and customized forms are supported.
Import
Upload your W-2 forms manually, via API or forward them in email attachments.
Extract
It takes approximately 5 seconds to auto-capture all the data in your W-2 forms.
Integrate
Create an integration with your existing tools and send the parsed data in real time to over 6000+ applications.
Features
All you need, all in one
Precise data extraction in a matter of seconds
Our AI parser is pre-trained on millions of documents, offering fast and accurate results. Extract data from PDF files or scanned images within 5 seconds or less.
AI-powered OCR parser for any document layout
Our powerful OCR parser quickly and accurately processes any document layout. It can recognize both handwritten and printed text in Latin and European languages.
Normalize your data, maximize your potential
Add any custom business logic to format and structure the parsed data, reducing redundancy and making your database more efficient.
FAQ
Frequently asked questions about our PDF parser
What is AI data extraction?
Data extraction is a process of capturing and structuring data from various sources, such as emails, attachments, PDF files and scanned documents, using artificial intelligence (AI) and machine learning algorithms. These algorithms allow you to extract large amounts of data quickly and accurately.
What is OCR, and how does Parsio utilize it?
OCR (Optical Character Recognition) is a powerful technology that can turn scanned documents and images into structured and editable text.
How secure is this solution for confidential documents?
Your data is securely hosted in the EU, and you can delete it permanently anytime. Learn more about our
data protection policy
.
Which document types are supported?
Parsio uses Machine Learning and OCR technologies and can process many commonly-used document types such as invoices, receipts, ID cards, visit cards and generic documents including handwritten text in different languages.
You can also extract and export valuable data from your emails and attachments using our template-based email parser.
How long does it take to parse one page of a PDF file?
Data can be extracted from PDF files or scanned images swiftly, usually within 5 seconds or less.
Do you offer a free trial?
Yes! You can try all the features for free. Our Sandbox plan includes 30 parsed emails and attachments per month and 20 processed PDF pages or scanned images.
Security
Reliability & security
Enterprise security standards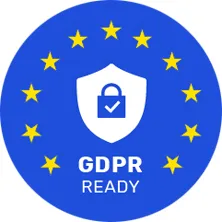 Want to grow your business?
This is where you start.
6000+ integrations
No tech skills needed
Great support