How it works
You don't have to be a programmer to automate your business
Step 1
Send a sample email
Send a sample email or upload a file to parse.
Extract data from emails.
Extract data from PDFs and documents.
Forward emails, upload files or send them via API.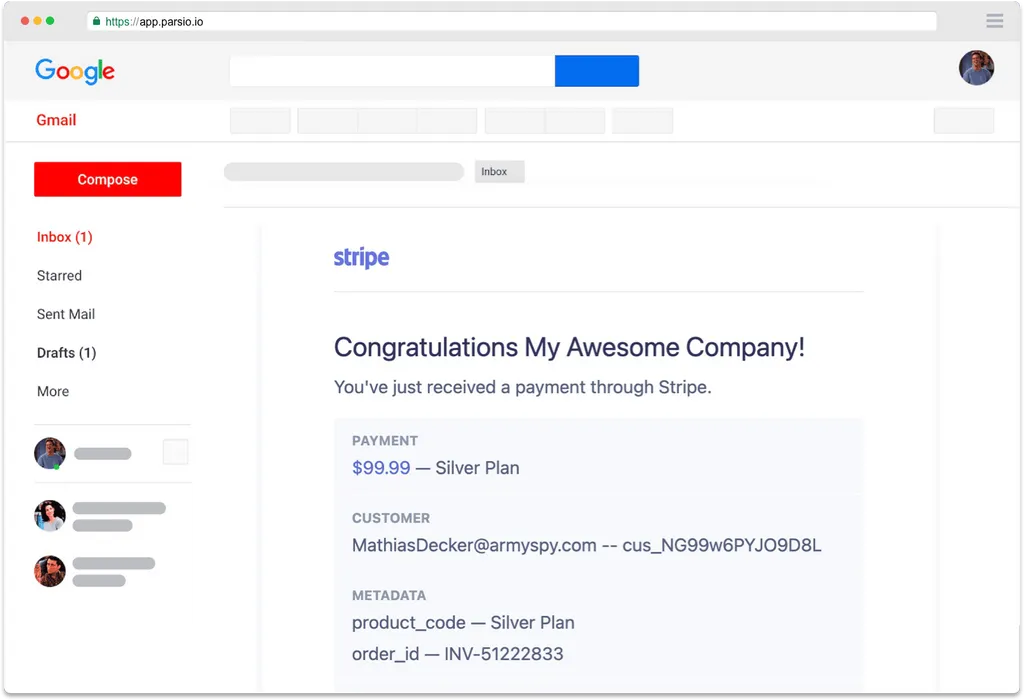 Step 2
Highlight

the data to extract

Create a template and tell Parsio what data is important to you.

No-code solution.

Setup in less than 5 minutes.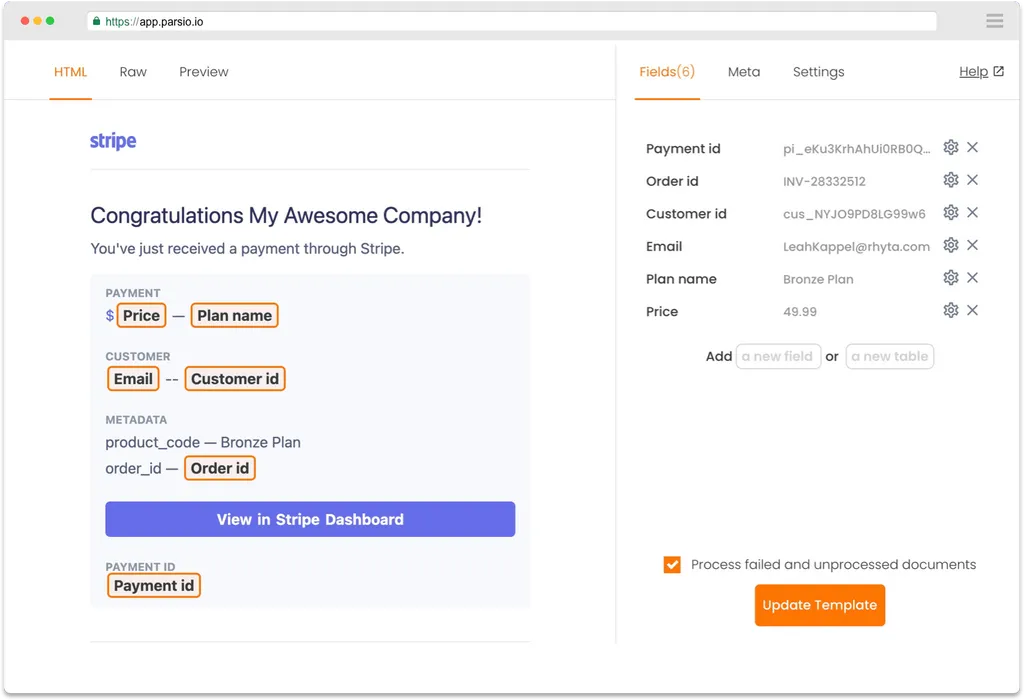 Step 3
Sit back and relax
Parsio automatically extracts data from all the similar incoming emails. That's where the magic happens ✨.
Download the parsed data, sync with Google Sheets or export using webhooks.
6,000+ integrations via automation platforms.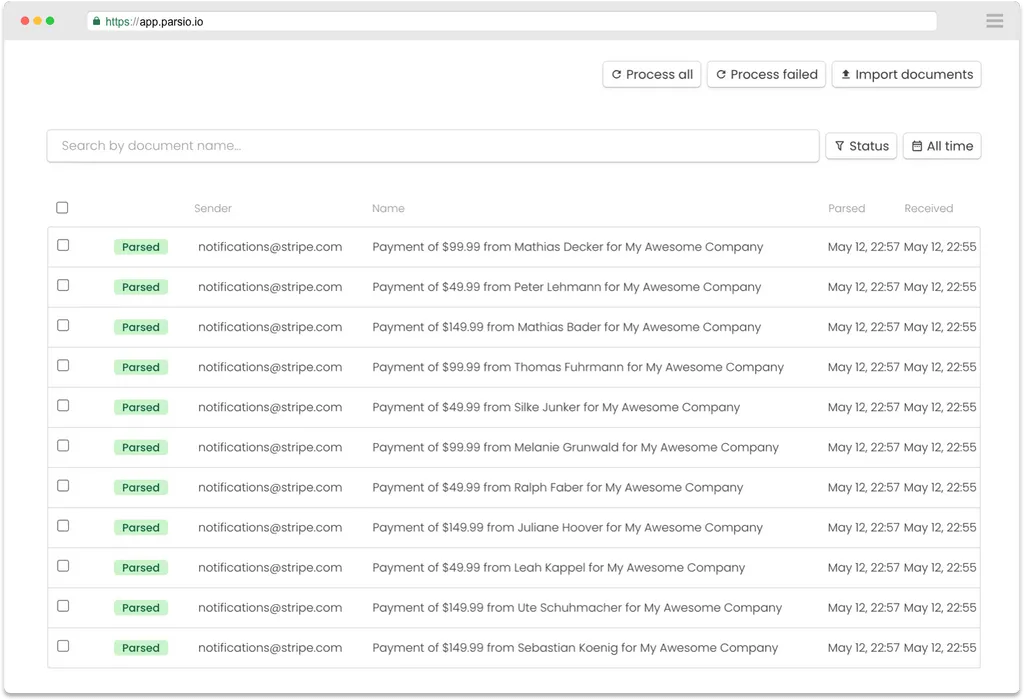 Use cases
Explore more ways to use Parsio
FAQ
Frequently asked questions about our email parser
Is there a free trial or a free plan available for Parsio?
Yes, you can use our email parser for free. We offer a free plan that includes 30 credits and 20 parsed PDF pages. All features are included in the free plan, allowing you to test and experience the capabilities of our software before committing to a paid subscription.
What types of documents can Parsio extract data from?
Parsio is designed to extract data from a wide range of document types, including emails, PDFs, HTML, XLSX (Excel), CSV, DOCX, XML, JSON and TXT files. Our parser is versatile and can handle various formats, making it an ideal solution for businesses and organizations that need to extract data from multiple types of documents.
Does Parsio extract data from both the body and attachments of an email?
Yes, Parsio is designed to extract data from all parts of an email, including the subject, body, attachments and meta fields like sender address, timestamps and more.
Is it possible to integrate Parsio with existing systems?
We offer several integration options to make it easy to connect our data extraction platform with other tools and systems. You can send data to over 6000 applications using automation platforms like Zapier, Make, Pabbly Connect, n8n and more. Additionally, we also provide webhooks and APIs that allow you to easily integrate Parsio with your own custom system.
Can Parsio extract data from emails in multiple languages?
Yes, Parsio can extract text data from emails in any language.
Is it possible to extract tables and lists from emails?
Yes, Parsio is designed to extract tables, lists, and other repetitive data structures from emails, for example, ordered items on Amazon, a list of transactions in an invoice, etc.
What technical skills are required to use Parsio?
Parsio is a no-code data extraction platform and does not require any technical or coding skills to use. Our user-friendly interface makes it easy for anyone to extract data from emails and other documents. Additionally, if you need to create a complex custom automation, Parsio also has an API available for advanced users.
Can Parsio handle high volumes of incoming emails?
Yes. We have experience working with large companies that process hundreds of thousands of emails and PDF files every month, and our system is designed to handle large volumes of data without any issues. Our platform is built to scale and can handle a large number of concurrent users and requests so you can be sure that your data extraction needs will be met regardless of the volume of your incoming emails.
What are Parsio's implemented measures for data security?
Parsio takes data security very seriously and has implemented several measures to protect the data. Our platform is GDPR compliant and the data is stored in highly secure data centers within the EU. We also utilize SSL certificates to ensure secure transmission of data. Additionally, our customers have full control over their data and can remove it anytime, either manually or by using our retention policy rules. Learn more about our
data protection policy
.
3000+ leading businesses grow with our products
We are loved by startups, marketing agencies, real estate agencies, freelancers, big companies and many more. Try Parsio now for free 👇
No coding skill required.
Start in under 5 minutes.
Get started - it's free